Qatar's Domestic Stability and the Gulf Crisis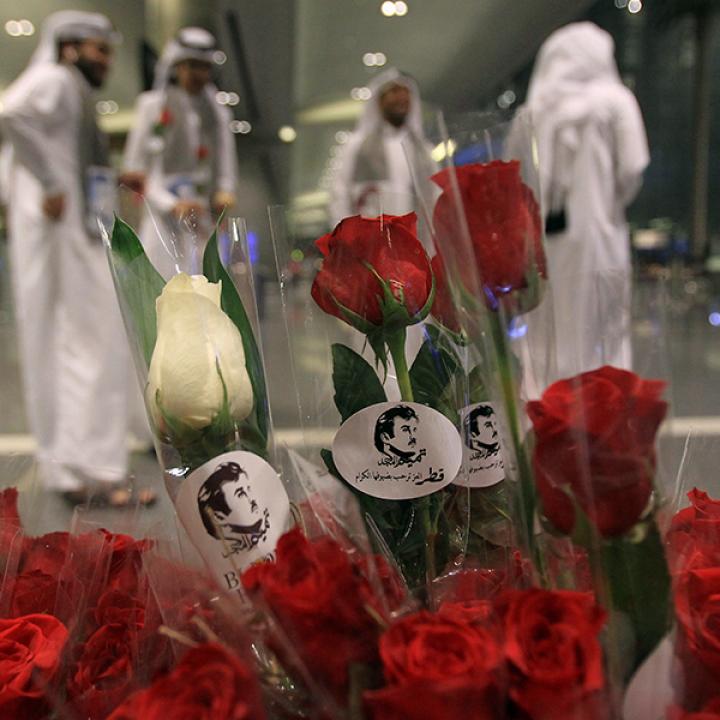 The Saudi- and UAE-led coalition could be overestimating the prospects for change in Doha.
This past May, Saudi Arabia and the United Arab Emirates led an unprecedented diplomatic, commercial, and air-space blockade against their neighbor Qatar. Following what appeared to be amicable relations days before, these actions were supposed to deliver the shock and awe that would force immediate changes from Doha -- ostensibly in response to comments by the Qatari emir, which turned out to be fake. Yet if the architects of the blockade in Riyadh, Abu Dhabi, as well as Cairo and Manama hoped that either the Qatari royal family or Qataris at large would pressure the government to capitulate, events thus far have shown otherwise.
A brief history of al-Thani leadership changes helps set the backdrop:
1940s: Hamad bin Abdullah serves as de facto ruler of Qatar; dies in 1948
1949: Hamad's brother Ali takes over from their father, Emir Abdullah, who abdicated
1960: Ahmad bin Ali, the son of Ali bin Abdullah, takes power
1972: Khalifa bin Hamad al-Thani usurps the throne, supplanting Ahmad, his nephew
1995: Khalifa's son Hamad seizes power while his father is abroad
2013: Hamad abdicates in favor of his son Tamim
Tumult among the al-Thani
At least in theory, the Saudis, Emiratis, and Bahrainis, along with the Egyptians, had reasons to be hopeful that their pressure might prompt the emergence of a more compliant al-Thani leadership. The al-Thani constitutes the largest royal family in the world in proportion to the country's population, and its tenure has been marked by acrimony. In 1960, 1972, and 1995, to varying degrees, leadership transitions were forced by intrafamily political disputes. The advent of Qatar's oil-based wealth, dating to the 1950s, only further embittered such maneuvering. Of the three transitions just noted, Khalifa bin Hamad al-Thani's, in 1972, heralded some degree of change in that he relied less on the al-Thani family for support and actively sought to diversify his base to encompass all Qataris, essentially creating the gold-plated welfare state Qataris know today.
Qatar's most recent leadership transition occurred in 2013, when Emir Hamad bin Khalifa al-Thani voluntarily abdicated in favor of his then thirty-three-year-old son, Crown Prince Tamim bin Hamad al-Thani. The reasons for now "father-emir" Hamad's move have drawn much speculation. Some suggest health reasons played a part, while others argue that Hamad wanted to show that a voluntary abdication in the Arab world was possible.
Others have contended, meanwhile, that Hamad was pressured to step aside when various alleged recordings revealed that he had discussed in 2003 a plot against then Saudi crown prince Abdullah with Libya's Col. Muammar Qadhafi. But this argument is unpersuasive. First, the timing and Saudi sourcing amid a fevered Gulf climate weaken its credibility. Second, although Hamad may have grown tired of dealing with Riyadh's politics, he had a quarter-century's practice withstanding pressure from Saudi Arabia, including several Saudi-Qatar border skirmishes in the early 1990s, at least one alleged Saudi-sponsored countercoup in 1996, and Riyadh's eight-year withdrawal of its ambassador to Doha in the 2000s.
Conversely, Hamad's abdication proves for many that he is still running the state from behind the scenes. According to this persistent though unconvincing theory, Hamad is naturally joined in pseudopower by Hamad bin Jassim al-Thani, his trusty former foreign minister (1992-2013) and prime minister (2007-13). Yet certain developments have fueled these suspicions, such as the visibility of Hamad bin Jassim in Washington DC and London in recent months. Doubtless, HBJ, as he is known, is taking part in meetings. He also appeared on the Charlie Rose show in June 2017, speaking up on behalf of his state. The same applies to former emir Hamad, who is almost certainly acting as a close confidant to his son.
But given that the Qatari state is facing the single largest crisis in its history, what else can one expect? If the United States were confronting a similar emergency and former diplomats had influential friends cultivated through decades of diplomacy, they too might be pressed into service. For Qatar, a country with a citizen population smaller than Plano, Texas, such diplomatic activity is not at all surprising. But the notion that either Hamad -- or Tamim's mother, Sheikha Moza -- is still scurrilously masterminding Qatar's policies suffers from a chronic lack of evidence. If Emir Hamad wanted to be in charge and to influence his state's policies, he would not have voluntarily given up these powers when under no evident pressure to do so.
Grievances and Challengers
The domestic popularity of Qatar's foreign policy gambits has long been uncertain. Qataris did appear pleased, for example, when in 2008 accolades flowed -- including through a Häagen-Dazs "special occasion" Doha Agreement Cone -- for Qatar's role in mediating a peaceful end to a bitter Lebanese political dispute. Also resonating well was Emir Hamad's support for Libya's revolutionaries in 2011, when Qatari flags fluttered around Benghazi and posters eulogized the emir. These instances notwithstanding, Doha's maverick style of foreign policy has stirred today's unprecedented dispute, and some Qataris undoubtedly long for an easier, less controversial national profile. Furthermore, many nationals are now cut off from family members, businesses, and properties in the UAE, Bahrain, and Saudi Arabia.
Today's cabinet has only three royal family members -- albeit the crucial prime/interior minister, foreign affairs minister, and commerce minister -- suggesting little need to placate challengers from within the al-Thani. Indeed, such low al-Thani representation would have been impossible in the 1950s and 1960s, when so many family members agitated for roles, prompting a policy of distributing plum positions to silence intrafamilial dissent.
Outside sources have floated a few names as theoretical opponents to Emir Tamim, but these claims carry little weight. Al-Hayat, a Saudi-backed but relatively respected Arabic newspaper based in London, reported on June 1, 2017, that Saud bin Nasser al-Thani had been invited to Doha to act as an intermediary for Qatar in the crisis. The National, an English-language paper based in Abu Dhabi, repeated the story on June 3, in a byline-free article, bumping up Saud bin Nasser to "Qatar's leading opposition figure." Also on June 3, al-Hayat printed a retraction of a number of points from its original article. The title of this second article, describing Saud bin Nasser as a "mystery man," sums it up: he is almost entirely unknown. The assumption is that he is Saud bin Nasser bin Ahmad al-Thani and thus the son of Emir Ahmad bin Ali al-Thani, deposed in 1972 by Emir Tamim's grandfather, Khalifa. If this identification is correct, Saud would also be the brother of one of Father-Emir Hamad's daughters-in-law.
The bin Ali branch of the family, however, has not held power for generations, diminishing its claims to the leadership. While its members maintain a grievance over the 1972 usurpation whereby Khalifa took power from Ahmad, the bin Hamad branch (which includes Tamim, Hamad, and Khalifa) retorts that the bin Alis, in fact, were the ones to overturn the norm in Qatar, given that Emir Khalifa's father, Hamad, was de facto ruler in the 1940s. As such, the logic goes, Khalifa was always the putative monarch to succeed him. Such a natural transition was only prevented by Hamad's death while Khalifa was young, paving the way for two bin Ali emirs to serve in succession.
Ultimately, in light of a range of other fanciful stories in the regional press, reporting on Qatari "opposition figures" is more a sign of the depressingly partisan nature of coverage in the Arab world than a comment on Qatar's ruling politics. The August 16 meeting in Jeddah between Saudi crown prince Muhammad bin Salman and Sheikh Abdullah bin Ali bin Abdullah al-Thani, a son of the late Emir Ali bin Abdullah al-Thani, is probably the latest twist in the political rivalry. Ostensibly meant to agree on the direct passage of Qatari pilgrims to Saudi Arabia, Qatari officials welcomed the gesture but said the move should be accompanied by a full lifting of the blockade. The Al Jazeera report of the move made no mention of the role of Sheikh Abdullah bin Ali.
Qataris Close Ranks
Despite the whispering campaigns and various domestic doubts, the overwhelming Qatari response to the current Gulf crisis has been one of unity. On social media, spontaneous messages of support have proliferated as Qataris -- and expatriates -- adorned their cars with an image of Tamim created by a Qatari artist. And no evidence exists of a serious domestic challenger to the emir. Apparently, no population, including the Qataris, enjoys being pressured from the outside. Whether Qataris agree with their country's foreign policies or not, they likely back the sovereign right of their leadership to undertake its own policies.
With energy exports untouched, liquefied natural gas expansion on the horizon, an estimated $350 billion sovereign wealth fund, and one of the most important U.S. air bases in the world a few kilometers from the emir's palace, the Qatari state remains fiscally and defensively sound. Although import prices will shoot up as a consequence of the blockade, given that alternative routes are likely more expensive, the state is defraying these and other costs being sustained by businesses. Overall, other than the August 16 Jeddah meeting, there is no immediate sign of royals, individuals, or groups acting in concert against the current leadership or having reason to do so.
David B Roberts is an assistant professor at King's College London and author of Qatar: Securing the Global Ambitions of a City State.