Putin's Syria Adventure Is an Opportunity for Washington and Ankara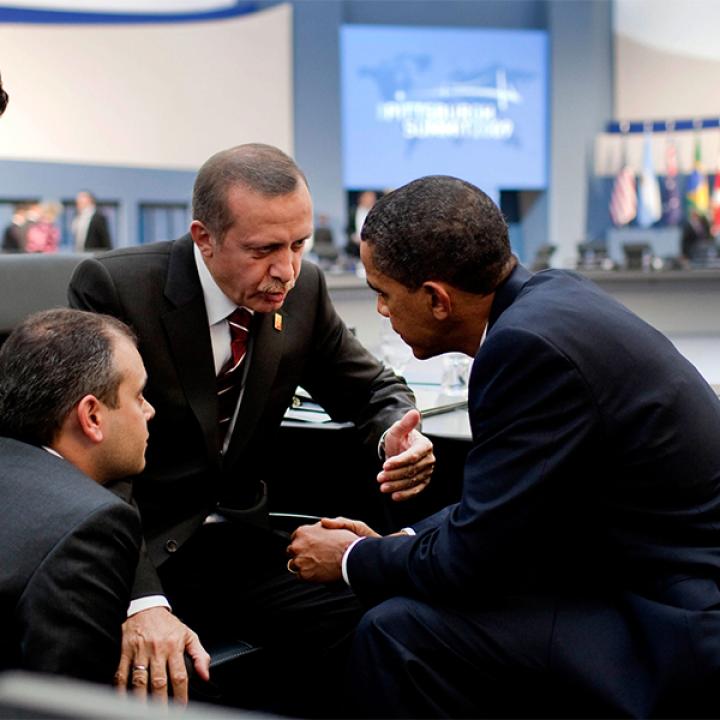 The bold military gamble in Syria surprised and confused the international community, but Putin has given the United States and Turkey a reason to more assertively counter Russia's ambitions in its own backyard.
While all eyes are on Moscow's dramatic entry into the Syria conflict, policymakers and military planners should not forget about Vladimir Putin's ambitions in Russia's "near abroad," including the South Caucasus republics of Armenia, Georgia, and Azerbaijan. By capitalizing on existing structures and interoperability, the United States and Turkey can thwart Russia's efforts to expand its influence in the area, obliging Moscow to rein in its plans further abroad and allocate more resources closer to home.
But it will not be an easy marriage. Over the past decade, relations between Ankara and Washington have ebbed and flowed. The rise of Recep Tayyip Erdogan and his Justice and Development Party gradually distanced Turkey from the West, and both governments have had difficulty establishing shared interests on emerging issues in the Middle East and elsewhere. Moscow has sought to fill this vacuum by increasing its sway over Turkey's foreign policy decisions.
Yet the latest events in Syria may encourage Ankara to change that equation and favor a lasting strategic alliance with the United States. The establishment of a Russian airfield on Turkey's southern flank, reports of Syria-based Russian jets violating Turkish airspace, and increasing concern over the intentions of Syrian Kurdish forces have all given Erdogan a reason to reassess his cooperation with Putin. Erdogan may not want to look westward, but he shares Washington's interest in containing Russia before it can broaden its footprint along Turkey's borders.
THE KREMLIN'S CALCULUS IN THE SOUTH CAUCASUS
In Moscow's eyes, the South Caucasus should be under Russian dominion. Putin has openly described the Soviet Union's disintegration as a disaster and has not hidden his enmity toward Western interference in Russia's former Soviet neighbors. At the same time, he has methodically expanded Moscow's political, economic, and military influence over Armenia, Georgia, and Azerbaijan, with little to no international backlash.
In 2008, Russia intervened militarily against Tbilisi to support the separation of two Georgian enclaves, Abkhazia and South Ossetia. Since then, it has steadily pushed for the annexation of both territories while quietly advancing their borders further into Georgian lands. During an August visit to Washington, Georgian defense minister Tinatin Khidasheli spoke candidly about this aggressive posture, highlighting a July incident in which the Russian border guard advanced South Ossetia's administrative boundary further south to encompass part of the Baku-Supsa oil pipeline.
In addition, Russia has steadily augmented its air and ground forces at its military bases in Gyumri and Yerevan, Armenia, where it now has basing rights through 2044. Speculation continues about Moscow's intention to position "peacekeeping" troops in Nagorno-Karabakh under the pretense of preventing further conflict between Armenia and Azerbaijan. Russia has simultaneously strengthened its relations with Azerbaijan via military sales, bolstering the perception that it will exploit both sides of the conflict to increase its military and political influence.
Coupling hard power with softer measures, Moscow has also sought to expand membership in the Russian-dominated Eurasian Economic Union, with Armenia joining last January. Integrating Georgia and Azerbaijan would further increase Russia's sway over economic markets and the exploration and transit of vast natural resources.
TURKEY NEEDS INDEPENDENT NEIGHBORS
Ankara is heavily dependent on Russia for natural gas distribution and trade, and it has long been reluctant to challenge Moscow on significant geopolitical issues. Most recently, it treaded very carefully around Russia's 2008 invasion of Georgia, then refused to endorse Western sanctions over the 2014 annexation of Crimea. Erdogan's September visit to Moscow reinforced this dynamic -- after meeting with Putin, he modified his "Assad must go" policy seemingly to placate his Russian host.
Yet Turkey desperately needs less, not more, Russian intervention on its borders, especially in the South Caucasus. Ankara shares strong historical bonds with Georgia and Azerbaijan, and like Washington, it views the region as a geostrategic opportunity to work with likeminded, democratic, and independent states on numerous issues, such as increasing trade, diversifying energy sources, and fostering security alliances to counter transnational crime, nuclear proliferation, and terrorism. Using the South Caucasus as a transit point for key Turkish exports to Central Asia (e.g., machinery, iron and steel products, clothing) could become particularly important to Ankara over the next decade, as commerce with Middle East neighbors becomes less reliable amid conflicts in Iraq and Syria and open disagreements with Iran over the region's future.
Most important, the South Caucasus is critical to Turkey's diversification of energy resources. Data from the U.S. Energy Information Administration indicates that Russian supplies account for almost 60 percent of Turkey's natural gas consumption, and demand is growing. Azerbaijan currently provides 10 percent of Turkey's gas needs, but the TANAP pipeline will eventually increase that figure so long as the route remains free of external interference (construction of the line began this year and is projected to conclude in 2018). If Moscow's influence in the Caucasus expands, Ankara may be forced to rely even more on Russian-controlled gas and petroleum resources, further strengthening Putin's sway.
THE U.S. ROLE
Washington seems to be in reactive mode following Putin's surprise adventures, but a more proactive approach involving relatively modest U.S. steps could accomplish much. Among them, a concise and visible American policy in the South Caucasus could strain Russia's economic and military capacity while increasing Washington's leverage. Any such policy must begin with a clear statement condemning Russia's intrusions on regional sovereignty and democracy, calling attention to its push for annexation of prior Georgian territories. Currently, local leaders seem uncertain of Washington's long-term position -- Vice President Joe Biden's 2009 visit to Tbilisi and Secretary of State Hillary Clinton's trips in 2010 and 2012 were meaningful and well received, but the dearth of specific U.S. commitments may have come across more as mollifying Russia than fostering stronger U.S. engagement. Moscow's ensuing actions in Ukraine and Syria should be the impetus for more direct attention, however.
In particular, offering a clear roadmap for Georgia's inclusion in NATO would reinforce the bilateral commitment and challenge Russia on its doorstep. NATO members in Europe and elsewhere are likely more willing to accelerate Georgia's timeline as concern grows over Moscow's unpredictable actions, but Washington needs to take the lead.
Meanwhile, increased engagement could create the conditions for greater U.S. and Turkish private investment and services in the region, especially to support expanding fossil fuel exploration in Azerbaijan and the Caspian Sea. Such outreach could also reassure Azerbaijan and Georgia that the strategic value of their efforts in Afghanistan, Iraq, and the global counterterrorism campaign has not been forgotten.
This diplomatic line of effort should be accompanied by clear shows of strength. The recent American-led naval exercises in the Black Sea (dubbed "Sea Breeze") and joint land-based military exercises in Georgia ("Noble Partner" and "Agile Spirit") set a solid foundation, as did Turkey's "Caucasian Eagle" exercises with Georgia and Azerbaijan in June. Larger-scale exercises should be planned with both countries, sponsored by the United States and Turkey under the NATO banner.
Ankara and Washington should also exploit their respective advantages -- proximity and fifth-generation aircraft -- with unannounced displays of force. Turkey's recent decision to let U.S. jets use Incirlik Air Base to target Islamist extremists in Syria was a limited deal, but it could facilitate more extensive joint efforts to give Russia strategic pause. Former U.S. ambassador James Jeffrey recently suggested that F-22 Raptors could be based in Israel to keep Moscow's objectives in check inside Syria, knowing that even the feared Russian S-300 air defense system can be defeated by U.S. stealth aircraft (see PolicyWatch 2492, "Obama at the UN"). Similarly, deploying the F-22 -- and, once operational, the F-35 joint strike fighter -- to Incirlik to support Syrian operations and conduct exercises with the Turkish, Georgian, and Azeri air forces would reinforce Washington and Ankara's commitment to the region.
Erdogan's efforts to distance his country from the West tend to subside when Turkey's core security interests are at stake. Moscow's brazen military activities have left him uncomfortably in the middle of Russia's designs to restore itself as a regional and global power. Ankara likely realizes that it cannot impede those designs unless it strategically partners with the United States, as in the past.
At a time when Moscow seems to be overextending itself, Ankara and Washington should exploit their potential advantage. Despite other global priorities, Washington has an opportunity to rein in Putin's ambitions with only a modest investment of resources, and Ankara should be part of that equation in the South Caucasus.
Lt Col John Barnett (USAF), a National Defense Fellow at The Washington Institute, has completed command tours in Turkey and South Asia. The views expressed herein are those of the author and do not necessarily reflect the official policy or position of the U.S. Air Force, U.S. Department of Defense, or U.S. government.