The Politics of Small Slights in the GCC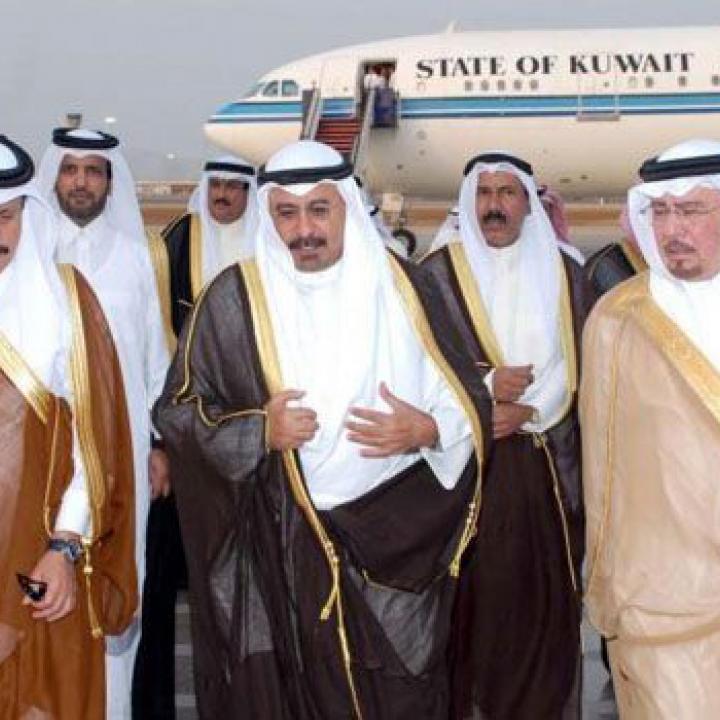 Political differences between Gulf countries are more complex than simply "Qatar vs. the rest."
Although several Gulf Cooperation Council states participated in the recent U.S.-led airstrikes in Syria, the rift between GCC governments continues to have serious consequences. The manner in which Qatar, Saudi Arabia, Bahrain, and the United Arab Emirates have joined the fight against the Islamic State of Iraq and al-Sham (ISIS) reflects the subtleties behind their domestic politics and the differences in their supposedly aligned foreign policies. For the United States, the danger lies in entering a major multilateral conflict at the head of an alliance that is superficial at best.
Put simply, winning an ideological war with an alliance that does not share a common counter-ideology is problematic. Among the GCC states, the foreign policies of Qatar, the UAE, and Saudi Arabia show particularly salient differences. (The other members -- Kuwait, Bahrain, and Oman -- tend to take a less high-profile role abroad.) As UAE political science professor Abdulkhaleq Abdulla describes it, ISIS is a "superglue" holding the GCC together, perhaps temporarily -- the broader strategies of Doha, Abu Dhabi, and Riyadh are not likely to change, as they reflect deep and disparate ideological positions on political Islam and competing visions of state-building.
QATAR'S ISLAMIST DOOR STILL OPEN
Contrary to initial perceptions, the GCC rift -- symbolized by Riyadh, Manama, and Abu Dhabi's diplomatic boycott against Doha since March -- did not end on September 14, when Qatar expelled seven leading members of the Muslim Brotherhood. The move was just a gesture by the country's emir, Sheikh Tamim al-Thani, who was careful to give himself domestic cover two days later by increasing unemployment benefits and social safety net payments to citizens. He also created a new ministry to regulate charities, thereby signaling a dual effort to placate less wealthy Qataris and monitor those with the means to support Islamist charities at home and abroad.
These limited concessions -- which followed Saudi and Emirati demands to tighten control over Islamist political activism in Qatar -- are important, but they do not alter the direction of Doha's intervention in regional affairs. The government's open-door policy of providing hospitality to a range of Islamists, including Chechens and the Taliban, has been around for at least two decades and is unlikely to change. It lies at the heart of Qatar's project to build its prestige and differentiate itself from other countries in the region.
Doha has also been competing with the UAE to break Saudi hegemony in the Gulf and perhaps the wider Middle East, particularly in the wake of Egypt's destabilization, Iraq's disintegration, and the isolation of Iran since 2011. Unlike the UAE, Qatar does not have a merchant culture, Arab cosmopolitanism, or a federal structure allowing for variation in immigration and security policy. And unlike Saudi Arabia, it is not firmly hinged to Wahhabism or other conservative religious principles. Qatar has been able to extend this insular, renegade identity to a foreign policy that supports engagement and, at times, provocative affiliation with Islamist groups.
Doha can take this course because it has fewer domestic strings on its actions abroad. Qatar's citizen population is very small, and the expatriate population is less entrenched and more reliant on state development projects than private enterprise. Domestic politics allow the interventionist approach, while the emirate's vast gas wealth, which has come onstream since the mid-2000s, has created a unique window of opportunity in regional politics.
WHY QATAR BLINKED
Since Sheikh Tamim succeeded his father last year, Qatar has experienced economic slowdown as the new leadership tries to audit the spending patterns of its predecessors, particularly the largess of former prime minister Hamad bin Jassim al-Thani. This has meant a spending and hiring freeze within ministries and state-funded education and healthcare projects, as well as retrenchment of employees. It has also meant the return of institutional authority to ministers away from the many councils and special committees created under the authority of Sheikha Moza bint Nasser, Sheikh Tamim's mother and the most politically active wife of the "Father Emir," Sheikh Hamad. Although these measures are seen as a prudent and a potentially positive step, the timing is inopportune because intra-GCC competition for regional leadership has been much more heated recently.
At the diplomatic level, Qatar's political and social sphere is clouded by a sense of isolation and waiting. While flights between Dubai and Doha are still full, there is a social exclusion between government bodies. UAE officials, particularly those focused on social policy, do not accept invitations to conferences in Qatar for fear of retribution at home. For example, when Emiratis working in the public sector were invited to a recent Doha conference on GCC human rights attended by UN representatives and diplomats, they cited concern that even a Qatari stamp in their passports could create difficulties for them. Indeed, any interaction with corresponding government bodies in Qatar would be frowned upon by the UAE leadership.
The recent arrest of two human rights activists in Doha (since released) is another example of the complexity of regional politics. The Qatari government saw the activists as meddlers, as their home institute in Norway is substantially funded by UAE donations. The international perception, however, was a harsh view of Qatari state repression.
Meanwhile, the slowdown in infrastructure and construction projects in Qatar is noticeable. Contractors and workers report not being paid and describe delays in concluding agreements. In Doha, some speculate that this reflects opportunistic behavior by Saudi and Emirati investors, and contractors who see little consequence in breaching contracts. Yet some of the largest contractors have had their own internal financial problems, a more likely reason for the incomplete projects. Qatar's wealth is immense, but its income is relatively flat, tied as it is to long-term gas delivery projects at fixed prices.
READING BETWEEN THE LINES IN THE UAE
Aside from its apparent usefulness as a tool against Qatar, the UAE's strident position against political Islam is tenuous, with the government widely overstating the threat to domestic security. This trend in Emirati politics has very little to do with the rise of ISIS and more to do with the state-building project underway in Abu Dhabi, which aims to centralize power within the capital and consolidate the security apparatus controlled by Crown Prince Muhammad bin Zayed al-Nahyan and his full brothers.
UAE foreign policy has developed quietly, but the country's recent military operations in Libya and Syria are prestige-building strategies to show the capacity of its armed forces and bolster its regional leadership aspirations. This interventionist approach is both experimental and increasingly bold, often without coordination with the United States or regional allies.
IMPLICATIONS FOR U.S. POLICY
Intra-GCC tensions are a threat to the coherence of the international coalition against ISIS. Accordingly, Washington should encourage its Gulf partners to rise above the petty competitiveness that has marred their recent relations.
As for Qatar, although the emirate is unlikely to deviate sharply from its controversial interventionist path abroad, Sheikh Tamim must temper these tendencies while he consolidates power at home. Doha's open-door policy has been useful to the United States in the past, but it currently risks creating an image of recklessness and complicity with violent extremism. For now, Qatar seems to have calculated that it can better serve its key foreign policy aim -- the removal of Bashar al-Assad and support for Sunni rebel groups (Islamist or not) in Syria, Libya, Egypt, and Iraq -- by aligning itself with the U.S.-led coalition rather than continuing its independent path of hand-picking armed groups to support.
Karen E. Young is a visiting fellow at the Middle East Centre of the London School of Economics.