Pausing Israel's Judicial Overhaul: Toward Compromise or Deepening Crisis?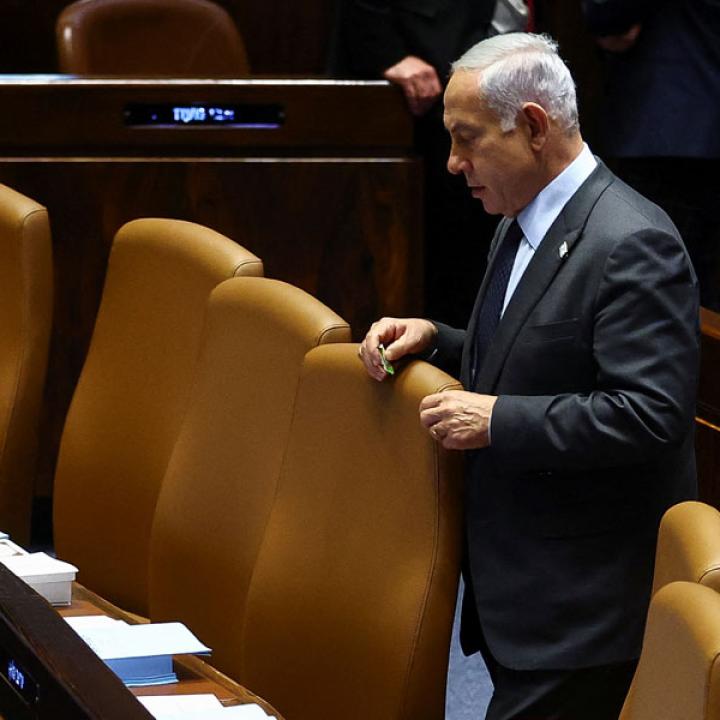 A former Israeli intelligence official joins two other experts to discuss how the situation might affect the government's domestic political prospects, relations with Washington, and ability to counter external security threats.
On March 30, The Washington Institute held a virtual Policy Forum with David Makovsky, Tamar Hermann, and Zohar Palti. Makovsky is the Institute's Ziegler Distinguished Fellow and director of its Koret Project on Arab-Israel Relations. Hermann is a senior research fellow at the Israel Democracy Institute and academic director of the Viterbi Family Center for Public Opinion and Policy Research. Palti is an International Fellow with The Washington Institute and former head of the Mossad's Intelligence Directorate. The following is a rapporteurs' summary of their remarks.
David Makovsky
Prime Minister Binyamin Netanyahu announced earlier this week that he would pause the government's controversial judicial overhaul plan. President Isaac Herzog will use this pause to continue convening compromise talks between coalition and opposition members.
The nonviolent, grassroots protest movement against the overhaul plan is the most powerful in the nation's history, and it can claim greater responsibility for the pause than Israel's formal political opposition. The movement has countrywide appeal to middle-class voters as well as national security personnel and high-tech workers from the Tel Aviv area; it has also attracted worldwide interest. Threats by Israel Defense Forces reservists to refuse service had an impact on decisionmakers too, as did the frequent warnings of dire economic consequences. The demonstrations have continued to expand over time, unifying protesters from various political backgrounds around a clear cause: preserving the state's foundational democratic character.
Netanyahu's dismissal of Defense Minister Yoav Gallant further escalated the protests this week. Although external security threats have united Israelis before, the perception that Netanyahu was elevating politics above national security helped draw younger Israelis to the movement and gain support from the powerful Histadrut labor union for the first time.
The protests also reflect changing public perceptions of Netanyahu. For one, while he has long drawn popularity from Israel's high-tech-driven economic growth, he is now seen by many as threatening that growth. Moreover, when inaugurating his current government, he clearly stated that his goals were stopping Iran's nuclear program, achieving a diplomatic breakthrough with Saudi Arabia, and fighting inflation. Judicial reform was not among them, and he has been reluctant to explain how his overhaul plan would maintain judicial independence, which some interpret as proof that he cannot justify his position. Current polling indicates that Netanyahu's Likud Party might lose six to seven of its thirty-two Knesset seats if another election were held, reflecting serious public dissatisfaction. Many Israelis question whether he actually controls his coalition, or if more radical figures such as Justice Minister Yariv Levin or Simcha Rothman of the Constitution, Law, and Justice Committee hold the reins.
Over the next month, public opinion will likely determine whether Netanyahu continues pursuing the overhaul plan during the Knesset's summer session. Meanwhile, former defense minister Benny Gantz has become a focal point for those seeking unity and dialogue, with polls indicating that the public likes his emphasis on compromise. Yet Gantz has made clear he will not enter this government, putting further pressure on Netanyahu to square the circle with his hard-right coalition partners.
President Biden's public comments on the crisis have had a major impact. He called on Netanyahu to "walk away" from the current legislation and implied he would not invite the prime minister to the White House until that happens. These remarks were a surprise to many, but they seemed to reflect his authentic frustration. The president has long believed that Israel and the United States share common values and interests, and he would have preferred to solve matters behind closed doors and avoid publicly weighing in on Israeli politics. Yet the administration's previous discreet efforts failed, so Biden will likely continue applying public pressure against the overhaul plan.
Biden apparently assumes that Netanyahu will compromise only if he believes he can keep his coalition intact. Ironically, the poor polling numbers give Netanyahu political ammunition, since he can tell his hard-right allies that the government cannot afford to push forward with the overhaul now. In any case, Biden wants to ensure that Netanyahu considers the future of the bilateral relationship in his calculations.
Tamar Hermann
In 2020-21, Israel faced three crises: the COVID-19 pandemic, the economic crisis, and a political crisis in the form of four indecisive elections. The current government was supposed to be relatively stable, with a durable sixty-four-seat majority. Yet its efforts to push these judicial initiatives so early in its tenure shocked the opposition and dominated the agenda. It is unclear how Israel can exit the current situation.
The protest movement was initially united by a sense of severe urgency. A sense of confidence then emerged, as protesters shifted from despairing over the election results to defending democratic institutions. The movement's growth from a few thousand to hundreds of thousands was due in large part to the impressive managerial skills of its leaders, who understood the importance of nonviolence and financing. In a short time, they established themselves as a more effective opposition bloc than the formal parliamentary opposition. It took the efforts of many in academia, journalism, and think tanks to join forces and help explain the situation's importance to the public.
The crisis has also highlighted gaps between Israel's two "tribes"—one of which is focused on democratic identity, the other on Jewish identity. This dichotomy challenges Israel's status as a democratic and Jewish state. As for the makeup and mindset of each camp, those who oppose the judicial overhaul tend to be wealthier and live in urban areas; many work in the high-tech industry and have connections outside Israel. Throughout the crisis, they have generally taken a nonviolent approach. Yet pro-government protesters are showing more openness to using violence or other illegitimate and illegal means to affect the debate. Netanyahu and National Security Minister Itamar Ben-Gvir have already encouraged counter-protests and might continue to do so. Although most Israelis on the center-left currently seem unwilling to use violence, they may change their minds if attacked.
Dialogue is therefore critical. Over 70 percent of Israelis want to see dialogue and compromise—given that 64 percent of Israeli Jews identify as right-wing, this necessarily includes a considerable number of right-wingers. Yet few people believe the current negotiation process will lead to serious solutions. Most Israelis do not see President Herzog as an impartial arbitrator. He should rely on experts who can bring the two political leaderships together.
Zohar Palti
Israel has never faced such a profound internal conflict. This is the first political crisis that has penetrated to the reserves, including the Air Force, the broader IDF, and the intelligence services. Meanwhile, serious external security threats remain, with Israel's allies and enemies alike taking notice of its division.
Against this backdrop, any judicial reforms need to be undertaken in a responsible and gradual manner rather than rushed through in a difficult security environment. The Supreme Court is essential to Israeli democracy, to freedom of speech, to the acceptance and protection of minorities, and to the protection of the security services.
As for the proposed "National Guard" that Minister Ben-Gvir demanded as part of his agreement to remain in the coalition, this new force is unnecessary and dangerous. The only security body equipped to handle major crises is the IDF; creating a separate military force would muddy the chain of command, and Israelis would oppose any such ideological militia.
Regarding bilateral ties, the security relationship between Israel and the United States remains deep. Despite the irresponsible and ignorant remarks that certain Israeli coalition members have aimed at Washington, U.S. officials are aware that responsible elements are still present in the security services. Yet if Israel divorces itself from the values it shares with the United States, this may affect the strategic relationship. Relations have already been damaged with the Democratic Party and many American Jews.
Israelis will no doubt continue protesting even as the Passover and Ramadan holidays coincide in the coming days. Their first priority will be Israel's internal challenges, not the Palestinian, Iranian, or Hezbollah threats that often emerge during this annual season. Yet if terrorist attacks or new Hamas offensives occur during Ramadan, Israel knows how to address such problems and will pause its domestic debate.
This summary was prepared by Gabriel Epstein and David Patkin. The Policy Forum series is made possible through the generosity of the Florence and Robert Kaufman Family.