Palestinian Reactions to the Trump Plan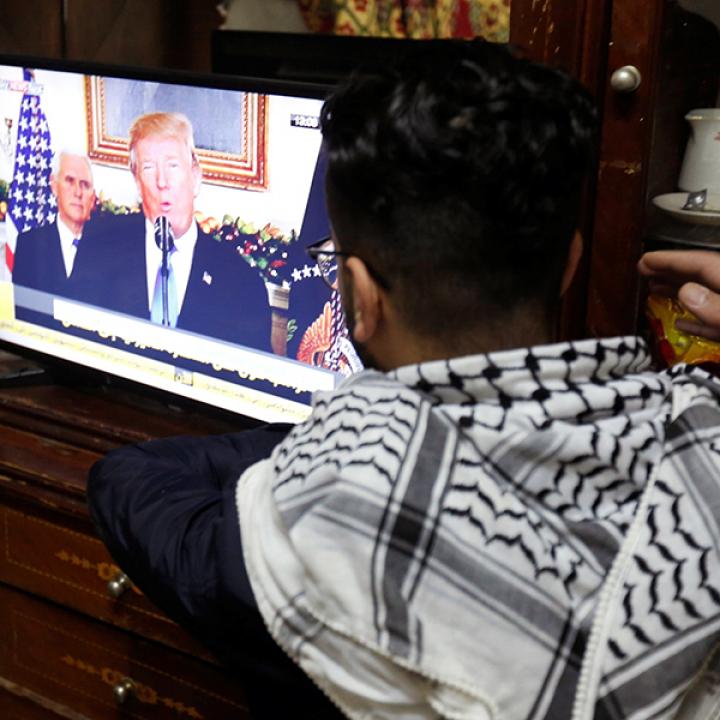 The PA will likely limit itself to quick diplomatic thrusts in order to preempt Arab support and isolate Washington, but any Israeli annexation moves could trigger more drastic action.
Since the Palestinian Authority severed all contacts with Washington in 2017 following the Trump administration's recognition of Jerusalem as Israel's capital, President Mahmoud Abbas has repeatedly declared that he will not accept any peace plan presented by the White House. PA officials repeated this position in recent days following word that the plan would finally be announced in one form or another amid visits by Israeli leaders. Since this will almost certainly remain their stance once the plan is released, how might the PA operationalize their position at home and internationally?
DIPLOMATIC APPROACH
In the near term, the aim of Palestinian diplomacy will be to isolate the American position and paint the Trump peace plan as a bilateral U.S.-Israeli move that is opposed by the bulk of the international community. In addition to thwarting the plan's immediate momentum, the PA also hopes to prevent its contents from becoming a new frame of reference that outlives Trump's presidency. In practice, this likely means pursuing a threefold strategy following the same pattern used after the U.S. recognition of Jerusalem.
The first target of Palestinian diplomacy will be the Arab world. An Arab reaction that falls short of outright rejection of the plan would be seen as a victory for the Trump administration, even if no Arab leaders actually endorse it. In all likelihood, then, the PA will seek to define the narrative from the outset by formally rejecting the plan as soon as it is announced. By doing so, Palestinian officials would hope to preempt their regional counterparts from expressing a willingness to engage with any of the plan's proposals.
In this vein, the PA will also likely call for an emergency Arab League meeting in order to build on previous statements to the effect that Arab leaders will not accept anything the Palestinians do not accept. Although this would not have much practical impact, it would lock Arab governments into formally rejecting the plan or at least supporting the Palestinian position. In particular, the PA will be keen on securing Egyptian, Jordanian, and Saudi support. Palestinian officials are acutely sensitive to Riyadh's position and will put considerable effort into getting a clear Saudi statement, including direct outreach from President Abbas to King Salman.
The PA's second diplomatic target will be Europe. Palestinian officials will likely ask the Europeans to reaffirm their commitment to a two-state solution, reject any unilateral Israeli annexations in Palestinian territory, and implicitly reject key components of the Trump plan. In parallel, they will also engage European states individually in the hope of gaining bilateral recognition of Palestinian statehood. These entreaties will focus on states whose parliaments have previously supported recognition, even in a nonbinding fashion; moreover, they will intensify if Israel moves ahead with annexing the Jordan Valley or parts of the West Bank.
Third, PA leaders will aim to mobilize the UN. If they are confident of winning support from the other fourteen Security Council members besides the United States, they will likely put forth a resolution that reaffirms traditional parameters for resolving the conflict—namely, a two-state solution along the 1967 lines, with a Palestinian capital in East Jerusalem. Although a U.S. veto is a foregone conclusion, swaying the rest of the council could further the Palestinian objective of isolating Washington on these issues. The PA seems sure of Russian and Chinese support in this regard, but less certain about Britain and France. It is unclear how flexible the Palestinians would be in drafting the terms of such a resolution, as their history on this matter is checkered.
The PA is also likely to seek a UN General Assembly resolution. Since overall adoption of such a measure is guaranteed, Palestinian efforts will probably focus on ensuring that key states in Europe and elsewhere back it. Further, the PA will try to get a multitude of relevant resolutions passed in various specialized agencies, contradicting the Trump plan in substantive ways even if not necessarily referencing it.
CHANCES OF SUCCESS
Arab reactions will be the most important variable in determining the effectiveness of the PA's strategy. Substantively, the Arab states need the plan to have two key components if they are to engage with it in even minimal fashion: (1) a Palestinian capital in East Jerusalem with robust Palestinian, Arab, and Muslim control over Islamic holy sites on the Temple Mount/al-Haram al-Sharif (the actual meaning and logistics of this control would have to be worked out later), and (2) a credible promise of a Palestinian state.
Again, the PA will try to preempt other actors from engaging with the plan by defining a robust oppositional narrative from the outset. Once the official Palestinian position is made public, Arab states are unlikely to contradict it—traditionally, they have preferred to influence the PA in private, and have been more effective (up to a point) in that mode rather than trying to wield public pressure. Unless Washington or other actors consult with Arab officials before releasing the plan and brief them about its contents in a meaningful, high-level fashion, the PA's strategy of immediate rejection will have a good chance of achieving its objectives.
IMPLICATIONS ON THE GROUND
Besides this flurry of diplomatic activity, the mere announcement of the U.S. plan is unlikely to prompt the PA to undertake any drastic action on the ground. PA officials may allow some protests to occur away from Israeli friction points, but they have little interest in instability at this point. Of course, developments can occur outside their control. Palestinian factions have unanimously rejected the plan, and some—especially Hamas—do have an interest in destabilizing the West Bank. Moreover, the public has already formed a negative view of the plan following years of regional media speculation casting it in a very negative light. Yet West Bank residents have shown little appetite for mass mobilization around diplomatic issues in recent years, and the PA has proven capable of controlling the ground in analogous situations.
If, however, Israel proceeds with annexing any territory after the White House announces its plan, the PA or the Palestinian public will almost certainly take more drastic steps. Most significantly, PA officials would look to sever security cooperation with Israel, which is already deeply unpopular with the Palestinian public and has been threatened with cancelation many times during periods of high tension. Given the crucial role this cooperation plays in maintaining stability, such a breakdown could lead to a highly volatile situation.
Ghaith al-Omari is a senior fellow at The Washington Institute.