Pakistan's New Military Leader and the Gulf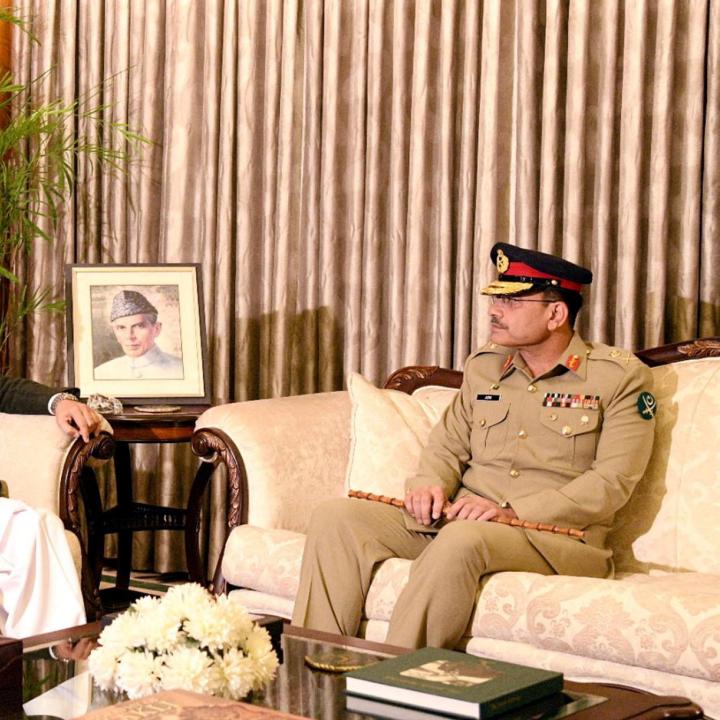 For U.S. and Gulf officials alike, the appointment of a potential military dictator in the world's only nuclear-armed Islamic state bears close watching.
On November 29, Gen. Asim Munir is slated to become Pakistan's new chief of army staff (COAS), replacing Gen. Qamar Javed Bajwa. Prime Minister Shehbaz Sharif chose Munir from a list of six candidates presented by the military, and his calculations for that decision must have been interesting given his family's history with similar circumstances. Back in 1998, his elder brother and mentor Nawaz Sharif—the prime minister at the time—chose Gen. Pervez Musharraf for the job, only to be overthrown by a military coup a year later when he had second thoughts and tried to fire the commander. Musharraf went on to lead the country as dictator and then president for the next nine years, while Sharif was exiled to Saudi Arabia (he later served as prime minister again from 2013 to 2017, and is now based in London).
Indeed, the Gulf Arab states are where displaced Pakistani rulers often go for sanctuary. Prime Minister Benazir Bhutto lived in Dubai for many years after losing office and was assassinated in 2007 upon returning home. Musharraf moved there as well after being charged with high treason by a subsequent civilian government.
Pakistan's broader relationships with the Gulf states, including Iran, are close but complicated. Remittances from the hundreds of thousands of Pakistani workers in the region are an important source of revenue, while affluent Pakistanis often head to Dubai and other locales for vacation and medical treatment. In turn, many Emirati sheikhs fly directly to desert airstrips in Pakistan to enjoy hunting safaris.
On the security front, Pakistan spent more than twenty years building up its uranium-enrichment and bomb-making infrastructure via small trading companies in the United Arab Emirates and Kuwait, which served as cutouts for technology bought clandestinely from Europe and the United States. This route was later reversed when Pakistani nuclear secrets were proliferated to Libya and to Iran. The extent of the military's approval of such business is uncertain—for instance, an autobiography published last year by another former COAS, Gen. Mirza Aslam Beg, includes a 1989 photo of him meeting with Qasem Soleimani, the late commander of Iran's Islamic Revolutionary Guard Corps-Qods Force. Otherwise, the proliferation activity has been wholly blamed on the late Pakistani nuclear scientist A. Q. Khan.
As for General Munir's background, he has previously headed Inter-Services Intelligence (ISI), the agency notorious for its past activities with the Taliban and its sheltering of Osama bin Laden after the 9/11 attacks. More recently, he commanded one of the army corps responsible for monitoring the sensitive Indian front; going forward, he is expected to take an even harder line against New Delhi than General Bajwa did. He is also noted for being deeply religious.
Munir's promotion coincides with a particularly turbulent time in Pakistani politics. Former prime minister Imran Khan was voted out of office by the National Assembly earlier this year after losing favor with military leaders, whom many assumed had helped him win power in 2018. Khan has since been leading mass demonstrations against the current government; he also had a different candidate in mind for COAS. For his part, the retiring General Bajwa recently argued that the military should not "go beyond the mandate," but his plea for limiting the military's influence in domestic politics was widely met with skepticism bordering on derision—after all, he was the commander who likely instigated Khan's initial success and subsequent removal.
Regarding the move's implications for U.S. policy, the challenges are multiple, especially because China is Islamabad's closest ally. Yet Washington can still help calm the brinkmanship in domestic politics, steer the military away from confrontation with India, and urge leaders not to do anything provocative on the lawless borders with Taliban-ruled Afghanistan and Iranian Baluchistan. At the same time, it must help Pakistan keep its nuclear arsenal secure and block any residual temptation to proliferate nuclear secrets, either on enrichment or warhead design.
Simon Henderson is the Baker Fellow and director of the Bernstein Program on Gulf and Energy Policy at The Washington Institute.