An October Surprise with Iran? Calculations and Policy Implications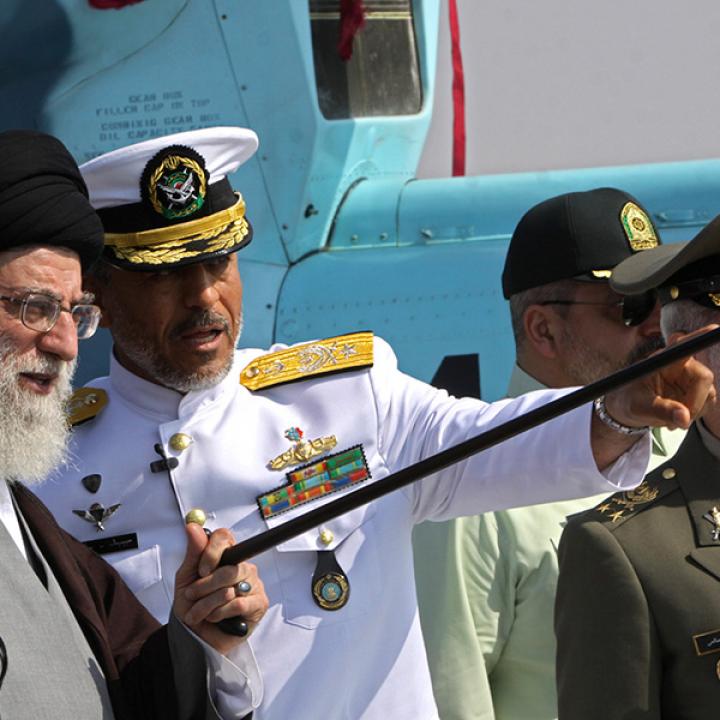 Three experts on Iranian politics and strategy assess the possibilities of last-minute dramatic developments between the two adversaries before the U.S. election.
On October 6, The Washington Institute held a virtual Policy Forum with Mehdi Khalaji, Ariane Tabatabai, and Michael Eisenstadt. Tabatabai is the Middle East Fellow at the German Marshall Fund's Alliance for Securing Democracy. Eisenstadt is the Institute's Kahn Fellow and director of its Military and Security Studies Program. Khalaji, a former Iranian journalist and Qom-trained theologian, is the Institute's Libitzky Family Fellow. The following is a rapporteur's summary of their remarks.
MEHDI KHALAJI
Negotiations between the United States and Iran are inevitable, regardless of the result of November's election. While Iran's leaders tend to speak aggressively when the country is strong, in times of weakness they call for dialogue. This cautious outlook was reinforced by America's targeted killing of Qasem Soleimani in January 2020, which came as a surprise to Iranian leaders given President Trump's public aversion to military conflict in the region.
Iran's elites are ambivalent about the outcome of the U.S. election. On the one hand, they would likely have an easier time negotiating with a Biden administration and would relish the embarrassment that an electoral defeat would cause President Trump. On the other hand, their experience with President Obama led them to feel that negotiations with a Republican administration would be more conducive to securing a sustainable deal that enjoys support from America's allies in the region.
After the killing of Soleimani and the COVID-19 crisis, Iran is in a fragile state. The people continue to suffer economically and psychologically, for which they view the government as responsible. The public is also highly averse to another significant shock, even as retaliation for Soleimani's death. Iran's leaders are well aware of this sentiment and are doing what they can not to alienate traditionally loyal segments of the population. This consideration may reduce the chance of any pre-election belligerence and even increase the likelihood of concessions in a conflict area such as Iraq, which could in turn pave the way for talks.
If Supreme Leader Ali Khamenei chooses to negotiate with the United States, it is unlikely that his delegation would include current president Hassan Rouhani, foreign minister Mohammad Javad Zarif, or any other members of the previous negotiating team. Rouhani's critics in government insist that the Joint Comprehensive Plan of Action (JCPOA) surrendered too many of Iran's interests, though they affirm that the country is now in a better position to negotiate.
ARIANE TABATABAI
Iran's primary objective in the run-up to the U.S. election is to preserve the status quo while applying limited pressure on Washington. As such, the Islamic Republic's leaders are quite content to sit back and wait for the results.
Iran's main pre-election activity has been in the information and cyber realms. The Iranian state has amplified COVID-19 conspiracy theories, and officials have also publicly criticized racial injustice in America, even expressing their support for this year's protests in U.S. cities. Such actions aim to exacerbate American political polarization and diminish the appeal of democratic governance abroad and domestically. Additionally, Iran-backed entities have recently attempted to hack numerous prominent targets, including the Trump campaign, the World Health Organization, and companies conducting COVID-19 vaccine research.
Iran has also avoided several potentially escalatory steps in advance of the election. Although the country continues to violate the JCPOA, it has not made any additional provocative moves in the nuclear realm in recent months. Such inaction effectively keeps the deal on life support until after the election. International monitoring and verification can help prevent development of a covert weapons program, yet the Islamic Republic's decision so far not to build a nuclear bomb is seen as more of a political choice than the result of technical impediments. Iran may decide to develop a weapon as a source of leverage in future negotiations, especially in the case of a Trump reelection, but there is no indication it has made that decision already.
There is little chance that a rogue commander of the Islamic Revolutionary Guard Corps takes action against the United States without government approval. Iran is a unitary state, and any action with such significant strategic implications would require approval from several power centers. An attack that goes against Iran's strategy would be more likely to come from one of its proxies.
Regardless of U.S. administration, however, Iran still wants to demonstrate that it can push back against the U.S. maximum pressure campaign, mainly in an effort to gain leverage in future negotiations. The challenge for Tehran is how to do so without giving President Trump ammunition for his reelection campaign, and without sparking a crisis that leads to a direct military confrontation.
MICHAEL EISENSTADT
Iran's initial aims in its response to the U.S. maximum pressure campaign were twofold: compelling Washington to ease or lift sanctions, and inducing Europe to ignore them. The Islamic Republic has achieved little progress toward these goals and realizes that it is unlikely to do so before the U.S. election. Iran's leadership will probably refrain from any kind of major pre-election military activity (i.e., an "October surprise") lest it give President Trump an inadvertent boost at the polls.
Over the past two years, Iran's attacks on oil transport and infrastructure progressed in complexity from a simple limpet mine attack on stationary tankers, to a limpet mine attack on moving tankers, to a complex drone and cruise missile strike on Aramco facilities in Saudi Arabia. Since then, Iran has limited its actions against the oil industry to diverting a small number of tankers in and around the Strait of Hormuz. This decrease could be attributable to international outcry against actions that disrupt global oil flows, or to a reinforced U.S. and European naval presence in the Persian Gulf
Attacks in Iraq by Iranian proxy groups followed a similar pattern in 2019, with the number of attacks on U.S. forces—as well as the quantity and caliber of rockets used—increasing until an attack in December killed an American soldier. After a spike in rocket attacks following Soleimani's death in January 2020 and another spike in March that killed three coalition soldiers (two American and one British), Iranian proxies in Iraq have once again upped the frequency of their attacks since June. Although rocket strikes persist, the most recent operations have involved improvised explosive devices used against Iraqi-operated logistical convoys on which the U.S. embassy relies. By targeting such support elements without directly endangering Americans, these attacks enable Iran to ratchet up pressure on the United States and strike a defiant pose while avoiding potentially escalatory acts.
If anything, the real October surprise was the American threat to shutter the U.S. embassy in Baghdad. The warning may have tempted the Iranians to escalate in the hopes of achieving their long-term goal: ending the U.S. presence in Iraq specifically and the region more broadly. That said, Tehran is likely conflicted because the costs of such action could outweigh the gains. Any significant military move could bolster President Trump's chance of victory in November. Closing the embassy also have the following effects: enabling the United States to be less constrained in its response to Iranian actions; depriving Iranian proxies of a source of leverage over the United States; and laying some groundwork for U.S. sanctions on Iraq that might have adverse indirect consequences for the already-struggling Iranian economy.
Yet while Iran is unlikely to conduct a major attack before the U.S. election, this does not preclude the possibility of such an event after November 3. If Joe Biden wins, an attack could serve the dual purpose of humiliating President Trump on his way out while signaling resolve to the incoming administration. In the case of a Trump victory, Iran would presumably want to catalyze negotiations so that it can obtain sanctions relief, though it may be torn between fomenting a crisis or quietly extending an olive branch to achieve this goal.
This summary was prepared by Henry Mihm. The Policy Forum series is made possible through the generosity of the Florence and Robert Kaufman Family.