New Palestinian Prime Minister Is a Victory for Fatah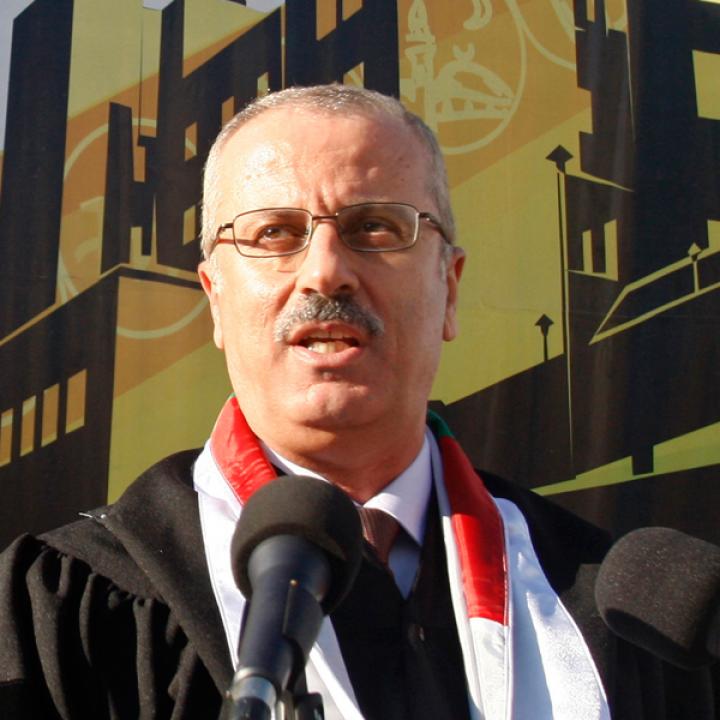 Abbas's chosen candidate will boost Fatah's profile in the near term, but international donors will ultimately judge the new premier based on how he handles fiscal transparency, economic stewardship, and security cooperation.
This week, Palestinian Authority president Mahmoud Abbas appointed academic Rami Hamdallah as prime minister, replacing internationally respected economist Salam Fayyad, who resigned in April. As a political outsider, Hamdallah lacks Fayyad's independent power base, so Abbas and the ruling Fatah Party will likely have greater control over his activities. Yet his low profile could also help him pursue his predecessor's economic and security initiatives with fewer political impediments.
FATAH VICTORY
Born in the West Bank city of Tulkarem in 1958, Hamdallah has served as president of al-Najah National University in Nablus since 1998. A linguist, he received his doctorate from Britain's University of Lancaster. Until now, he has not been involved in PA political life, though he once headed the Palestinian stock exchange and has served as secretary-general of the PA Central Elections Commission since 2005.
Abbas seemingly chose him because of his clean slate in the political arena. As an outsider, Hamdallah does not have political enemies, but he also lacks his own power base, making him unlikely to pursue a course independent from the president. Accordingly, his appointment appears to be a victory for Abbas's mainstream Fatah Party, which had been troubled by Fayyad's increasing independence and its implications for post-Abbas succession.
Like Hamdallah, Fayyad was deemed a technocrat upon taking the job in 2007. Yet his fourteen years at the International Monetary Fund had made him very well connected internationally, and his previous tenure as PA finance minister had further enhanced his reputation as an economic reformer. Since then, Fayyad has publicly indicated that he will run for president in the next election. Now that he is freed from his caretaker role as outgoing prime minister, one can imagine him becoming more vocal in calling for new elections.
Appointing someone who lacks Fayyad's international reputation and domestic power base suggests that Abbas and his circle will be able to consolidate their control over the premiership. At the same time, had Abbas chosen a member of the Fatah Central Committee or Revolutionary Council -- someone with the potential to succeed him as president -- he would likely have alienated certain players. Hamdallah lies in the middle ground: he is unlikely to oppose Fatah, and he is not associated with Hamas, so the United States and Israel cannot object to him on those grounds.
Moreover, by appointing an academic, Abbas may believe he can escape allegations of cronyism. Previously, some Western observers speculated that Abbas would name his economic aide, Muhammad Mustafa, to replace Fayyad, which they viewed as a sign of economic cronyism (though without making specific allegations against Mustafa). Now, however, Abbas reportedly plans to make Mustafa the new deputy premier, suggesting that he wants to keep a close watch on Hamdallah while sidestepping such criticism.
Although there has been no public mention of Washington vetting Hamdallah's appointment, the timing is curious. When Fayyad resigned on April 13, Abbas did not seem in any particular hurry to name his replacement. Instead, the decision came just days after the May 26 World Economic Forum meeting in Jordan, where Secretary of State John Kerry announced -- with Abbas at his side -- that the United States would spearhead a $4 billion economic development plan for West Bank Palestinians.
NO FATAH-HAMAS RECONCILIATION
In 2011, Abbas committed to jointly appoint a new prime minister as part of a tentative reconciliation agreement with Hamas. And when the parties reaffirmed their desire for reconciliation last year, they indicated that Abbas himself would be the next premier. Yet despite two years of talks, negotiations between Fatah and Hamas have floundered, and Hamdallah's appointment indicates that reconciliation will not happen anytime soon.
Indeed, far from jointly approving the decision, Hamas came out against it. Group spokesman Fawzi Barhoum argued that "Abbas should have implemented the reconciliation [deal]," calling the president's unilateral decision to elevate Hamdallah "illegal." Yet Hamas can hardly blame Hamdallah for paralysis on the reconciliation front. In February 2013, the Central Elections Commission -- under Hamdallah's leadership -- established 257 voter registration locations in Gaza to help jumpstart national elections, which have not been held since the 2006 parliamentary contest.
TESTS AHEAD FOR HAMDALLAH
Going forward, international donors will be focusing on the new prime minister's progress in three main spheres: budgetary transparency, stewardship of the economy, and continued security cooperation with Israel. On the first item, a key test for Hamdallah will be whether he keeps the PA budgetary process open, which was Fayyad's signature approach to improving the quality of governance. By placing the PA's main account under international audit, Fayyad made it virtually impossible to divert aid. If Hamdallah takes a different course, Europe and Washington are bound to reduce their contributions.
Fayyad also discovered that the ebb and flow of peace negotiations affected his efforts to stabilize and professionalize the budget. Abbas's unilateral statehood bids at the UN in 2011 and 2012 disrupted both American aid and Israel's transfer of tax revenue collected on behalf of the Palestinians. As a result, the PA had to withhold monthly salaries from 150,000 of its employees, and the Fatah leadership scapegoated Fayyad despite his strong opposition to Abbas's UN campaign.
Economic stewardship is another key issue. Thanks in no small part to Fayyad's strategy of attacking deficits and focusing on infrastructure projects, gross domestic product in the West Bank was growing at a rate of 11 percent in 2010-2011, according to the Ad Hoc Liaison Committee, which coordinates donor assistance. Yet this figure dropped to 6 percent in 2012, while the deficit grew and unemployment increased, especially among the younger population. Although U.S. assistance has since been reestablished and Israel has resumed delivering tax revenues, it remains unclear how Hamdallah will restore economic growth to previous levels. In particular, it will be interesting to see whether he can repeat the regional fundraising success he has enjoyed as a university administrator, where he has reportedly raised $300 million largely from Arab countries.
As for security cooperation with Israel, Fayyad was known for his commitment to such activities as a means of improving law and order inside the West Bank. Specifically, he focused on consolidating security services, institutionalizing cooperation with Israeli services, and pursuing Hamas operatives involved in the West Bank terrorist infrastructure. Abbas favored such cooperation as well, but he often traveled abroad, leaving management of the issue to Fayyad and relevant officials. Although Israeli-Palestinian security contacts are now routine and may not require the same level of intervention as in Fayyad's early days, observers nevertheless wonder if Hamdallah's commitment will match his predecessor's.
There are grounds for optimism in this regard. Although al-Najah University produced its share of suicide bombers during the second intifada (2000-2004), Hamdallah publicly and unequivocally condemned such attacks, stating, "The majority of students and teachers at this institution are against the killing of any human beings. It's something horrible to kill innocent children, whether in Palestine or in Israel or anywhere else." At the time, he blamed the growing radicalization on the lack of progress toward peace.
CONCLUSION
Abbas has seemingly found a prime minister who will act in accordance with the president's office. That notion, coupled with Hamdallah's lack of political enemies, may help the new premier hold the position. Although Hamdallah does not expect to maintain Fayyad's sense of independence, donors will no doubt judge him based on the fiscal, economic, and security standards set by his predecessor. These standards are easily measurable, so the international community should know shortly whether the new appointment marks a continuation or abandonment of the Fayyad path.
David Makovsky is the Ziegler distinguished fellow and director of the Project on the Middle East Peace Process at The Washington Institute.