Netanyahu's Political and Legal Challenges in the Next Elections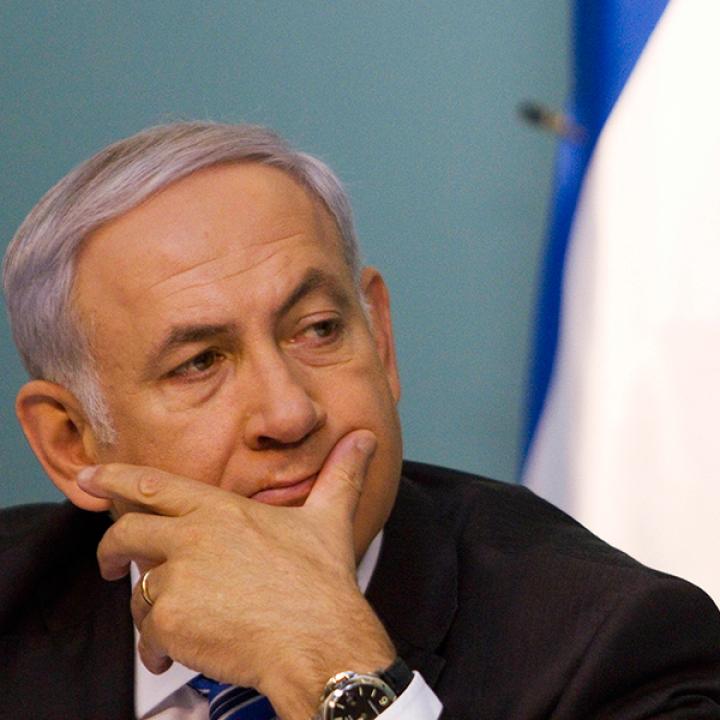 For now, he is sticking with the tried-and-true formula of emphasizing his security pedigree, but looming indictments could change his campaign narrative and coalition-building strategy.
Israeli prime minister Binyamin Netanyahu hopes to capture his fifth term in the April 9 national elections, and polls show he has a clear lead over other candidates, retaining support from approximately a quarter of the electorate. Yet it is insufficient to merely have the most votes; to govern, the winner must subsequently cobble together a majority of at least 61 seats in the 120-member Knesset. Netanyahu is also under the shadow of potential corruption indictments pending a hearing that would occur after the elections.
Regarding policy issues, Netanyahu is accustomed to framing election campaigns in a manner that highlights his security successes against Israel's enemies while raising questions about whether his rivals can stand up to international pressure for concessions on the Palestinian issue. In seeking to emphasize his security credentials in the past couple weeks, he broke from Israel's policy of ambiguity on military operations against Iranian activities in Syria, spurring the opposition to charge that he is putting the country at risk in order to maximize political gain. Last week, outgoing Israel Defense Forces chief of staff Gadi Eisenkot called these claims baseless, stating, "There were never any political concerns behind my decisions; nor were there in the prime minister's considerations." In any case, it is safe to assume that Netanyahu will continue playing security as his main card in the upcoming race. The question is how he will frame the elections if the corruption allegations come to center stage.
WILL THE ATTORNEY GENERAL INDICT?
The campaign's trajectory may well hinge on whether Israel's attorney general—former Netanyahu cabinet secretary Avichai Mandelblit—issues indictments against the prime minister before April 9. Netanyahu faces three lengthy and ongoing corruption investigations. One centers on whether the telecom company Bezeq won preferable tax treatment for allowing the Prime Minister's Office to guide press coverage on its Walla website. Another centers on allegations that Netanyahu agreed to push legislation limiting the circulation of Israel Hayom—a free daily newspaper that boasts the country's largest readership—in exchange for more favorable coverage from its competitor Yediot Aharonot. A third case asks whether the estimated $180,000-$200,000 in champagne and cigars he received from a friend who held a minority interest in an Israeli television station constitutes a bribe. (There is a fourth case stemming from former defense minister Moshe Yaalon's allegation that Netanyahu sought to benefit his brother-in-law, the attorney for a German company selling submarines to Israel. So far, though, authorities have not formally echoed this claim or hinted at imminent charges.)
Mandelblit may be taking action on one or more of these matters soon. The police officials who conducted the fact-gathering investigation are known to favor indictment in the first three cases. Moreover, when the attorney general met with his predecessors and former Supreme Court members in recent weeks, all of them reportedly urged him to act before the election, arguing that the public has a right to know his findings before going to the polls. Specifically, they counseled him to act before March in order to minimize claims that he is proceeding on the eve of balloting. The question is whether he would pursue the gravest accusation—bribery—or issue lesser charges.
The belief that Mandelblit is leaning toward indictment also stems from Netanyahu's primetime address on January 7, when he called for televised debates against three former confidantes who are now witnesses for the state. Although authorities predictably rejected that demand, analysts contend that it demonstrates just how anxious the prime minister has become about the looming indictments. The question of whether indictments alone would legally compel him to leave office is still contested, but a conviction would clearly require him to step down.
If Netanyahu decides that pre-election charges are inevitable, he has several potential courses of action. Will he try to soften the blow by preempting Mandelblit and pleading his case to the public on each allegation? Or will he sidestep the details and assure voters that he is prepared to fight the charges in a post-election hearing or court proceedings? Alternatively, he may double down on his claim that authorities are pursuing charges based on mere animus toward him—a stretch given that Mandelblit was once his policy aide. In recent years, the mindset of Netanyahu's Likud Party has veered sharply from the nineteenth-century European liberal outlook that defined its forebears, instead promoting a narrative of persecution by an elite legal establishment that supposedly thumbs its nose at the populist faction. A recent Likud billboard singled out a few leading journalists, declaring that the people will decide Israel's future, not the media—a signal that the prime minister may intend to intensify his rhetoric against the press.
If Netanyahu manages to win the elections despite these challenges, he may seek to shape his next coalition based on who would be most loyal to him once indictments and court cases proceed in the coming months. In that case, he would likely pursue a coalition similar to the one he has now, using right-of-center and ultraorthodox parties to maintain his parliamentary majority rather than reaching out to parties on his left. (The prospects and potential electoral strategies of left-wing parties and other challengers will be discussed in future PolicyWatches.)
SATELLITE PARTIES ARE TEETERING
Netanyahu has recently voiced concern that some of his political partners are losing popular support. At least three parties in his current coalition have dropped close to 3.25 percent of the vote, the minimum threshold needed to enter parliament. One of them is Shas, the Sephardic ultraorthodox faction that has been a pillar of most of his governments. Yet the party's charismatic rabbinic leader passed away a few years ago, and a corruption probe is haunting its political leader. Moreover, some of its voters are not ultraorthodox and could easily switch to other parties. Given these risks, Netanyahu might press for a technical merger between Shas and its Ashkenazic equivalent Agudat Yisrael, allowing Shas members to sail into the next Knesset even if the merger collapses afterward.
Also at risk is the Jewish Home Party, a pro-settler faction that has split with its vocal leaders. Education Minister Naftali Bennett and Justice Minister Ayelet Shaked seek to distance themselves from the party's traditional core, which hails from the defunct National Religious Party. The two leaders now call themselves the New Right, and Bennett hopes this shift to a nonsectarian platform will catapult him into Netanyahu's post.
A third party at risk is Yisrael Beitenu, led by former defense minister Avigdor Liberman. He founded the party not long after a massive wave of Jewish immigration from the former Soviet Union, but these immigrant roots may not be a strong enough platform now that the next generation has reached voting age and feels integrated into Israeli life.
Ideally, Netanyahu would like to pull voters away from rivals like Bennett and Liberman. Yet if this is not possible, he would prefer that their reliable parties retain their strength and keep voters inside the right-wing bloc—otherwise, factions like Jewish Home may become so weak that they fail to surpass the minimum voting threshold.
CONCLUSION
As in past campaigns, Netanyahu's current lead in the polls is premised on security threats. Yet the pending indictments could radically shift the paradigm well beyond election day, pushing Netanyahu and his allies to consider coalition formulas that best ensure his political survival at a time of unprecedented legal challenges.
David Makovsky is the Ziegler Distinguished Fellow and director of the Project on the Middle East Peace Process at The Washington Institute.