Militia Technical Disinformation and the Nov. 7 Drone Attack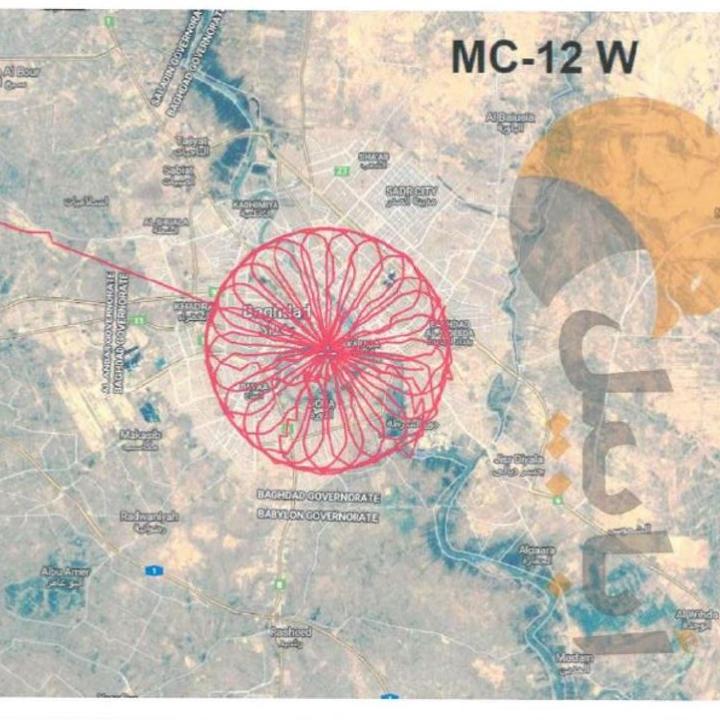 To deflect responsibility for the assassination attempt on Iraq's prime minister, self-styled "resistance" groups have assembled a dodgy dossier of convincing-looking disinformation.
On November 7, at least two drones delivered explosive munitions to the residence of Iraqi prime minister Mustafa al-Kadhimi. The quadcopters exactly matched the technical specifications of drones previously used by Iran-backed militias in terrorist attacks on Iraqi leadership locations and the U.S. embassy in Baghdad. To avoid accountability for the November 7 assassination attempt, militias have sought to cast doubt on the incident's credibility, using seemingly sophisticated technical analysis to give the appearance that "experts" reject the real evidence. A twelve-point dossier created by the Telegram channel Ababeel merits particular attention.
Ababeel was created on December 22, 2020, but not activated until August 24, 2021. The channel is named after the miraculous birds mentioned in the Quran's Surah al-Fil as protecting the Kaaba in Mecca from the Aksumite elephant army of Abraha, namely, by dropping small clay stones on them as they approached (Surah 105:3). Ababeel styles itself as a "soft intelligence" unit—a Bellingcat-type open-source research group that emerges once or twice a month to spread disinformation about individuals, factions, or countries that oppose or displease Iraq's self-styled muqawama (resistance). The channel's past targets have included Iraqi parliamentary speaker Mohammed al-Halbousi, Muqtada al-Sadr, Baathist figures, Iraqi Kurds, the United States, Israel, the United Arab Emirates, and Saudi Arabia.
The twelve-point dossier is intended to convince readers that the November 7 attack was some kind of false-flag operation. To back this argument, the authors raise suspicious-sounding questions about the incident: why U.S. assets in the area (e.g., aircraft, jamming systems, and counter-rocket, artillery, and mortar systems) did not intercept the drones; why the attack did not cause more damage and injuries; why so little physical evidence was preserved and recovered from the scene; and so forth. The report is a somewhat ingenious pastiche of known facts, unproven assertions, and (to the layman) impressive-looking imagery.
The heart of the report is a technical assessment that sounds (again, to a typical reader) like expert analysis, though many of its assertions are demonstrably incorrect when scrutinized by actual drone experts. For instance, it claims that the drone shown by Iraqi government reports regarding the attack is a "French drone," then proceeds to make arguments about the system's performance on November 7 based on "the specifications sheet of its official manufacturer." One glaring hole in this line of argument is the report's failure to actually name the drone type and French manufacturer or provide its supposed specifications. More important, the munition recovered at Kadhimi's residence exactly matches those found in every quadcopter used by Iran-backed militias in Iraq. The same goes for the Chinese components that the drone used for its autopilot functions, telemetry, electronic speed controllers (ESCs), video transmitters, power distribution boards (PDBs), motors, and batteries (18650).
Similarly, assertions made about the drone's range, payload, speed, and ability to be programed with different start and end points would appear convincing to an average reader, but they are all easily challenged. For example, the report asserts that the drone's maximum range should normally be 5 kilometers, or 12 kilometers with modification. Yet the quadcopters deployed used in previous attacks—which used exactly the same type of munition (Figure 3) and Chinese-made, off-the-shelf civilian telemetry systems (Pixhawk with RFD868X), battery packs, and PDBs—have a range of 40 kilometers and an endurance rating of over 120 minutes.
Ababeel also claimed that the drone could not carry the claimed payload, but the actual payload—2 kilograms of explosive plus ball-bearing shrapnel in a lightweight cylinder—was well within the carrying capacity of any basic drone with even slight modifications. The model used on November 7 was equipped with four powerful 320-kilovolt electric motors, an advanced battery management system, and large lithium-ion 18650 battery pack.
Furthermore, these drones are not slow as the Ababeel report suggests; they can reach a cruising speed of 75 kilometers per hour while carrying the type of payload dropped on Kadhimi's residence.  Ababeel also claims that it is "impossible" for such drones "to take off from one place and return to a different point," but this is a standard capability on basic civilian drones and their mission planning software.
Finally, the realistic-looking maps of U.S. drone locations in the report's annex are readily disprovable. For instance, Figure 5 shows the alleged track of a U.S. surveillance aircraft over Baghdad during the attack, but a replay of commercially available flight tracker recordings for November 6-7 shows no such track existed. The spiral pattern conforms to a U.S. MC-12W Liberty aircraft, underlining the effort Ababeel took to craft a convincing fake.
Point by point, the report is easy to debunk, but it is nonetheless effective as disinformation—its realistic-looking presentation is likely "authoritative enough" to be echoed by Iraqi mainstream media and across social media. This approach plays into Iraq's societal openness to accept conspiracy theories; it is also readily taken up by Kadhimi's political competitors, who are often willing to echo militia disinformation for their own purposes. Once in the public and elite's "bloodstream," such disinformation can quickly metastasize into cynical beliefs that are difficult to dislodge from the collective imagination. The only "antibody" is rapid provision of high-quality technical intelligence by the Iraqi government, amplified by popular figures, reformists, and media outlets.