Middle East Students Stranded in Ukraine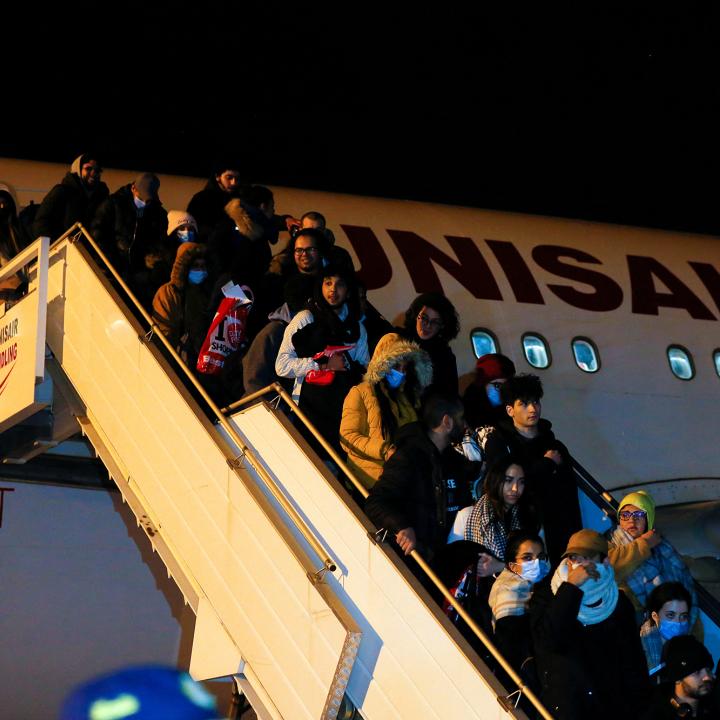 Regional governments are scrambling to repatriate thousands of their trapped citizens, and the United States could play a key role in facilitating their safe return. 
As officials in the Middle East calibrated their diplomatic responses in the days following Russia's invasion of Ukraine, another urgent problem was brewing: how to safely evacuate their students who were still present on the ground. With relatively few of them leaving ahead of time, an estimated 10,000 students were stranded across the country and forced to choose between sheltering in place or navigating a safe route home.
Before the Invasion
Ukraine has been an attractive destination for students from the Middle East and North Africa (MENA) since the Soviet era, when the Kremlin invested in and marketed higher education to build connections with newly independent countries. Ukraine's education system now boasts lower fees and higher quality coursework than what is offered in many MENA countries, especially in fields related to science, technology, engineering, and mathematics. Moreover, its cost of living is lower than most of Europe's. In 2020, over 76,000 foreign students were studying in Ukraine, including roughly 8,000 from Morocco, 4,000 from Turkey, 3,000 from Egypt, and many more from Iraq, Israel, Lebanon, and elsewhere in the region. 
According to the Ukrainian government, the two universities that enroll the most foreign students are located in Kharkiv, which has been under heavy Russian bombardment. As of March 7, the National Police reported that 133 civilians had been killed in the city and 319 injured. And like most other metropolises where foreigners are studying, Kharkiv is located hundreds of miles from the country's western borders, complicating efforts to leave.
On February 12, as speculation mounted about an invasion, Morocco issued a statement recommending that its citizens leave Ukraine. A day later, Lebanon did the same. At that time, however, Ukrainian universities were reportedly telling foreign students that they must attend classes in person in order to remain enrolled. In response to these and other issues, Egyptian students posted videos asking their local embassy for help, and the "Egyptian Students in Ukraine" Arabic hashtag went viral on Twitter. On February 14, parents of Lebanese students protested in Beirut, demanding that their Foreign Ministry develop a repatriation plan.
After the Invasion
MENA governments have employed a variety of measures to keep their citizens safe since the fighting began. Algeria did not tell students to leave but recommended that they exercise caution and comply with security directives. Egypt advised citizens to head for areas closer to Hungary, Poland, Romania, or Slovakia if possible, or to shelter in place if they were in areas under fire. Egypt's emigration minister, Nabila Makram, held a Zoom meeting with students in Ukraine, while Moroccan Foreign Ministry officials met with parents to brief them on the situation. In addition, most embassies have publicly noted that they are communicating with citizens about their safety and evacuation. 
According to news reports and social media posts, however, many MENA students in Ukraine have struggled to obtain information or reach government officials. Several outlets reported that Iraqi, Lebanese, and Palestinian students have called their embassies repeatedly, to no avail.
Such issues have led to criticism back home. In Turkey, one student stated on a national news program that 800 of his fellow nationals needed evacuation from Kharkiv; he was taken off the air shortly thereafter. Meanwhile, a member of the Republican People's Party criticized Ankara for being one of the last governments to issue an evacuation warning. In Egypt, a parliamentarian called for the creation of a ministerial committee to assist students caught in Ukraine. In Morocco, the families of students protested outside the Foreign Ministry on February 28, demanding that the government do more to expedite evacuations. Regional outrage only increased after Algeria's Foreign Ministry confirmed that a recent graduate was killed while trying to escape Ukraine. 
Amid the chaos, many MENA students fled to the country's northern and western border crossings. Once there, however, some noted that they had to wait for hours to cross, and that they faced discrimination and harassment from Ukrainian guards. Examples included students who were reportedly beaten up, prevented from boarding trains, barred from crossing, or told that Ukrainians must cross first. Al Jazeera reported that a group of Arab students was taken off a bus eighteen miles from the Polish border and told to continue on foot; soldiers then gave their seats to Ukrainians. 
Kyiv has responded to such controversies by emphasizing the importance of equal treatment for trapped foreigners. In a March 5 tweet, Foreign Minister Dmytro Kuleba stated, "Africans seeking evacuation...need to have equal opportunities to return to their home countries safely." And in a March 7 statement, the ministry noted that the government had helped 146,000 foreigners leave the country, then called on Moscow to cooperate in establishing humanitarian corridors for further evacuations. Thus far, however, Russia has continued to bombard civilian escape routes.
Some MENA governments have also arranged evacuation flights from countries neighboring Ukraine. On March 1, Royal Air Maroc flew three planes from Bucharest, Budapest, and Warsaw to Casablanca. At first, the flights were intended exclusively for Moroccans who had fled Ukraine, with tickets selling for 750 dirhams (about $75). Following a request from the Mauritanian government, however, Rabat agreed to reserve some seats for Mauritanian students. In all, 1,534 Moroccans were reportedly evacuated as of March 1. That same day, an EgyptAir flight transported fleeing Egyptian students from Bucharest to Cairo, while the Turkish Foreign Ministry reported that it had coordinated the evacuation of over 7,000 nationals, including around 150 students. In Iraq, a government spokesman noted that three of the country's students had been evacuated to Moldova as of March 1, and 157 nationals had reached Poland. In Tunisia, the government has stated that it will send planes to Poland and Romania to repatriate roughly 1,700 nationals living in Ukraine, around 80 percent of whom are students. In Algeria, the government announced on March 3 that it had evacuated 76 nationals, mostly students. On March 7, Al-Monitor reported that Arab Israeli political officials had coordinated the evacuation of nearly all of the estimated 2,000-2,500 Arab Israeli students in Ukraine, with some returning home and others attempting to arrange continued study in neighboring European countries. 
Policy Implications
The plight of MENA students in Ukraine comes as many of their governments are toeing a difficult diplomatic line, having to balance their ties with Russia and Ukraine while being careful not to take steps that endanger critical agricultural imports and other priorities. Such considerations raise questions about what these countries may be hearing from Moscow. On March 2, for instance, the Indian embassy in Kyiv instructed students to go to specified "safe zones" based on directions it received from Russia. Has the Kremlin delivered similar communications to MENA embassies?
The manner in which governments assist—or fail to assist—trapped students may also affect political relations back home, particularly as the war's anticipated economic fallout begins to hit the region. Many MENA countries depend heavily on wheat imports from Russia and Ukraine, so supply disruptions would likely send prices soaring. 
For its part, the United States has an opportunity to help its partners across the region repatriate their citizens safely. One vital step is to communicate with them on this issue and reach out to EU countries along Ukraine's borders. Providing MENA officials with up-to-date information about safe evacuation routes is especially important—these governments are eager to repatriate their citizens, but their communication with trapped students has often been imprecise and outdated. Working with them to mitigate this problem would save lives. It would also demonstrate that even as Washington focuses renewed attention on Europe, it has not forgotten its MENA partners—a crucial message amid growing local perceptions that the United States is no longer invested in the region. 
In addition, the United States should communicate the importance of equal treatment for civilians fleeing the conflict. The U.S. Agency for International Development has announced over $50 million in new aid to address the crisis, and as a major contributor, Washington has both the right and the obligation to emphasize its expectations for how the humanitarian response will be conducted. Fair treatment of fleeing foreigners should be a baseline expectation; otherwise, further reports of discrimination will risk alienating MENA countries and their citizens, who are closely watching reports of racism as they form opinions about the conflict.
Carol Silber and Calvin Wilder are research assistants at The Washington Institute. This PolicyWatch was published under the auspices of the Institute's Diane and Guilford Glazer Foundation Program on Great Power Competition and the Middle East.