The Middle East at the Olympics: Six Countries Compete While Great Power Politics on Display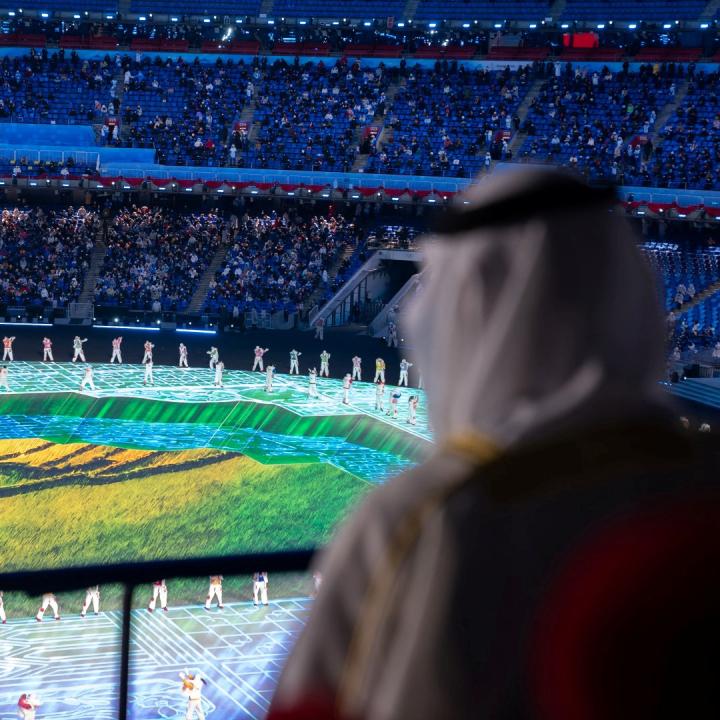 Because regional leaders are treating the games as another stage for balancing historic partnerships with current economic and security interests, Washington should keep drawing clear lines regarding their ties with Beijing.
Three weeks after Middle Eastern officials made headlines by traveling to China for high-level meetings, the leaders of three Arab states—Egyptian president Abdul Fattah al-Sisi, Qatari emir Tamim bin Hamad al-Thani, and de facto Emirati ruler Muhammad bin Zayed—arrived in Beijing to attend the Olympic Winter Games. President Xi Jinping held individual talks with each leader over the weekend and expressed eagerness to deepen cooperation with their countries. According to Chinese state media, he pledged to further promote the Belt and Road Initiative in Egypt, enhance energy ties with Qatar, and speed up free trade negotiations with Gulf countries.
The games have also become a forum for heightened engagement between Gulf governments, with the leaders of Qatar and the United Arab Emirates joining President Xi for a mutual luncheon on February 5. It was the first such interaction between the two leaders since the UAE, Egypt, Saudi Arabia, and Bahrain ended their long-running diplomatic rift with Qatar last year.
Initially, media reports indicated that de facto Saudi ruler Crown Prince Muhammad bin Salman would attend the opening ceremonies as well, but the only Saudi officials present were Princess Reema bint Bandar and Prince Abdulaziz bin Turki al-Faisal, the kingdom's ambassador to the United States and minister of sport, respectively. Saudi press statements did not mention the crown prince's apparent absence, which was possibly an outcome of U.S. pressure. Two days after the ceremony, China's Foreign Ministry stated that he did not attend due to "his schedule."
For its part, the Israeli government did not send any officials to the games. Minister of Culture and Sport Hili Tropper declined Beijing's invitation, citing concern about the ongoing wave of COVID-19's Omicron variant. No states from the region officially announced that they would be joining the U.S.-led diplomatic boycott of the event (discussed below).
Middle Eastern Athletes at the Games
Although every country in the Middle East and North Africa has participated in the Summer Olympic Games, their attendance at Winter Games is less common. This year, six countries are participating: Iran, Israel, Lebanon, Morocco, Saudi Arabia, and Turkey. They sent 19 athletes in total, a tiny fraction of this year's 2,871 Olympians. No country from the region has ever won a winter medal, and that track record has continued so far at the Beijing games.
Saudi Arabia is making its winter debut, sending alpine skier Fayik Abdi as its only Olympian at these games. Two years ago, the kingdom formed the Saudi Winter Sports Federation (SWSF) as part of a wider effort to expand its cultural and entertainment sectors under the Vision 2030 plan. In early 2021, the SWSF stated that it was seeking Saudis who could qualify for the Winter Games, then offered to fund Abdi's training. The twenty-four-year-old athlete was born in San Diego but spent his childhood in Saudi Arabia, learning to ski in Lebanon and Switzerland before starting college in Utah, where he hit the slopes frequently. When he returned to the kingdom after graduating in 2020, he planned to pursue sand skiing but was contacted by the SWSF and began training for the games.
As for the other countries in attendance, Iran has participated in the Winter Olympics eleven times since its 1956 debut and sent two alpine skiers this year. Israel has sent a delegation to every Winter Games since 1994; this year it has two alpine skiers, three figure skaters, and one short-track speed skater competing. Lebanon has participated in nearly every Winter Games since its 1948 debut; it sent two alpine skiers and one cross-country skier this year. Morocco has participated in seven Winter Olympics since its 1968 debut and is represented by one alpine skier in Beijing. Turkey has participated in nearly every Winter Olympics since 1936; its current delegation includes two alpine skiers, three cross-country skiers, one short-track speed skater, and one ski jumper. Two other regional countries have participated in previous years despite not making the Beijing games: Algeria attended the 1992, 2006, and 2010 Winter Olympics, while Egypt attended in 1984.
Implications for U.S. Policy
As mentioned previously, top officials from Iran, Turkey, and four Gulf countries flew to China in the weeks leading up to the games to discuss further cooperation on economics, infrastructure, energy, and other sectors. This flurry of diplomatic activity came amid heightened scrutiny of Beijing's ties to the Middle East. In late 2021, for example, reports alleged that China was assisting Saudi Arabia with its ballistic missile program, while U.S. intelligence assessed that a secret Chinese military outpost was being built at an Emirati port, prompting Abu Dhabi to halt construction.
Recent U.S. reactions to Chinese investments in Israel may indicate how the Biden administration will respond if America's other regional partners continue advancing their ties with Beijing. According to senior Israeli officials, the country rejected bids from two Chinese companies for light rail construction in Tel Aviv amid pressure from the United States. Similar tactics may prove necessary in the future as the administration attempts to keep allies in its fold while simultaneously shifting its focus away from the Middle East. 
Regarding Chinese meetings with regional leaders in Beijing, various obstacles may impede both sides from translating this engagement into implemented agreements and enhanced partnerships. U.S. allies could prove hesitant to anger the Biden administration, while China may prefer to focus deeper diplomatic engagement on the Asia-Pacific region, among other considerations.
Still, the fact that three prominent Gulf leaders attended the games amid a U.S. diplomatic boycott is a boon for President Xi's agenda and prestige. In recent years, some Middle Eastern officials have refused to condemn what the United States refers to as China's genocidal policies toward the Uyghur Muslim population in Xinjiang. It therefore comes as no surprise that they did not buy into a U.S.-led boycott centered on that issue.
The international reaction to the current boycott contrasts sharply with the 1980 Moscow games, when fifty-four countries joined Washington in pulling out of the competition entirely to protest the Soviet invasion of Afghanistan. The list included Bahrain, Egypt, Israel, Morocco, Saudi Arabia, Sudan, Turkey, and Tunisia—and China.
With international tensions at urgent levels amid shifting global tides, leaders in the Middle East are clearly treating the Olympics as another stage for staking out their positions and balancing historic partnerships with their current economic and security interests. As with the light rail project in Israel, Washington must continue balancing two of its own primary objectives in the region: warning traditional partners about advancing ties with Beijing while sustaining a reputation as a trustworthy ally.
Carol Silber is a research assistant with The Washington Institute's Fikra Forum.