MENA Countries Stand to Lose the Most If the Ukraine Grain Initiative Falters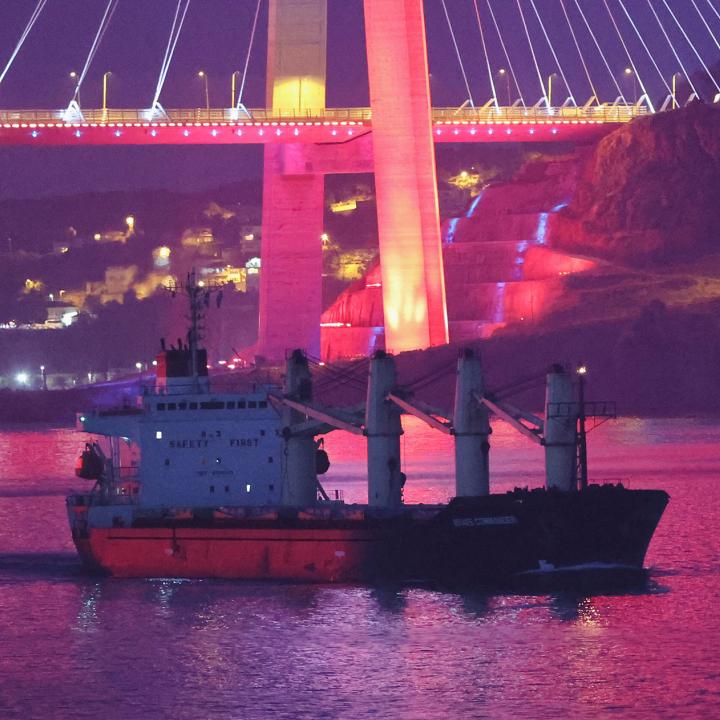 Russia will continue using the Black Sea corridors as leverage, so Western countries and their partners should prepare alternative routes and other assistance as counter-leverage.
On October 29, Moscow briefly suspended its participation in the implementation of the Black Sea Grain Initiative (BSGI) after Russian warships were attacked in the Crimean port of Sevastopol. In practice, this meant pausing its involvement in key aspects of the deal such as conducting multinational inspections of grain vessels and scheduling new ships to arrive at Ukrainian ports—factors that could grind the initiative to a halt if Russia suspends its participation indefinitely and resumes its naval blockade. When announcing the decision, Moscow claimed that the attack was a "terrorist act carried out by the Kyiv regime with the participation of British experts against ships of the Black Sea fleet and civilian vessels involved in the security of grain corridors"—though the incident actually took place far from any of the humanitarian corridors brokered by the UN and Turkey this summer.
Fortunately, transport ships largely ignored Russia's decision and continued delivering grain, and the Kremlin soon reversed its suspension. Yet the incident was just one in a series of Russian efforts to weaponize the grain agreement, and more such efforts can be expected when the BSGI comes up for renewal on November 19, despite the fact that the G7 foreign ministers have called to extend it. If Moscow succeeds in undermining the deal, the Middle East and North Africa (MENA) will be especially affected.
The MENA Food Crisis Is Acute
When Russia invaded Ukraine and blockaded the country's Black Sea ports, it stood to prevent the delivery of around 25 million metric tonnes of grain and other food staples to international markets, spurring a global food crisis. Left unchecked, the situation portended social unrest and other pressures in areas such as the MENA region, which is particularly vulnerable to the resultant nexus of rising prices for fuel, food, and other essentials. 
President Vladimir Putin is well aware of this vulnerability and has repeatedly tried to use it as leverage against the West. Russia and Ukraine are responsible for a third of the world's wheat and barley exports, one-fifth of its corn exports, half of its sunflower oil exports, and much of its fertilizer. MENA countries are especially dependent on these supplies and were already suffering from a spike in cereal prices before the war, mainly due to a combination of drought and global economic shocks resulting from the COVID-19 pandemic. The Ukraine invasion sent food prices soaring even higher, raising fears that some MENA countries could eventually run out of staples such as wheat. Of particular concern were nations struggling with preexisting political and economic instability, namely, Afghanistan, Egypt, Lebanon, Libya, Somalia, Syria, Tunisia, and Yemen.
The BSGI and Russian Obstruction
On July 22, Russia and Ukraine signed the BSGI in Istanbul, with the UN and allied Western states viewing it as part of a wider effort to curb the invasion's effects on global food markets. The parties established a Joint Coordination Centre in Istanbul to implement the deal and inspect grain transport vessels, with Moscow promising to unblock three Black Sea ports and allow passage of grain ships along agreed sea corridors. In exchange, the UN signed a separate memorandum of understanding with Moscow on grain and fertilizer exports, stating that members would work to exempt these goods from sanctions. The fertilizer provisions were especially important to Russia because it is the world's largest exporter of that agricultural necessity.
Less than twenty-four hours after signing the deal, however, Russia undermined it by launching four long-range missiles at the key grain port of Odessa. Although the strikes did not damage the city's grain silos or shut down its shipments, the message was clear: the Kremlin was able and willing to obstruct the BSGI anytime it pleased. Indeed, it continued to threaten withdrawal from the deal in subsequent months.
In September, Moscow put the agreement under review, claiming that grain was being shipped to Europe but not the MENA region. Importantly, this gambit took place in the context of Ukraine's successful counteroffensive in Kharkiv.
In October, Moscow claimed without any proof that the West was not upholding its pledges regarding fertilizer exemptions. Russian officials then warned that the deal's November extension would depend on the West "ensuring full implementation of all previously reached agreements."
Who Benefited?
Even amid Russian obstructionism, the BSGI was successfully implemented and helped bring food prices down. Since early August, approximately 10.1 million metric tonnes of food have left the ports of Odessa, Chornomorsk, and Yuzhnyi/Pivdennyi. Of this amount, 70 percent benefited non-Western countries, with approximately one-third going to MENA countries. Turkey, Egypt, Libya, Israel, Tunisia, Algeria, and Iran received the most significant quantities in the region, in that order. Afghanistan and Yemen, two countries suffering from acute humanitarian crises, were also among the recipients, as were Iraq, Lebanon, Morocco, Oman, and Sudan.
Additional food deliveries have been made to MENA states via the European Union's "solidarity lanes," a set of humanitarian ground corridors launched in May. This breakdown offers only a partial view as it does not take into account grain first sent to third-country ports and then reexported to the region. As of October, the total amount of cereals moved by land and sea had reached 22 million metric tonnes—roughly 12.5 million via the EU solidarity lanes and 10 million through the BSGI. According to figures issued by the UN Conference on Trade and Development, these efforts effectively closed the gap between post- and pre-war weekly grain cargo, helped drop the Food and Agriculture Organization's food price index for six consecutive months, and decreased price volatility as well.
MENA Remains Vulnerable
Although the BSGI accounts for only 40 percent of Ukrainian grain moved, suspending it again would have ripple effects throughout global markets, likely exacerbating various food crises. For example, the most widely traded cereal future, Chicago wheat, increased by 6 percent the day after Russia briefly withdrew from the initiative. MENA countries could be shaken by such turbulence even more so than other regions, partly due to their aforementioned internal vulnerabilities, and also because they depend so much on Ukrainian grain harvests that are projected to decrease in 2023-2024 due to the war.
Maintaining the BSGI is also crucial to offsetting factors such as climate change, poor governance, rising global demand, and food export bans, all of which will continue to put upward pressure on food commodity prices regardless of what happens in Ukraine. In addition to exacerbating the humanitarian crises in Lebanon, Syria, and Yemen, any further price increases would hurt MENA countries that are currently struggling with drought (e.g., Morocco, Tunisia) or preexisting price spikes (e.g., Iran, Somalia, Sudan). The group statement issued after the recent Arab League summit in Algiers reflected the gravity of the situation, calling for collective action to counter food and energy crises.  
Policy Recommendations
Russia is almost certain to use the BSGI's November 19 renewal deadline to increase pressure on the West, the UN, and Turkey, especially regarding the separate agreement on fertilizer exports. Moscow found itself outmaneuvered when it tried to leverage a temporary suspension in October, but that gambit should be viewed as just the latest tactic in a larger game. Going forward, the United States, the EU, and other partners should focus on raising the political cost for Moscow if it withdraws from the BSGI again.
First, they should escalate their information warfare efforts by highlighting the BSGI's benefits—especially the fact that it disproportionately benefits non-Western countries. Data should be retrieved and published on how much Turkey and the EU (among other governments) reexport food staples to low- and middle-income countries. Recalling that the BSGI is a market stabilization initiative would also help outline its global benefits.
Second, the West should not assume that Russia will automatically agree to renew the deal. The Kremlin is always eager to use multilateral agreements to improve its negotiating position in other domains. To put itself in a position of strength, the West should immediately begin bolstering alternative avenues for grain deliveries, including the Danube Grain route. Although this alternative is less efficient, it offers a viable Plan B if Russia tries to leverage another BSGI suspension. Efforts should also continue to increase the volume of grain transiting through ground corridors such as the EU solidarity lanes.
More broadly, the West should look for other ways to improve food security and address the growing risk of global recession. The Russian invasion caught the world unprepared, but almost a year later, it is clear that the war's effects will be global and long-lasting. Accordingly, plans must be made to address these effects sooner rather than later.
Anna Borshchevskaya is a senior fellow in The Washington Institute's Diane and Guilford Glazer Foundation Program on Great Power Competition and the Middle East. Louis Dugit-Gros is a visiting fellow with the Institute and a diplomat with the French Ministry for Europe and Foreign Affairs; the views expressed herein are strictly personal. Sabina Henneberg is a Soref Fellow at the Institute.