Mapping the Islamic State's Activity: Implications for U.S. Counterterrorism Policy
Watch a special webcast unveiling a powerful new interactive tool designed to help policymakers, scholars, journalists, and the general public understand and analyze the Islamic State's global reach.
Since summer 2021, a team of Washington Institute researchers has been building the Islamic State Select Worldwide Activity Map, a just-launched interactive tool that provides a more accessible way to search, track, and understand the organization's global reach. It also represents the most comprehensive public archive of the group's attack data, media output, government designations, and legal cases—information that is becoming invaluable as IS affiliates disperse into a wider range of jurisdictions and the U.S. government continues shifting resources away from the global counterterrorism fight.
To discuss the group's current status and how the new interactive tool can help policymakers and researchers, The Washington Institute hosted a virtual Policy Forum with Thomas Hegghammer, Gina Ligon, and Aaron Zelin, the project's director.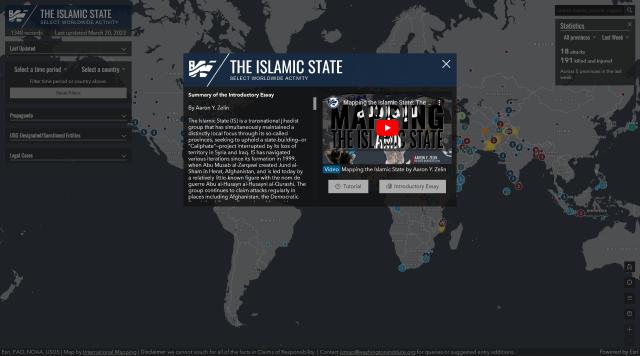 Aaron Y. Zelin is the Richard Borow Fellow at The Washington Institute, a visiting research scholar at Brandeis University, and founder of Jihadology.net. His publications include the 2022 Institute study The Age of Political Jihadism: A Study of Hayat Tahrir al-Sham.
Thomas Hegghammer is a senior fellow in politics at All Souls College, Oxford University. His books on jihadist issues include The Caravan: Abdallah Azzam and the Rise of Global Jihad (2020), Jihadi Culture: The Art and Social Practices of Militant Islamists (2017), and Jihad in Saudi Arabia (2010).
Gina Ligon is a professor of management and collaboration science at the University of Nebraska Omaha, where she directs the National Counterterrorism Innovation, Technology, and Education Center, a U.S. Department of Homeland Security Center of Excellence.
The Policy Forum series is made possible through the generosity of the Florence and Robert Kaufman Family.