Making Sense of Militia Attacks in Iraq and Syria in Early 2022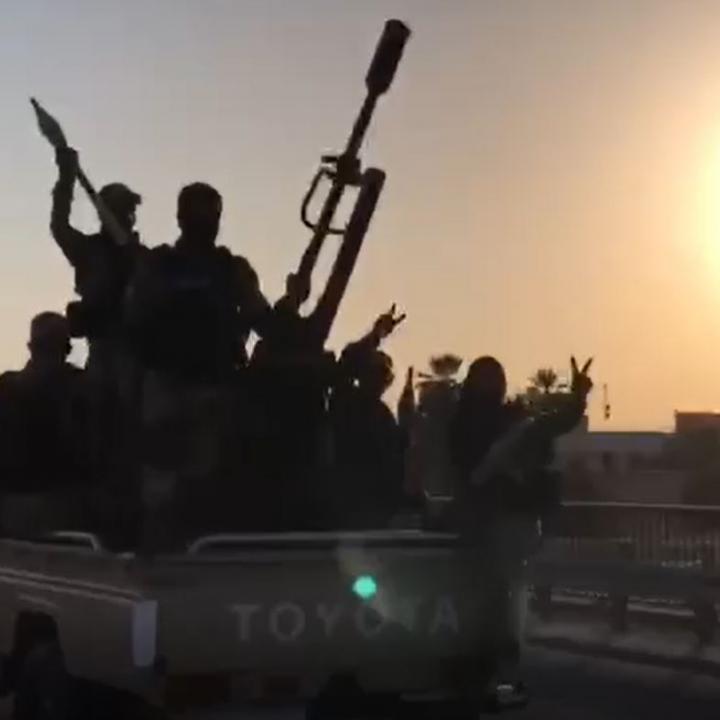 The process of assuaging the militia support base was carefully stage-managed in the first week of the new year, with Iran and Nujaba setting the ground rules.
For many months, the muqawama (resistance) has been promising its support base that heavy blows would be struck against the U.S. military presence in Iraq if there was no large-scale withdrawal of American forces by December 31, 2021. Militia leaders could probably sense growing discontent among their constituents that they had over-promised and under-delivered on real resistance to the United States since the killings of Qasem Soleimani and Abu Mahdi al-Muhandis in January 2020. Their base then saw additional reason to doubt the leadership's potency and the depth of Iran's support after muqawama parliamentary factions collapsed in last October's elections and the results held up.
On November 7, Militia Spotlight assessed that the assassination attempt against Prime Minister Mustafa al-Kadhimi, mounted by elements of Asaib Ahl al-Haq (AAH) and Kataib Hezbollah (KH), was a danger sign for Iran's Islamic Revolutionary Guard Corps-Qods Force that the muqawama were becoming erratic and ungovernable. Against this backdrop, it was important for muqawama leaders and the IRGC-QF to deliver a visible campaign of unified and credible-looking resistance after the formal December 31 end date for the U.S. combat mission in Iraq.
Phase 1: Nujaba Opens the Indirect Fire Campaign, December 27-January 3
Militia Spotlight assesses that the IRGC-QF stepped up its game on December 9, using an Iran-backed speech to vault Akram Kaabi of Harakat Hezbollah al-Nujaba into the limelight as the most trusted muqawama spokesman in Iraq. Behind the scenes, the ground rules for this surge were seemingly set by the IRGC-QF and Nujaba. From then until January 3—when numerous militia leaders attended commemoration ceremonies in Iran for Soleimani and Muhandis—the balance of available evidence suggests that only Nujaba was allowed to undertake limited, low-risk indirect fire strikes using rockets, mortars, or drones. (KH and AAH were firmly encouraged to hold back from indirect fire and instead lead a burst of convoy attacks under the banner of facade groups Qasem al-Jabbarin and Ashab al-Kahf; this strategy purposefully eliminated the risk of killing Americans, since U.S. personnel do not operate such convoys.) Indirect fire targets included:
Rocket strikes on Turkey's Zilkan base in the Kurdistan Region of Iraq. Two heavy rocket strikes were launched on December 27 and January 3, both assessed as Nujaba operations. 
Rocket and mortar strikes on U.S. bases in east Syria. Three strikes involving around sixteen munitions were undertaken on December 31, January 1, and January 2, all assessed as Nujaba operations. U.S. forces engaged rocket cells with counter-battery fire on January 2.
One drone strike on U.S. diplomatic site in Baghdad. On January 2, two drones targeted the Baghdad Diplomatic Security Center at Baghdad International Airport (BDSC, erroneously called Victory or Victoria by militias). Both drones were intercepted. This strike, assessed as a Nujaba operation, involved drones similar to those used in the June 26, 2021, attack on leadership locations in the Kurdistan Region.
Phase 2: KH and AAH Are Admitted to the Campaign on January 4
Once Iraqi militia leaders returned home from the Iranian commemoration events, the naughty children of the muqawama (KH and AAH) were allowed to join the indirect fire campaign with the grownups (Nujaba). Their permitted operating areas were west of the Tigris: BDSC, al-Asad Air Base in Anbar, and the Anbar-adjacent al-Tanf coalition base in Syria. On January 4-5, the following targets were struck:
Al-Asad hit twice in two days. The base was targeted by two drones (both intercepted) on January 4 and up to twelve rockets on January 5. Both strikes are assessed to be KH operations. Notably, Qasem al-Jabbarin made a very unusual claim of an indirect fire attack for the rocket strike.
BDSC attacked with heavy rockets. On January 4, the BDSC diplomatic facility was targeted with four 240 mm short-range rockets.
One or two Syria attacks conducted in parallel. At least one and perhaps two rocket attacks were launched at U.S. bases in east Syria. U.S. forces engaged indirect fire cells with defensive airstrikes on January 5.
Escalated convoy attacks also continued in parallel.
What Next, and What Have We Learned So Far?
The remaining likely targets to be struck, possibly in the next twenty-four hours, are al-Tanf in Syria and U.S. bases in the Kurdistan Region. Militia Spotlight assesses that AAH and KH will be involved in the former and Nujaba in the latter. Other attacks on BSDC and convoys may proceed in parallel. As AAH appears to be the most risk-tolerant of the muqawama actors when it comes to inflicting U.S. casualties, it will be interesting to see the degree of care they take to maximize or minimize such casualties, which may indicate to what extent they have been brought back under centralized IRGC-QF influence since November 7.
The attack campaign undertaken since December 31 has generated a lot of coverage within the militia propaganda milieu, which appears to be a primary aim. The attacks themselves seemed to be carefully coordinated or even stage-managed, and not optimized to cause U.S. casualties. Kaabi and other militia leaders are promising more strikes and presenting the attacks so far as the beginning of an open-ended kinetic effort to remove U.S. forces. Yet they also give the sense that the situation does not need to escalate if the United States does not retaliate disproportionately, and if muqawama supporters seem satisfied with the performance.