Long Reach of Hezbollah Makes It a Threat Close to Home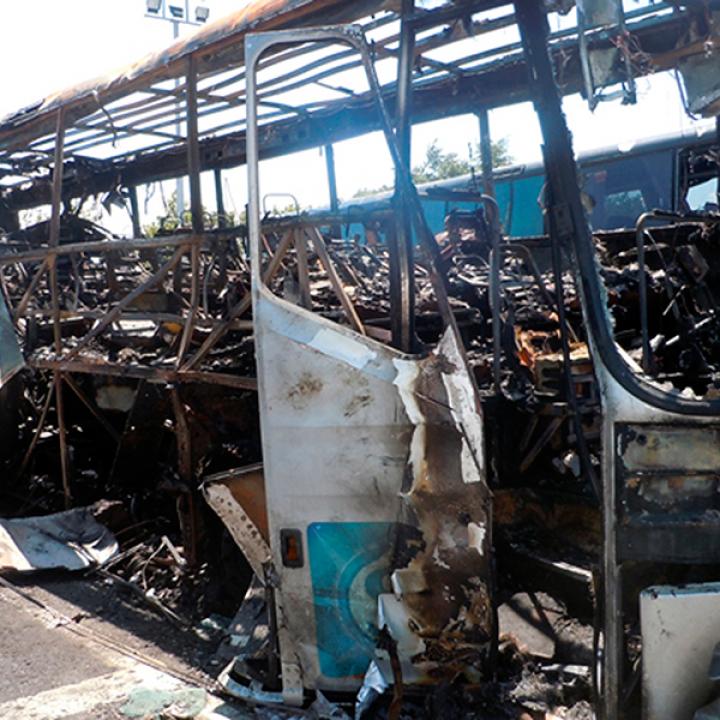 Hezbollah recruited operatives with dual citizenship to carry out the bombing in Burgas, Bulgaria.
On July 18, 2012, a bomb exploded in one of the seven buses escorting a group of Israelis just arriving in Burgas, Bulgaria, to enjoy a leisurely vacation. The explosion left the Bulgarian bus driver and five Israelis dead and 30 others wounded. None of the travellers in the large group had noticed when a Caucasian man in Bermuda shorts and a T-shirt, wearing a baseball cap and glasses, and carrying a backpack, joined the crowd in the airport terminal and walked with them to the buses.
At the time, he wore a long, blond wig, but a rental clerk would recognise him from a surveillance video, recalling that he spoke English with an Arabic accent, had short hair, carried a wad of 500-euro notes, and seemed upset when he had rented a car.
After six months of investigation, Bulgarian authorities discovered the Canadian bomber's handlers were 25-year-old Canadian citizen Hassan al-Hajj Hassan and 32-year-old Meliad Farah, also known as Hussein Hussein, an Australian citizen. Both reportedly escaped back to Lebanon after the bombing in Bulgaria and are allegedly hiding in southern Lebanon. They are now on trial (in absentia) in Bulgaria for their suspected involvement in the bombing; both are of Lebanese origin and are members of the terrorist organisation Hezbollah.
According to Israeli officials, the Burgas bomber, whose full identity is unknown but was related to the Canadian co-conspirator, according to DNA tests, was selected in part because he was not Lebanese "in order to avoid any suspicions."
FOREIGN OPERATIVES
This case of Hezbollah recruiting and using operatives of dual citizenship to carry out attacks is not unique to the men involved in the Burgas bombing. In fact, this fits a pattern Hezbollah has long employed, of recruiting operatives with Western complexions, nationalities and passports, and then using these recruits to carry out operations abroad.
In January 2012, Thai police arrested such an agent, Hussein Atris, a dual Swedish-Lebanese citizen with a Swedish passport, trying to flee the country. Intelligence officials surmised Hezbollah had been using Thailand as an explosives hub -- Atris rented the space a year earlier -- and decided to use its on-hand operatives and material to target Israeli tourists. He has since been sentenced by Thai authorities for possession of explosive materials.
But Atris is only a recent example of a Hezbollah operative working -- and getting caught -- in south-east Asia, a region they have been active in for the past few decades.
On the morning of March 11, 1994, a truck coming out of a department store's underground garage hit a motorcycle taxi in the Lumpini neighbourhood of Bangkok. The driver of the motorcycle had just unknowingly foiled a suicide attack on the Israeli embassy a mere 240 metres away. However, it would not be discovered until five years later, after the arrest of Pandu Yudhawinata, a man of Indonesian descent, that this was a Hezbollah attack, almost a year in the making.
Pandu's involvement with Hezbollah can be traced back to as early as 1981, when he was expelled from university for his Islamic activism in Indonesia and fled to Iran. For two years he received military, ideological and language training, before he was sent back to Indonesia to participate in mainstream activism and demonstrations against the Indonesian government. Pandu admitted to Philippine authorities that he was recruited by and worked for Iranian intelligence in Malaysia, before he was recruited to Hezbollah.
It was then he began working for a man with many names, including Abu al-Ful, who Philippine intelligence identified "as the leader of the Islamic Jihad [Organisation], a special attack unit of Hezbollah in south-east Asia." Investigators soon found more skeletons in Pandu's closet, including links to a series of bombing attacks in 1985-87.
TARGETS IN SOUTH-EAST ASIA
Pandu's arrest revealed further Hezbollah plans in south-east Asia. Called the "Five Contingency Plans," they included a maritime bombing plot targeting US Navy and Israeli merchant ships either docking in Singapore or sailing through the Malacca Straits. "The plan," investigators in Singapore determined, "was to use a small boat packed with explosives and ram it into the target vessel."
Hezbollah acquired forged passports in the Philippines for a group of Indonesian recruits it planned to have infiltrate Israel by travelling through Australia, but Pandu's arrest foiled that plot. Another plan included sending operatives to Australia where, it was mistakenly believed, they could acquire legitimate Australian passports in the hopes they would appear less suspicious travelling on documents from a Western country friendly to Israel. It also considered sending three Indonesian members to Australia for a notional attack -- never acted upon -- on American and Jewish targets during the 2000 Olympics.
Hezbollah is now bogged down in Syria where it has taken significant losses fighting on the side of the Assad regime. And while most foreign fighters going to fight in Syria are Sunnis battling Hezbollah, a small number of foreigners have gone to fight alongside Hezbollah, reportedly including at least one Australian. This marks a significant escalation beyond Hezbollah's traditional fund-raising and procurement efforts here in Australia.
Meanwhile, Hezbollah continues to engage in terrorist operations around the globe at a pace not seen since the late 1980s. Hussam Yacoub, a Swedish Hezbollah operative, now in prison, who carried out surveillance of Israeli tourists arriving in Cyprus, calmly explained to Cypriot police that his actions were standard Hezbollah practice, not acts of terrorism. "I don't believe that the missions I executed in Cyprus were connected with the preparation of a terrorist attack in Cyprus. It was just collecting information about the Jews, and this is what my organisation is doing everywhere in the world."
Today, in light of Hezbollah's recruitment of Australian operatives -- to carry out terrorist operations abroad or fight in Syria -- and its past and present activities in south-east Asia, it is time for the Australian government to expand its proscription of the group, currently limited to its military and terrorist "wings," to the full organisation -- including its political operations. Such distinctions, explains Hezbollah's deputy leader Naim Qassem, are false: "We don't have a military wing and a political one; we don't have Hezbollah on one hand and the resistance party on the other .?.?. Every element of Hezbollah, from commanders to members, as well as our various capabilities, are in the service of the resistance, and we have nothing but the resistance as a priority."
Matthew Levitt is director of the Stein Program on Counterterrorism and Intelligence at The Washington Institute and author of Hezbollah: The Global Footprint of Lebanon's Party of God.
Australian Financial Review