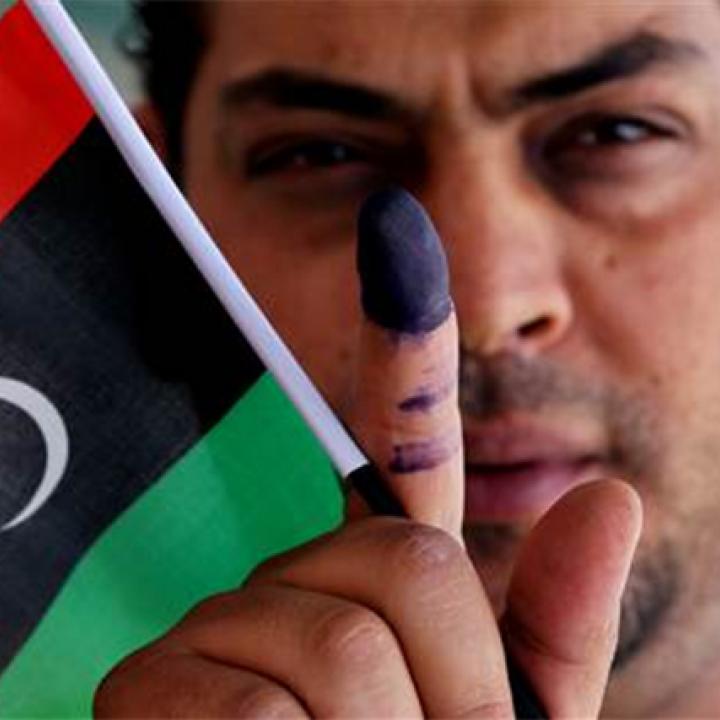 Instead of focusing on national-level polls, UNSMIL can work to facilitate municipal elections, development projects, and a dialogue among the country's militias.
Since endorsing the UN-sponsored "Action Plan for Libya" in September 2017, the international community has remained focused on holding elections in 2018 as a requirement for stabilizing the country. But as a May 2 Islamic State suicide attack targeting Libya's High National Election Commission (HNEC) demonstrated, protecting balloting across the war-torn land will be a major hurdle. Moreover, an electoral law still needs to be passed, but this will depend on an agreement between the rival eastern-based House of Representatives (HOR) and the Tripoli-based High State Council (HSC). Unless such an agreement can be reached during Ramadan, which ends June 14, the parties will not have enough time in 2018 to hold a constitutional referendum and a round of elections.

Fortunately, some positive alternatives to elections exist through the work of the UN Support Mission in Libya (UNSMIL) and its partners. These include convening a national conference; improving economic development and service delivery through implementing UN Development Programme (UNDP) and other assistance initiatives; conducting municipal elections; and pressing forward with a dialogue among militias. For its part, the United States is contributing to some of these efforts but should do so even more actively.
Mixed Record since the Revolution
After having conducted no elections since its independence in 1951, save for restricted parliamentary polls under the monarchy, Libya has held three national votes since the 2011 revolution: the July 2012 election for a parliament, known as the General National Congress (GNC); the February 2014 vote for a separate Constitution Drafting Assembly (CDA); and the June 2014 contest for a successor parliament to the GNC, the HOR. This free exercise of the ballot, however, has not ensured the country's move toward stability. To the contrary, many observers have attributed the current national polarization to the timing, sequencing, and problematic design of Libya's post-2011 elections.
Debate persists over whether the UN and its Western backers were right to push Libya toward elections in July 2012, less than a year after the demise of strongman Muammar al-Qadhafi. Beforehand, skeptics argued that the country needed more time to prepare for elections and to create conditions that would enable the success of a newly elected parliament. In the end, the former concern proved to be unwarranted while the latter was prescient. Libya's electoral commission, with support from outside elections specialists, organized a universally praised round of balloting. However, after the parliament was seated, problems emerged at once. Namely, it took months to elect a prime minister and appoint a government. The complicated electoral law, which split seats between party-affiliated and independent members, created confusion and dysfunction.
Between the GNC contest in July 2012 and the February 2014 CDA and June 2014 HOR votes, registration and participation dropped significantly. Whereas 62 percent of registered voters participated in the GNC election, less than half that figure registered in early 2014, and less than a third actually cast ballots for the CDA election. The HOR balloting in June drew a similarly low turnout and, with it, challenges to the vote's legitimacy. Ultimately, several primarily western-Libya-based members boycotted the HOR, precipitating the separate governments that remain in place today despite efforts by the international community to recognize just one.
Challenges to a 2018 Election
Although HNEC increased voter registration from 1.5 to 2.5 million by March 2018, close to the number registered in 2012, significant obstacles remain to implementing elections this year, including matters related to sequencing, passing an electoral law, and security:
Sequencing. UNSMIL still has not specified exactly what it envisions Libyans voting for in 2018 and in what order: a constitutional referendum, parliament, or the presidency. In his April 13 address to Arab foreign ministers, UN special envoy for Libya Ghassan Salame described a constitutional referendum and parliamentary elections as equally important. Further, he burdened the HOR and HSC with producing an agreement on how to proceed, effectively enabling either or both bodies to block an agreed electoral or referendum law.  Similarly, an April 30 meeting of the UN, European Union, Arab League, and African Union, known as the Quartet, "emphasized the importance of holding parliamentary and presidential elections in accordance with the requisite legal framework." Still undecided, though, is whether Libyans would go forward with elections before or after a constitutional referendum.
A referendum will require its own law and a public awareness campaign covering the contents of the proposed constitution. Moreover, holding parliamentary or presidential elections before the constitutional referendum risks electing a body before knowing what constitutional authorities it will possess. As for the time crunch noted earlier, the post-Ramadan 2018 calendar simply does not have enough days to accommodate both a referendum and an election, while allowing for sufficient campaign periods, let alone the logistical requirements for preparing, printing, and distributing ballots.
Electoral law and design. Each of Libya's three prior elections was conducted under a different law with varying voter awareness initiatives, political campaigns, and ballot preparation. The 2012 law, the most successfully implemented with the highest voter turnout, reserved 80 seats for national political parties and 120 for independents running in the country's sixty-nine districts. The CDA election, held in February 2014, encompassed 60 individual seats for candidates divided into three geographic regions. And the HOR vote four months later saw 200 individual candidates spread across seventy-five constituencies, each fielding 1 to 16 candidates. Additional ballots were provided to ensure female and minority representation as well as out-of-country voting. For the next election, the HOR and HSC will likely have different preferences for a system that would include some role for political parties and district-based candidates. For example, Islamist-affiliated candidates have been more successful running as independents unattached to an Islamist-affiliated party. 
Security. As the May 2 terrorist attack against the HNEC headquarters demonstrated, conducting elections in Libya poses a serious security problem. Whereas HNEC and its data storage facilities can be better secured, protecting more than 1,500 polling centers—the number used during the 2014 HOR election—along with distributing and collecting ballots could produce major logistical strains. Security will inevitably derive from a series of ad hoc arrangements, presenting opportunities for militia and terrorist spoilers. Further, Libya currently has two active combat zones around Darnah and Sebha. While balloting could possibly be postponed in a handful of constituencies, the exclusion of growing numbers of districts could call into question the overall validity of an election.
Alternatives
Instead of preparing for three potential national elections this year, UNSMIL—with the backing of its key Western and regional partners, including the United States—should consider focusing on implementing an already ambitious set of projects at the core of Salame's action plan: convening a national conference this summer to develop a better sense of Libyan identity and shared priorities; facilitating municipal elections, as occurred in Zawiyah on May 13 (the terms for 75 of 104 municipal councils in Libya expire this year); expanding the funding and work of the UNDP and other development agencies to implement infrastructure and service-delivery projects; and continuing the militia dialogue, with the aim of producing an agreed action plan for militia unification and a framework for election security. On this last count, Egypt has dubious credentials for producing such an agreement, given its history of supporting the Libyan National Army and Khalifa Haftar, whose illness and disappearance to France in April make a dialogue even more urgent.
The United States should support each of these lines of effort, and has done so quietly in a number of cases. In particular, Washington has in recent weeks provided technical support to HNEC, signed an agreement to expand the capacity of the General Electricity Company of Libya, and endorsed the local elections in Zawiyah. It should, however, increase the scale of these efforts. Past work with municipal councils, for example, should be further developed so that newly elected councils play larger roles in designing and implementing development projects. The United States should also contribute to the militia dialogue by sending a team of experienced officers from Iraq to advise the UN on brokering factional alliances. But most important of all, the United States may need to provide a reality check if no agreement on an electoral law has emerged after Ramadan, urging UNSMIL and its European partners to shift focus away from elections in 2018 and toward the pressing action items already on the UN agenda.
Ben Fishman, an associate fellow with The Washington Institute, served as director for North Africa at the National Security Council from 2011 to 2013.