Lebanon: The Syrian War's Next Casualty?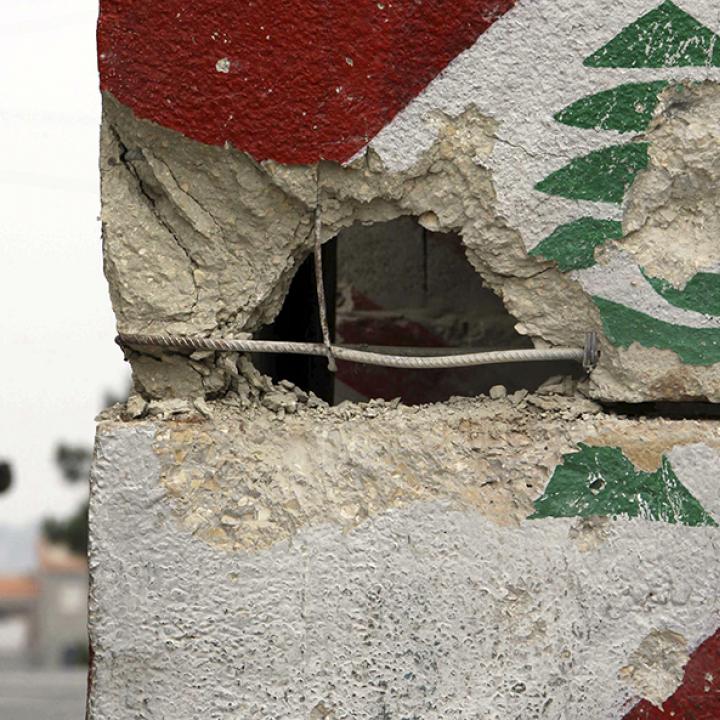 The devastation next door, combined with Islamic State attacks and rising sectarian tensions at home, could send Lebanon into round two of its civil war.
After the Islamic State's terrorist rampage in Paris, France deployed an aircraft carrier to Syria and implemented unprecedented security measures at home. It's less clear how Lebanon, attacked by ISIS just a day earlier, will respond. The assault on Beirut was less lethal than Paris, but the long-term implications for security and stability in Lebanon could prove more consequential.
On November 12, a double suicide bombing in Bourj al Barajneh -- a Shia neighborhood of Beirut known to be a stronghold of the Iranian-backed militia Hezbollah -- killed 40 and wounded more than 200. Taking a page from al-Qaeda in Iraq, ISIS was targeting a Shia mosque; back in 2006, al-Qaeda destroyed a Shia shrine in Samarra, touching off a Sunni-Shia conflagration that killed thousands. While the Beirut bombing has not yet sparked retaliatory strikes, the attack ended a nearly year-long respite from terrorism in Lebanon, raising the specter of a resumption of destabilizing sectarian violence in the state.
Lebanon, a state composed mostly of Shia, Sunnis, and Christians, has been divided about the war next door since it began in 2011. While the Shia back the Alawite, nominally Shia Assad regime, Sunnis are broadly sympathetic to the rebellion led by their co-religionists.
Between 2013 and 2015, Lebanon witnessed more than a dozen suicide and car bombings related to Syria. While some of the blasts occurred in Sunni areas, the majority were directed at Shia and Alawites -- presumably Sunni retaliatory strikes against Hezbollah for its military deployments in Syria in support of Assad. To date, with the backing of Iran and Hezbollah, the Syrian regime has killed over 300,000 people, most of them Sunnis, which has enraged Sunnis within Lebanon and the region.
In the face of repeated terrorist attacks against sectarian targets, Lebanese communal leaders have consistently sought to de-escalate tensions. Following a July 2013 car bomb attack on Hezbollah's south Beirut headquarters, for example, both Hezbollah and Sunni leader Saad Hariri improbably blamed Israel.
Yet it isn't certain that calmer heads will continue to prevail.
The same day as the Beirut blasts, the Lebanese Armed Forces defused a bomb in Jebel Mohsen, an Alawite neighborhood of Tripoli. Since then, the Lebanese press has reported that security agencies discovered $450,000 in a Beirut safe house belonging to Sunni militants and several suicide belts in the Hezbollah-controlled Bekaa Valley.
With 1.5 million Syrian refugees, Lebanon today is the fastest-growing country in the world. Most of these Syrians are Sunnis who have fled the Assad regime's brutality, but there is an abiding concern in Lebanon that ISIS sleeper cells reside among this community. Border security with Syria also remains spotty.
While Sunni, Shia, and Christian Lebanese alike view ISIS as the preeminent threat, many Sunnis are dismayed by the Faustian bargain between the Sunni-controlled Ministry of the Interior and Internal Security Forces, the Shia-dominated General Security Forces, the cross-sectarian army, and Hezbollah that has maintained the country's security for the past year. As part of this deal, the Shia militia has been effectively granted a laissez passer for its troops to move back and forth to Syria, while Sunni militants -- both Lebanese and Syrian -- are routinely arrested.
Further adding to tensions, Hezbollah, in a highly controversial initiative, is now recruiting Sunni Muslims from the Bekaa Valley to fight Syria-based (Sunni) opponents of the Assad regime. In September, after one member of the so-called Saraya Moqawama, or "resistance brigades," was rumored killed in action, Sunnis stormed a Bekaa mosque to protest against the imam who recruited the militiaman.
Though Lebanon's resilience is legendary, the Beirut attacks come at a particularly challenging time for sectarian relations in the state. Discord between Hezbollah, the Christians, and Lebanon's moderate Sunnis has hamstrung the parliament, leaving a presidential vacancy since May 2014. Absent a president, no major decisions and appointments have been made.
Word in Beirut is that a "compromise" presidential candidate named Suleiman Franjiyeh -- a parliamentarian from Zgharta known for his close relationship with the Assad family -- may soon be elected to the post. Alas, given his affiliation with the house of Assad, Franjiyeh's election would do little to diminish Sunni resentment or soothe sectarian pressures in Lebanon.
Amid the governmental paralysis, even trash has become a sectarian issue. This past summer after Lebanon's principal landfill closed, thousands of tons of garbage littered the streets of Beirut. A brokered solution envisioned the establishment of two new dumps, one in a Sunni area and the other in a Shia. While a site was identified in the Sunni Akkar region, efforts to find a suitable Shia location foundered, and when trucks showed up to begin construction in Akkar, angry Sunnis torched the vehicles, refusing to accept "Shia garbage."
In recent decades, violence, ineffective government, and sectarian tensions have been the rule rather than the exception in Lebanon. After five years of war in Syria -- and with ISIS stepping up its game in Lebanon -- the already tenuous status quo in Beirut is under serious and growing threat.
Lebanon does not represent, at least in the traditional sense, a U.S. "strategic" interest. Nonetheless, Washington has a keen interest in Lebanese stability. Not only is the state one of the few remaining regional examples of religious and ethnic pluralism, it is -- with the notable exception of Hezbollah -- ostensibly pro-Western. Indeed, despite Hezbollah's intimidation, the last two parliamentary elections in Lebanon resulted in moderate pro-Western parliamentary majorities.
In addition, Lebanon shares a long border with Israel that would be more difficult to police should its security worsen. Serious security problems in Lebanon would also mean more refugees. During its own civil war, an estimated 900,000 Lebanese fled the country.
Regrettably, while Washington's $80 million military and security assistance in FY 2015 may help Lebanon withstand the current ISIS onslaught, it will do little to mitigate the perennial and increasingly corrosive sectarian problems that the war in Syria exacerbates day by day. In fact, the continuing devastation will likely make Lebanon even more fertile ground for ISIS's brand of militancy.
Five years into the war, ongoing stability in Lebanon has been an unexpected bright spot in a dark region. As ISIS takes the fight to Hezbollah in Lebanon, however, this regional anomaly is increasingly in peril. Fortunately, with memories of the 15-year civil war still relatively fresh, the Lebanese appear to have little appetite for round two. But the longer the war in Syria continues, the more likely Lebanon will experience its own Samarra moment.
David Schenker is the Aufzien Fellow and director of the Program on Arab Politics at The Washington Institute.