The Last Vote? Obstacles to Renewing UN Cross-Border Assistance in Syria
June 15, 2021, starting at 10:00 a.m. (1400 GMT)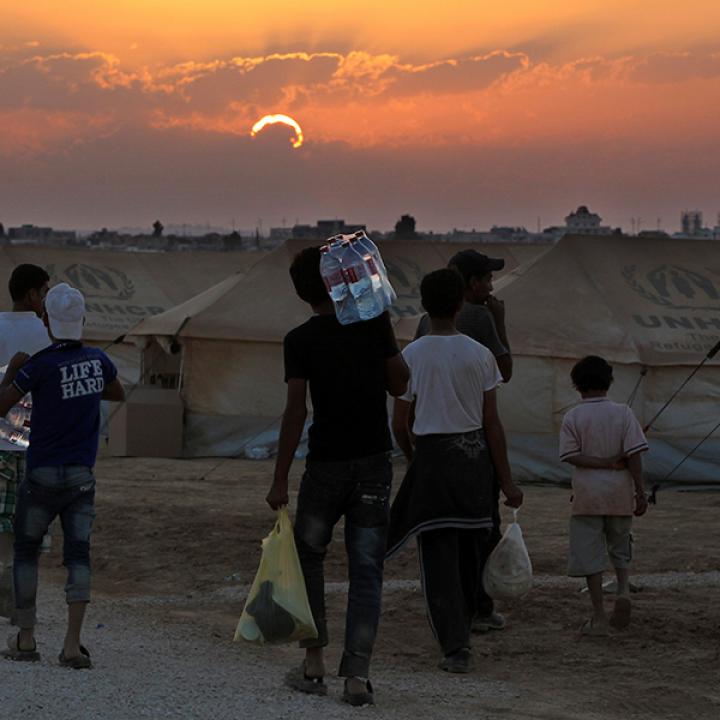 The current UN authorization for international assistance to Syrians expires in July. What dynamics are driving negotiations for a new resolution in the Security Council? Watch a live webcast with veteran diplomatic and aid professionals starting at 10:00 a.m. EDT (1400 GMT) on Tuesday, June 15, 2021.
On March 29, Secretary of State Antony Blinken appeared before the UN Security Council to demand the renewal of the cross-border mechanism in Syria and the reopening of two closed crossings. Since then, negotiators have sought to cement a plan for reaching Syrians in need via Turkey without approval from Damascus. These discussions are due to be finalized before the current assistance mechanism, UNSC Resolution 2533, expires on July 10.
What are the current dynamics on this issue inside the Security Council and the humanitarian community? What lessons have U.S. and allied officials learned from last year's renewal talks, and how will they meet the people's evolving needs in northwest and northeast Syria? To discuss these questions, The Washington Institute is pleased to announce a virtual Policy Forum with James Jeffrey, Basma Alloush, and Carsten Wieland, to be moderated by Charles Thepaut, a career French diplomat and currently an Institute visiting fellow.
Watch a live webcast of this event starting at 10:00 a.m. EDT (1400 GMT)
James Jeffrey served as U.S. special representative for Syria engagement and special envoy to the Global Coalition to Defeat ISIS until November 2020. Previously, he served as deputy national security advisor (2007-2008) and U.S. ambassador to Iraq and Turkey, among other posts. He currently chairs the Wilson Center's Middle East Program.
Basma Alloush is the policy and advocacy advisor at the U.S. office of the Norwegian Refugee Council (NRC USA), where her responsibilities include engaging with government agencies to alleviate the impact of conflict on vulnerable populations. A Syrian citizen raised in six different Middle Eastern countries, she completed a master's program at the Fletcher School focusing on transitional justice, human security, and conflict resolution.
Carsten Wieland is the senior Middle East advisor for Germany's Green Party Parliamentary Group and an associate fellow at the Geneva Centre for Security Policy. Previously, he served with the Syria team at the Foreign Office in Berlin and with three UN special envoys for Syria (2014-2019). Dr. Wieland's latest book is Syria and the Neutrality Trap: The Dilemmas of Delivering Humanitarian Aid through Violent Regimes (forthcoming in July from I. B. Tauris).
The Policy Forum series is made possible through the generosity of the Florence and Robert Kaufman Family.