Kadhimi as Commander-in-Chief: First Steps in Iraqi Security Sector Reform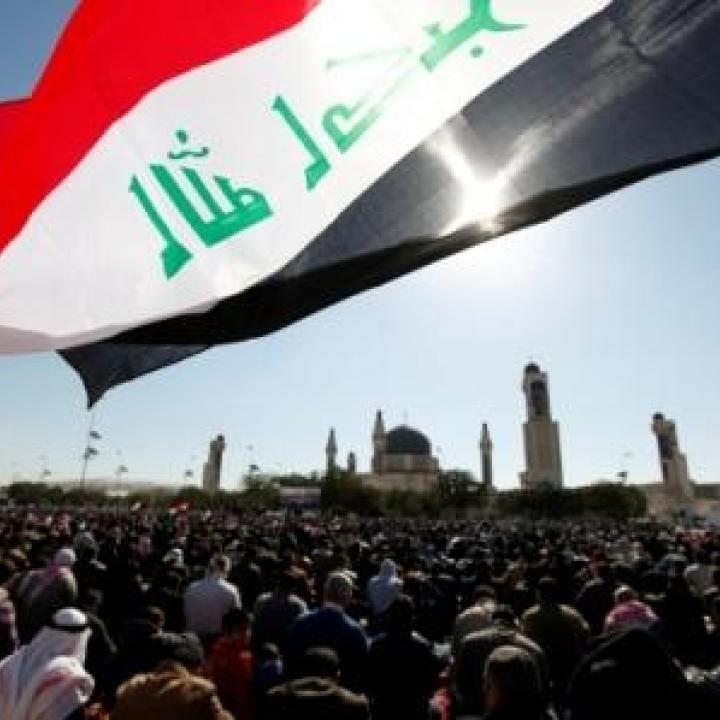 After his promising start, the new prime minister needs time and latitude to stamp his authority on the country's security sector, even as militia rockets fall in Baghdad.
In the early hours of May 19, two rockets were launched at the the International Zone in Baghdad, causing no casualties in what was likely a deliberate miss on foreign embassies. The unclaimed gesture—almost certainly by one of the Iranian-backed militias that have conducted many such strikes in the past—came just days after new prime minister Mustapha al-Kadhimi visited the headquarters of the Popular Mobilization Forces (PMF), the state agency led by the same Iranian-backed groups. It was his final stop on a tour of the country's main security agencies as their new commander-in-chief, following visits to the Counter Terrorism Service (CTS), the Ministry of Defense, and the Ministry of Interior.
The optics of the PMF visit and its proximity to the rocket strike will disturb some U.S. observers—Kadhimi gave fulsome praise to the organization for its role in fighting the Islamic State while standing under a poster of the late Abu Mahdi al-Muhandis, the PMF operational chief and designated terrorist who was killed by a U.S. airstrike on January 3. Yet both events have to be placed in the context of two important facts: that militias are concerned about Baghdad's recent string of positive command appointments, and that the nascent Kadhimi government will need to roll out PMF reforms incrementally rather than all at once.
CHANGES TO IRAQ'S COMMAND STRUCTURE
The prime minister's role as commander-in-chief is enshrined in the constitution, and Executive Order 328 of 2019 further clarified that the premier or his designated alternate has operational control over all armed formations in Iraq, with security agencies retaining administrative control over recruiting, training, and equipping their forces. The order also gave the prime minister exclusive control over appointments from the rank of brigade commander and up—including within the PMF.
The Kadhimi government has pulled together its security leadership very rapidly, with the interior and defense ministers appointed on the first try on May 6. Kadhimi will continue to personally helm the Iraqi National Intelligence Service, which he has led since 2016. To lead the CTS, he brought back Lt. Gen. Abdul-Wahab al-Saadi, whose October 2019 removal as operational chief helped spark Iraq's months-long protest movement. Saadi's return and promotion to overall commander signal Kadhimi's commitment to an effective, well-resourced CTS, which has long been Washington's key counterterrorism partner in Iraq.
The new defense minister is Juma Saadoun al-Jubouri, another retired general who previously led the Iraqi Ground Forces Command (IGFC). A Sunni Arab from al-Sharqat, he worked at close range with militias as head of the Salah al-Din police command and operations command in 2015-2016. Lt. Gen. Abdul-Amir Yarallah, the incumbent deputy chief of staff for operations, will retain day-to-day control of the Joint Operations Command, in theory serving as the prime minister's top deputy. And the IGFC will now be led by Maj. Gen. Qassim al-Mohammedawi, a well-respected officer who previously headed the Jazira and Badia Operations Command (JBOC). Gen. Othman al-Ghanimi was elevated from chief of the defense staff (CHOD)—the country's most senior uniformed officer—to interior minister, and it is not yet clear who will replace him. In any case, the Defense Ministry and army will henceforth need to focus on transitioning to counterinsurgency and shifting urban security responsibilities over to the Interior Ministry.
Ghanimi is a promising choice for the latter role. A retired Shia general from Diwaniyah, he is a respected figure with a successful military record and no history of sectarianism or corruption. His background gives him the ability to draw on powerful backing from southern tribal and religious constituencies. He will need all of these attributes to effectively lead Iraq's largest security agency, which has been heavily penetrated by militias since 2003. Aside from day-to-day security responsibilities atop the Interior Ministry, his main task will be to give the Iraqi people a fair accounting of the institution's role in killing hundreds of protestors late last year.
On May 10, Ghanimi gave an early indication of his determination by threatening to "cut the hands off, by law," of any ministry staff trying to gain promotion through bribery. He also ordered a May 11 raid in Basra in which five Shia militiamen from the Thar Allah movement were arrested on charges of shooting at protestors. And on May 14, Kadhimi ordered him to find any protestors unjustly held in militia prisons. Ghanimi's longer-term task—getting his ministry ready to assume primacy in urban security—will accelerate over time as army forces withdraw to the borders and countryside.
NEXT STEPS FOR THE PMF
Kadhimi's May 16 visit to PMF headquarters was in many ways the most significant leg of his security tour. He was hosted by the organization's chairman, Faleh al-Fayyad, who is also the national security advisor and head of the National Security Service, an intelligence agency. Alongside Fayyad were Abdul-Karim al-Zrejawi (also known as Abu Fadak) and Hussein Falah al-Lami (aka Abu Zainab al-Lami), both senior members of the U.S.-designated, Iranian-backed terrorist group Kataib Hezbollah. Abu Fadak personally accused Kadhimi of leading Muhandis into a fatal trap in January, and his group warned in early April that elevating the intelligence chief to prime minister would "burn what remains of Iraq's stability," so it must have been a bitter pill to receive him in their headquarters as their new commander-in-chief.
As for the content of Kadhimi's remarks, his focus on the PMF's role against the Islamic State was a not-so-subtle signal that the organization will need to limit itself to that mission going forward—as opposed to suppressing protestors, setting up urban racketeering networks, or attacking foreign training missions and diplomats. The lower-profile aspects of his visit were equally significant. He arrived at the meeting with the leaders of the Atabat, the four so-called "shrine units" that separated from the PMF command structure in February and were directly attached to the prime minister's office in late April through an executive order signed by outgoing premier Adil Abdulmahdi. The Atabat commanders sat separate from the other PMF officers and alongside Kadhimi.
This points to the likely trajectory of future PMF reform. The prime minister and the Atabat's spiritual leader, Grand Ayatollah Ali al-Sistani, appear to be aligned on the way forward—that is, either the PMF comes under a new, more acceptable leadership drawn from the Atabat, or additional units and individual fighters will be pressured to withdraw from the organization. When Atabat commanders split with the PMF three months ago, they did so because the pro-Iranian "resistance" faction of the PMF leadership tried to monopolize decisionmaking and install Abu Fadak to succeed Muhandis.
IMPLICATIONS FOR U.S. POLICY
Kadhimi has moved quickly to restore capable leadership to the CTS and appoint a very prominent nationalist figure as interior minister. He has also backed the Atabat leaders and the religious establishment in their protest against Iranian-backed monopolization of the PMF. These are encouraging signs just a few weeks into his term.
In preparation for the forthcoming U.S.-Iraq Strategic Dialogue (probably in June), Washington should give Kadhimi the time and latitude he needs to complete his cabinet and appoint his own senior staff. This process is the key to building a strong premiership and a centralized command-and-control structure, and failure on this front started his predecessor down the road to political ruin. If U.S. officials press Kadhimi to make further security reforms with undue haste, they could hurt his chances of success and unintentionally help the militias who sought to exacerbate bilateral tensions with the latest rocket attack.  
At the same time, the United States should closely monitor all of Iraq's new command appointments to ensure that bilateral security cooperation remains healthy at a time when the Islamic State is showing signs of recovery. The army's institutional future will be crucial to that counterinsurgency fight, but not much is known about Jubouri's ability to protect the Defense Ministry's budget or reinvigorate the army's advising and training relationships with the U.S.-led coalition. The identity of the next CHOD merits close attention as well, along with the numerous midlevel changes that will soon begin trickling down (e.g., to operations commands and divisional commanders). Negative actors may try to offset some of their losses in influence by gaining new footholds in the Defense Ministry, as seen in 2019 when the Iranian-backed Badr Organization inserted PMF brigade commander Ziyad al-Tamimi as inspector-general—a post for which he was clearly unqualified. At a time when progress is being made in the Interior Ministry, CTS, and PMF, Iraq can ill afford further command setbacks in the Defense Ministry.
Michael Knights is a senior fellow with The Washington Institute. Since 2003, he has conducted extensive on-the-ground research in Iraq alongside security forces and government ministries.