Jordan Still Has a Vital Role to Play in the Gaza Crisis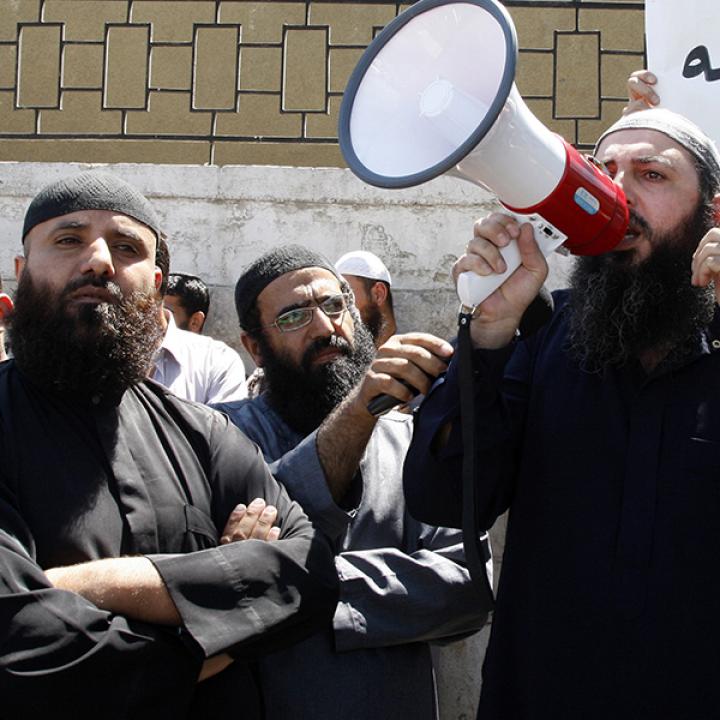 Despite the canceled visit to Amman, President Biden should keep King Abdullah front and center in any efforts to ease humanitarian conditions in Gaza.
Instead of hosting a planned multilateral summit with President Biden this week, King Abdullah II traveled to Egypt on October 19, where he joined President Abdul Fattah al-Sisi in calling for an immediate ceasefire as well as heightened efforts to protect civilians and allow humanitarian assistance into Gaza. The king is struggling to balance his identity as a statesman and peacemaker with managing a population that is increasingly vocal against the Gaza war. Despite the canceled summit, he should remain a central part of regional diplomacy and Gaza aid efforts.
Any Israeli-Palestinian conflagration necessarily has ripple effects in Jordan. The summit was called off in the wake of the deadly October 17 hospital blast in Gaza, which Jordanians—like other Arab populations—quickly attributed to Israel, spurring a large protest outside the Israeli embassy in Amman. And last week, huge protests broke out in various major cities after Friday prayers. In that case, the well-prepared police channeled the demonstrations away from sensitive areas such as the U.S. and Israeli embassies, while the security services prevented protesters from approaching the border. In advance, the Ministry of Interior prohibited protests in the Jordan Valley and used tear gas to break up rallies that violated the ban.
Protests are certain to escalate this Friday as well, which may spur the government to deploy elements of the armed forces. If so, one factor that may help the king is the population's great trust in the military, which a recent poll suggested was as high as 97 percent.
Regarding the composition of the protests, the Islamic Action Front (IAF), the party representing the Jordanian Muslim Brotherhood, played a prominent role in organizing the October 13 demonstrations, where it displayed its green flags alongside Palestinian flags. Speaking to a crowd in Amman, party head Murad Adayleh called for "arming the Jordanian people." He also echoed widespread opposition to the 1994 peace treaty with Israel and the basing of American forces in the kingdom. Estimating the IAF's strength is difficult since it boycotts elections and suffers from internal divisions, but the longer the Gaza war continues, the more popular it may become.
Anti-Israel views are not limited to the IAF, however, especially when problems arise regarding access to al-Aqsa Mosque and other Jerusalem holy sites over which the kingdom has custodianship. Economic agreements with Israel remain unpopular in Jordan as well, even palpably beneficial ones such as the provision of discounted water and gas to the resource-poor nation. Just two weeks before the Hamas attacks, Israel's energy minister held a final planning meeting with the United Arab Emirates-based company that will finance a pending deal to send Jordanian solar electricity to Israel in exchange for desalinated water. That deal, which was supposed to be signed next month at the UAE-hosted UN Climate Change Conference, will almost certainly be delayed now.
Jordan remains a linchpin for the United States in the Middle East thanks to the bilateral security partnership and the kingdom's moderate political leadership. In 2022, the United States and Jordan signed a $1.45 billion annual aid agreement to last a record seven years, making Amman the second-largest recipient globally of U.S. assistance (most of it economic) after Israel. When Israeli-Palestinian hostilities occur, however, even this copious aid does not forestall occasional anti-American protests or local controversy over U.S. military access to Jordanian airfields and other facilities (as established in a 2021 security agreement). Thus, if U.S. forces decide to use Jordanian airfields to help deter regional widening of the current conflict, they must do so as subtly as possible.
Although Israel and Jordan have different priorities with respect to Gaza, they have mutual interests in ensuring that the war does not spread to Jerusalem or the West Bank. Seeking stability at home, the Jordanian leadership does not want to give any further ammunition to the IAF or other opponents. And Israel cannot afford to commit additional troops to the Jordanian border area or the broader West Bank. Their bilateral security ties have remained close so far, but these ties could fray if the war widens—particularly if the political relationship deteriorates further.
Indeed, King Abdullah and Prime Minister Binyamin Netanyahu have long had a poor relationship, and the situation was exacerbated by the latter's formation of a far-right government in late 2022, which led Abdullah to fear that Israel wants to push West Bank Palestinians into Jordan. In a joint statement released after today's meeting with President Sisi, the king rejected "any attempt at the forced displacement of Gazans into Jordan and Egypt." Given these strained relations, U.S. officials should work diligently to keep an active political channel open between Amman and Jerusalem. And if incendiary rhetoric emerges from either party, Washington should reassure the other side that this language does not reflect official policy.
In addition to preserving channels of communication, U.S. leaders should offer some public credit to Abdullah if Israel allows humanitarian deliveries to Gaza and the creation of safe areas for civilians, as suggested by Secretary of State Antony Blinken on October 16. For instance, Washington can highlight or direct resources to the Jordanian field hospital in Gaza, whose commander received a call from Crown Prince Hussein on October 17 to underscore the facility's longtime presence. U.S. officials can also highlight the humanitarian assistance that the kingdom has pre-positioned in the event that a delivery mechanism emerges. Given Jordan's vulnerability to domestic troubles, anything Washington can do to reassure the kingdom that America has its back would be helpful.
Ben Fishman is a senior fellow at The Washington Institute and a member of the Linda and Tony Rubin Program on Arab Politics.