Jordan Bracing for More Spillover from Syria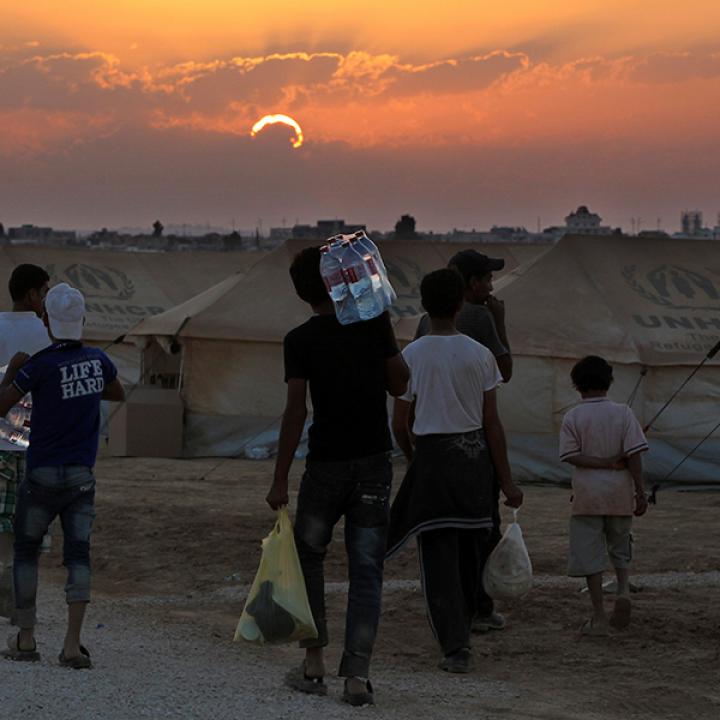 Providing for Syrian refugees has been difficult for cash-strapped Jordan, but more troubling is the prospect of foreign jihadists moving across the border.
This PolicyWatch is part of "Syrian Spillover: Perspectives from Neighboring States," a series of articles on how the conflict is affecting Turkey, Iraq, Israel, Jordan, and Lebanon.
So far, the war in Syria has proved expensive but not destabilizing for Jordan, in large part because Amman has extensive experience dealing with both refugees and foreign-borne subversion. If the situation in the north deteriorates further, however, the kingdom's security and humanitarian infrastructure may struggle to keep up. Of particular concern is potential acceleration in the cross-border flow of refugees and foreign jihadists, as well as the possibility that Bashar al-Assad's regime could lose control of its chemical weapons stockpiles.
REFUGEE PROBLEMS
In spring 2012, Jordan responded to the growing tide of Syrian refugees by building the Zaatari camp near the northern town of Mafraq. When it opened in July, its capacity was around 113,000, according to the Office of the UN High Commissioner for Refugees (UNHCR). Although the majority of Syrians entering the kingdom have avoided Zaatari and instead taken up residence in Jordan's largest cities, the most destitute migrants have converged on the camp.
According to Prime Minister Abdullah Nsour, over 300,000 Syrians have entered Jordan since the war began, including 36,000 in 2013 alone. Yet Amman considerably overstated its refugee counts during the last Iraq war, raising doubts about its Syria figures. UNHCR statistics indicate that around 25 percent of the roughly 600,000 Syrians who have fled the conflict are now in Jordan, but this figure only accounts for registered refugees. In any case, nearly 85,000 temporary residents are reportedly being housed in Zaatari, and the kingdom has commenced construction of a second camp capable of housing 30,000 near Zarqa.
Zaatari has proven highly controversial since its establishment. Although UNHCR has primary responsibility for administering the camp, the agency's efforts there are dramatically underfunded, leaving Amman to shoulder the financial burden. Nsour recently told Jordanian daily al-Ghad that building the camp and hosting its residents has cost around $500-600 million thus far, and that the kingdom has received less than $200 million in international assistance toward these expenses.
Despite Jordan's efforts to accommodate its guests, Zaatari's inhabitants are clearly dissatisfied. Although the camp provides the required basic services (food, shelter, education), it is quite rudimentary. In October and December, as winter set in, refugees set dozens of tents on fire to protest the poor conditions. Then, in early January, floods swamped the camp and damaged 500 of its 4,500 tents. Worse, a family of seven was killed later that month when a kerosene heater mishap resulted in a fire. Several infants have died recently as well, spurring a government press conference at which Health Minister Abdul Latif Wreikat assured a skeptical public that hypothermia was not the cause of death.
Short on funds and suffering an economic crisis, Jordan is not solely to blame for these conditions. Still, the Islamist opposition daily al-Sabil has been relentlessly attacking the government, giving the impression that Zaatari is more a concentration camp than a refugee camp.
A less-publicized problem is the nearly 500,000 Palestinian refugees in Syria, many of whom have been denied sanctuary in Jordan due to demographic sensitivities. Already divided between the kingdom's own East Bank tribal and Palestinian-origin communities, Amman is loath to further skew the balance in the latter's favor.
More broadly, the palace fears a mass influx of refugees of any origin. On January 18, in a development reminiscent of Amman's 1990 policy toward displaced Iraqis, Information Minister Samih Maaytah announced that if the Assad regime falls or chaos spreads, Jordan will stop taking in refugees, instead providing humanitarian assistance on the Syrian side of the border.
TERRORIST THREATS
Jordan has reinforced its northern border in recent months, sending thousands of additional troops to the frontier not only to protect fleeing Syrians, but also to prevent terrorist infiltration. In October, Amman announced that a Jordanian soldier had been killed by local Islamist extremists heading north to join the Syrian rebels. And in December, Jordanian and Syrian forces reportedly exchanged fire near the Ramtha border crossing.
More troubling, however, is the threat posed by foreign Islamist militants entering the kingdom to perpetrate attacks, or Jordanians affiliated with al-Qaeda plotting the same. Even before the uprising, Assad's Syria was a favorite launching point for terrorist operations against Jordan -- the 2002 assassination of U.S. diplomat Laurence Foley and the foiled 2005 chemical attack by the Qaeda-affiliated Jayousi Cell were both initiated there. And last October, Amman interdicted eleven Jordanian nationals who had brought explosives from Syria to attack Western targets and malls in the Abdoun neighborhood of the capital, where the U.S. embassy is located.
The kingdom also has a long history of terrorist spillover from post-Saddam Iraq, including a November 2005 hotel bombing that killed sixty -- an attack known as "Jordan's 9/11." For that reason alone, Assad's fall would likely mean more terrorism for Jordan and an increase in indigenous Salafist recruitment.
ECONOMIC IMPACT
Increased troop deployments and refugee costs have been difficult for Jordan to absorb given its ongoing financial crisis -- the kingdom had a 30 percent budget deficit in 2012 and sought to implement an austerity program involving extremely unpopular cuts to food and fuel subsidies. But the war in Syria has carried several less obvious costs as well.
For example, the Zaatari camp reportedly consumes 1,400 cubic meters of water per day -- a very scarce resource in the kingdom. Per capita, refugee consumption is less than a third of what average Jordanian citizens use, but it is still having an impact. Last summer, residents of nearby Mafraq reported that local drinking water was unavailable for a month. The many Syrians residing in Jordan's cities are using significant amounts of water as well. They are also renting apartments at a pace that has apparently spurred rate increases in Amman and elsewhere.
Meanwhile, the kingdom's exports to Syria have been drastically affected by the collapse of the Syrian economy; according to the Jordanian daily al-Arab al-Yawm, they fell nearly 20 percent in the first nine months of 2012 compared to 2011. In addition, insecurity on the roads has forced Jordan to use Iraqi routes as an inconvenient and expensive alternative for sending goods to Europe and Turkey. On the brighter side, however, Gulf tourists -- spooked by violence in Syria and kidnappings in Lebanon -- have gravitated to Jordan, partly buoying the moribund hospitality industry.
Jordan is appealing to the international community for $1 billion to cover its expenditures to date, including $670 million toward the construction of the new refugee camp. Yet given the financial situation in Europe and the general international malaise toward the Syria crisis, assistance to the kingdom is unlikely to come even remotely close to these amounts.
BUYING TIME
Apart from its direct consequences, the Syria crisis has exacerbated extant tensions in Jordan, including dissatisfaction with the economy and popular foment focused on corruption and the slow pace of political reform. In fact, Jordanians are so preoccupied with domestic concerns that Syria was essentially a non-issue in last month's parliamentary elections. Such concerns have sparked frequent demonstrations since 2011, but the number of protestors has been rather limited thus far, primarily due to the government's restrained response, the country's largely conservative politics, the limited appeal of local Islamists, and the fact that most Palestinians -- fearing backlash -- have chosen not to participate in the rallies.
Paradoxically, the massive violence that followed Syria's initially peaceful uprising has served as a cautionary tale for the Jordanian public, seemingly deterring larger numbers of disaffected citizens from mobilizing in protest. This dynamic will likely continue for the foreseeable future, buying precious time for the embattled monarchy to tackle corruption and the economic crisis. When Assad falls, however, the regional landscape will shift dramatically, and the looming threats to Jordan -- mass refugee flows, terrorism, and, perhaps, unsecure Syrian chemical weapons -- will almost certainly become more immediate.
David Schenker is the Aufzien fellow and director of the Program on Arab Politics at The Washington Institute. He was in Jordan in January monitoring parliamentary elections with the delegation fielded by the International Republican Institute.