Israel's Election Redo: Implications for the Trump Peace Plan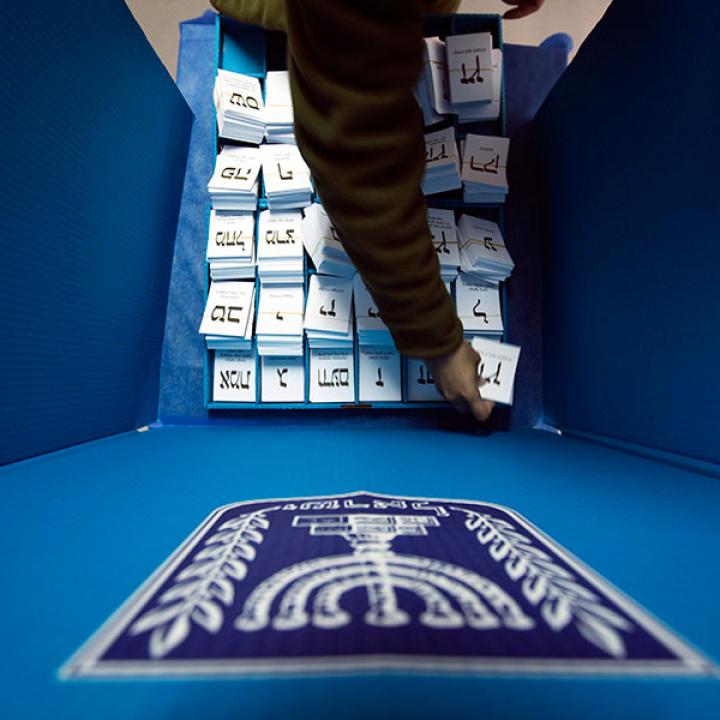 The U.S. and Israeli electoral calendars will likely impede any grand peace plan for the foreseeable future, so the administration should instead focus on immediate stabilization measures leading up to and during the Bahrain economic conference.
Israel took an unprecedented step in its seventy-one-year history this week, with the Knesset voting to dissolve itself and hold another round of parliamentary elections on September 17, only five months after the previous round. The reason for the move was Prime Minister Binyamin Netanyahu's inability to form a new coalition after winning a fifth term in April. Will the reset impair Netanyahu's ability to manage the political opposition and criminal investigations he faces at home? More important, how will it affect the Trump administration's planned peace efforts, including the upcoming Bahrain economic conference?
NETANYAHU'S POLITICAL IMPASSE
The prime minister's coalition bid failed in large part because Yisrael Beitenu leader Avigdor Liberman withheld the parliamentary support needed to secure a 61-seat majority in the 120-seat Knesset—a refusal that came amid controversy over a bill that would extract civil fines from certain religious institutions if insufficient numbers of ultraorthodox Jewish males agree to be drafted by the military. Liberman insisted he acted on principle, while people in Netanyahu's circle said he was driven by a personal vendetta against the prime minister. Netanyahu himself blasted Liberman for withholding seats and plunging the country into "unnecessary" elections, even accusing the hawkish former defense minister of being part of the "left."
In his past victories, Netanyahu was usually able to combine formidable campaigning skills with post-election negotiating ability to form a coalition. The latter efforts required him to reach across the aisle, either bringing in left-of-center parties to widen his coalition or at least threatening to do so in order to temper the demands of his junior right-wing partners.
This year, however, a preliminary indictment on three corruption charges eliminated most of Netanyahu's maneuverability. The centrist Blue and White Party won just as many seats as his Likud Party and made clear it would not join his government so long as he was under a legal cloud. This made him more beholden to the conflicting demands of right-wing parties, fueling speculation that he will remain so if he wins again in September.
Indeed, the timing of the Knesset decision is a serious blow to Netanyahu. He was counting on his next government passing a law that would curb the Israeli Supreme Court's ability to review parliamentary measures, thereby increasing his chances of passing a separate measure to further insulate himself from legal peril so long as he is in office. Yet the public backlash against his immunity gambit will enable his opponents to run on election platforms that cast him as a threat to Israel's democracy. Moreover, the attorney-general has set a hearing on the corruption charges in October, and a formal indictment is likely to follow, potentially depriving Netanyahu of a second chance to limit the court's authority.
IMPLICATIONS FOR TRUMP'S PEACE PLAN
Even before this week's announcement, the Trump administration's long-awaited plan for Israeli-Palestinian peace appeared to be on hold once again. The president's team is still intent on convening an economic workshop in Bahrain on June 25-26 involving ministerial representation from several Arab states, the Israeli finance minister, and businesspeople from the participating nations. It is safe to say that if the administration believed the entire plan would be well received internationally, it would unveil the political components at the same time as the economics. Yet the Palestinian Authority has already announced that it will not attend, underscoring its contention that any focus on economic development is designed to replace Palestinian political aspirations. In a short-term tactical sense, then, Israel's election decision is welcome news for the administration because it provides a built-in public rationale as to why Washington cannot unveil its full plan in Bahrain—particularly the components relating to core final-status issues (i.e., borders, security arrangements, Jerusalem, refugees, and mutual recognition).
The September elections may doom the plan for the long term as well, however. Palestinian chief negotiator Saeb Erekat, a leading critic of the Trump administration, predicted that Israel's decision will kill the plan altogether, saying the "deal of the century" will now be the "deal for the next century." The U.S. political calendar is inhospitable as well—by the time a new government in Israel takes shape (likely the end of October at the earliest), the 2020 presidential election cycle will be in full swing, making U.S. officials far less willing to push the tough choices required in substantive peacemaking.
The irony is that Netanyahu, once the linchpin of the U.S. peace plan, may now be a liability. So long as he is in power and under indictment, Israel cannot form the type of Likud/Blue and White unity government most likely to embrace Trump's plan. Even if Blue and White manages to win outright in September, its leaders would likely balk at a grand plan so vehemently opposed by the Palestinians.
This leaves the Trump administration with two options. First, the president could state that the plan's political components need to be deferred, banking on his ability to win a second term and return to the issue in the future. Alternatively, given all the work that has gone into the reportedly fifty-page plan, Trump may decide to release the proposal later this year as an aspirational vision rather than an operational document for immediate negotiation. This would be consistent with the idea that the administration sees the plan as a historic reference point for future administrations to act on when conditions between Israelis and Palestinians may be more favorable.
WHAT TO DO IN BAHRAIN?
U.S. officials will likely present their economic ideas at Bahrain as a precursor to the administration's overall peace plan, not as a substitute. This approach would refute the PA's allegation that Washington is bent on only an "economic peace." At the same time, focusing exclusively on a long-term economic vision may prove fruitless, since it is unlikely to gain significant funding without a political settlement.
The administration's Bahrain delegation should therefore be prepared to discuss myriad initiatives that address more immediate challenges. Fragile security conditions in the Gaza Strip and growing economic problems in the West Bank are a mandate to work on shorter-term efforts to stabilize the situation on the ground.
One achievable goal is for the United States and other countries (e.g., Qatar) to find a face-saving way out of the PA's injurious decision to deprive itself of more than 60 percent of its budget—approximately $200 million per month—due to a spat over Israeli deductions from transferred tax revenues. Washington could also work with the UN, Egypt, and Gaza to increase infrastructure spending in the Strip; for example, electricity upgrades would greatly help poverty-stricken Gazans, while the resultant improvements in local sewage treatment would prevent spillover in neighboring areas of Israel. Finally, before heading to Bahrain, administration officials should reach out to the House Judiciary Committee, which has passed a measure halting the $61 million in funding needed for successful U.S.-brokered Israeli-Palestinian security cooperation in the West Bank—a problematic decision given the currently high risk of violence.
David Makovsky is the Ziegler Distinguished Fellow and director of the Project on Arab-Israel Relations at The Washington Institute.