Israel's Battle of the 'Benjamins': Netanyahu vs. Gantz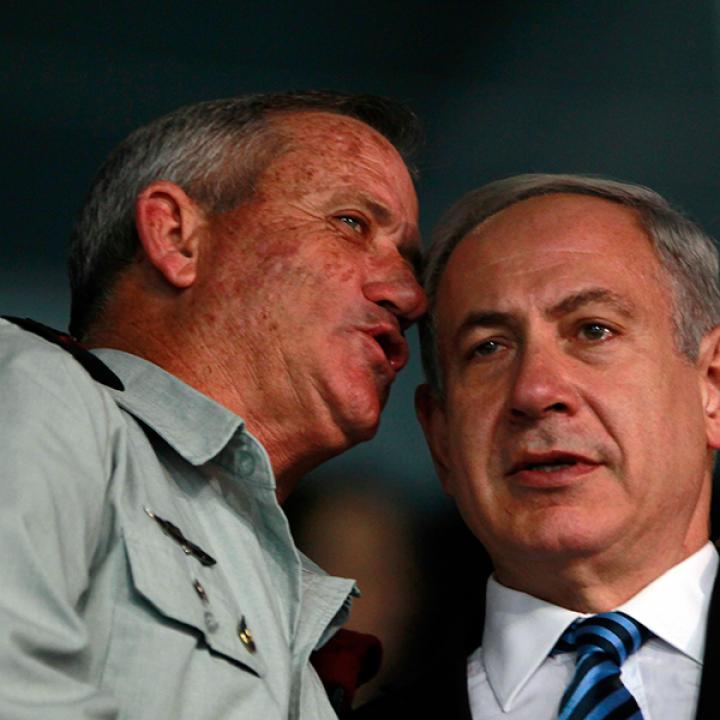 Various political, personal, and legal factors make Benny Gantz a formidable challenger to Binyamin Netanyahu, but the prime minister may nevertheless welcome a potential two-man race against the general.
As he seeks his fifth term in Israel's April 9 elections, Prime Minister Netanyahu may be facing his stiffest competition in recent history: former Israel Defense Forces chief of staff Benny Gantz. Several trending factors could be pivotal in shaping how Gantz and his new Israel Resilience Party fare at the polls.
BIOGRAPHY AND MILITARY GRAVITAS
Part of Gantz's appeal is that he represents old Israel with its values of modesty and military service. He grew up in a small moshav (communal farm) as the child of Holocaust survivors, then dedicated his life to the IDF. His good looks and steady persona bolster his image as the quintessential Israeli warrior—as does his campaign video highlighting the number of terrorists killed during the Gaza war of 2014, when he was Israel's top general.
Coupled with Gantz's largely respectful tone toward his main rival, this biography could be bad news for Netanyahu, whose Likud Party has lost only three national elections outright in the past twenty-seven years, two of them to former IDF chiefs of staff. Moreover, during his past ten years in power, Netanyahu has not faced a single military figure as his primary electoral challenger until now. Gantz has also added a second former IDF chief of staff, Moshe Yaalon, as his partner, and is seeking to woo a third, Gabi Ashkenazi. Tellingly, Gantz is running neck and neck with Netanyahu in public polls asking who is most suitable to serve as premier—the first time this has happened in many election cycles.
ATTRACTIVE POLITICAL IDENTITY
Gantz's addition of Yaalon was designed not just to bring a top military figure onto his ticket, but also to create a political identity that appeals to centrist and right-of-center voters. Yaalon and certain other senior members of Gantz's proposed parliamentary list are identified with the right, the direction in which the public has been swinging since the outbreak of large-scale Palestinian violence in 2000-2004. A threat environment defined by Iran, Hezbollah, and Hamas has only reinforced this shift. According to the Israel Democracy Institute's Guttman Center for Public Opinion and Policy Research, 63 percent of Israeli Jews now self-identify as somewhere on the right of the spectrum.
Gantz seeks to reach these voters with a message that emphasizes evocative security issues, including Israel's attachment to the Jordan Valley and the widespread public desire to maintain control over an undivided Jerusalem. In response, Netanyahu has accused him of being "leftist," without providing any policy evidence. The prime minister's advisors even use this term derisively against former Likud associates like Yaalon, seeking to depict any opposition to Netanyahu on the core issues as tantamount to lack of patriotism.
Consequently, Gantz has stopped short of offering specific policy prescriptions on certain issues, apparently fearing that the Likud will exploit them. For example, despite previously noting that the status quo with the Palestinians is not good for Israel, he was merely cryptic on the matter in his January 29 campaign launch speech, stating that if no peace prospects emerge, Israel will take its future "into its own hands." Yet even these vague words are ammunition for his critics, who argue that he favors withdrawing from West Bank settlements outside the security barrier. And when he calls for bolstering settlement blocs inside the barrier, where most settlers reside, these same critics see this as a "glass half empty" approach.
ELECTORAL DEADLINE CREATES LEVERAGE
The Gantz train seeks to pick up steam by February 22, the legal deadline for parties to submit their candidate lists (in Israeli parliamentary elections, citizens vote for lists, not individual candidates). Using this date as a pressure point, Gantz aims to merge his list with that of centrist leader Yair Lapid and his Yesh Atid Party. Polling data indicates a sharp jump in support for the general following his launch speech, coupled with skepticism about Lapid's lack of military experience, so Gantz believes his opponent should bow to public sentiment and let him head their proposed joint list.
Yet Lapid is running in his third election, has party infrastructure across the country, and knows from experience that public opinion can be fickle. Although Gantz leads him 23 seats to 9 in most current polls, Lapid may believe that these numbers will shift significantly once media scrutiny on the general heats up. Accordingly, merger negotiations between the two will likely go down to the wire, especially since their neophyte parties do not require internal voting to approve such decisions.
Interestingly, polls also suggest that they would win more seats as a single list rather than two separate lists (36 seats vs. 32). Contrary to the conventional wisdom in Israeli politics that parties are better off waiting until after elections to join forces, many poll respondents now seem to want a single, unified party to challenge Netanyahu during the campaign. Likewise, General Ashkenazi has conditioned his own involvement on a pre-election merger. Even if Lapid balks at a merger, he will probably reiterate his past commitment to work with Gantz after the elections.
PENDING INDICTMENTS
Opposition moves aside, the biggest campaign question is whether Attorney General Avichai Mandelblit will recommend to indict Netanyahu on any of the three corruption cases he is facing. Former attorneys general and supreme court justices have reportedly urged Mandelblit to recognize that the public has a right to know if their premier will be indicted before they cast their votes. Previously, he indicated that he would make the decision this month to avoid issuing such an important announcement closer to election day. If he does in fact recommend indictment, it could give Gantz a significant boost and reinforce the opposition's anticorruption narrative (though no formal indictments would actually be issued until a parliamentary hearing is held sometime after the elections).
NETANYAHU HOLDING CARDS OF HIS OWN
The prime minister's prospects of beating back these challenges improved last week, when the Likud primary put forward its official list of candidates. Most of these figures have favorable public personas (e.g., Jerusalem Mayor Nir Barkat), while current parliamentarians with a track record of questionable statements and actions were largely purged.
Among the names put forward is Gideon Saar, who was previously considered a potential heir to Netanyahu, then took a break from Likud politics when the prime minister began to fear he was becoming too popular. When Saar reentered the fray ahead of the Likud primary, Netanyahu stunningly suggested that the former education minister might lead a putsch against him after the elections if Mandelblit announces indictments. Saar repudiated the allegation as libelous, then did very well in the primary, suggesting that many Likud voters may be looking beyond the Netanyahu era. Ironically, however, the solid character of the overall party list may wind up insulating Netanyahu from the political fallout of potential indictments.
In addition, the prime minister will use his post to improve his chances, engaging in a whirlwind of international visits ahead of the elections. Most prominently, he will soon meet with President Vladimir Putin after a long diplomatic chill with Russia—a relationship deemed indispensable given Moscow's dominance in Syria and the fact that Israel has over a million residents from the former Soviet Union. Netanyahu also plans to visit the White House at the end of March, no doubt hoping that President Trump will publicly praise their partnership in moving the U.S. embassy to Jerusalem. (The Likud campaign has already adorned a building in Tel Aviv with a multistory billboard showing the prime minister standing next to Trump alongside the slogan "Netanyahu, another league.")
Other planned trips include security forums in Warsaw and Munich, where he will likely reiterate his signature opposition to Iran's destabilizing role in the Middle East and its desire for nuclear weapons. There are also indications he is urging Morocco to invite him for a visit before the elections, demonstrating that he is engaged in outreach to Arabs—something that would be popular with most Israelis, including Mizrahi Jews, many of whom hail from that country. He could even seek meetings with Arab leaders on the sidelines of the Warsaw and Munich forums.
CONCLUSION
Weighing all the pros and cons, Netanyahu may ultimately favor a campaign pitting him against Gantz. Such a campaign would reduce the prospects of each bloc leaving too many votes on the table, since a contest involving myriad smaller parties could result in multiple factions failing to win enough votes to cross the electoral threshold and enter parliament. Moreover, even if a two-man campaign becomes filled with recriminations, Gantz has been careful not to shut the door on a possible post-election coalition partnership with Netanyahu, so long as no formal indictments are issued (as opposed to pending indictments). Whatever the case, February will prove critical in shaping the outcome of the race.
David Makovsky is the Ziegler Distinguished Fellow and director of the Project on Arab-Israel Relations at The Washington Institute, and coauthor (with Dennis Ross) of the forthcoming book Be Strong and of Good Courage: How Israel's Most Important Leaders Shaped Its Destiny (PublicAffairs/Hachette, 2019).