Israel's Amona Compromise May Bolster the Settler Movement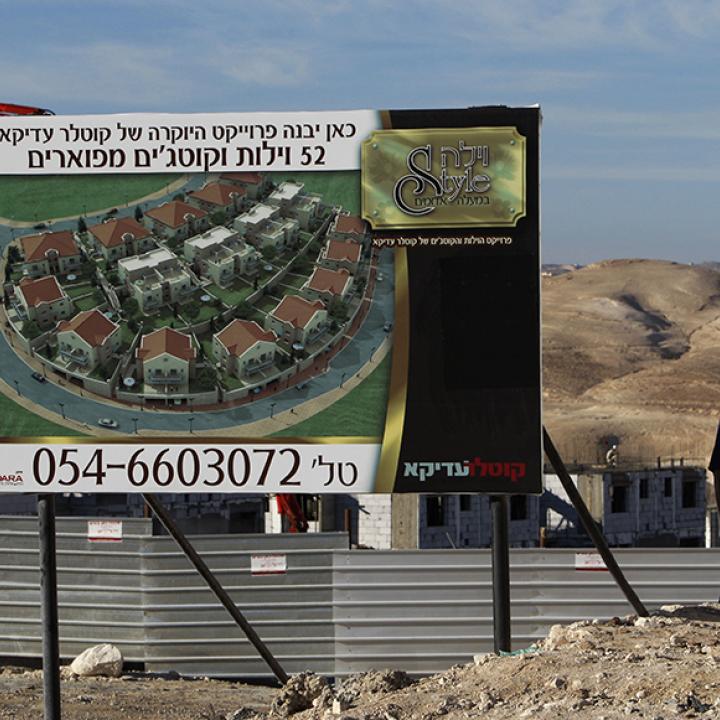 The generous relocation deal and proposed outpost legalization bill have drawn fire for appeasing settlers, who seem to believe that the Trump administration will give them even more leverage to expand their presence in the West Bank.
On December 18, the Israeli government and residents of the illegal Amona outpost compromised on the settlement's future. In 2014, the Supreme Court had ruled that the West Bank outpost would have to be emptied by December 25, 2016. Following months of negotiations, the parties averted a potentially violent forced evacuation by agreeing to relocate most of the families to a nearby hilltop and the rest to another settlement. The incident shines a spotlight on the political power of the settler movement, the difficulty of settlement evacuations, and the movement's potential clout under a Donald Trump presidency. It also serves as crucial context for the just-passed UN Security Council Resolution 2334 condemning Israeli settlement activity, as well as for Secretary of State John Kerry's latest speech on the Palestinian conflict. Although the government and settlers reached a compromise in Amona, they traded one imminent crisis for a number of longer-term problems.
THE CONTEXT
Amona has been a contested site since settlers built it nearly twenty years ago. A partial demolition in 2006 resulted in the worst-ever violence between Israeli soldiers and settlers, effectively deterring large-scale evacuations ever since.
In the months leading up to the current compromise, Prime Minister Binyamin Netanyahu negotiated with pro-settler advocates and Amona residents over different ways to evacuate the outpost and compensate the families. Defense Minister Avigdor Liberman and Netanyahu made clear that the government would uphold the rule of law and enforce the Supreme Court's ruling, but their proposed relocation site was near Ofra, another controversial settlement. U.S. officials condemned the offer as an example of unacceptable new settlement construction in the West Bank, while Israel's attorney-general described it as legal but difficult.
Yet Amona's residents held out for even better terms. As evacuation loomed, hundreds of sympathetic settlers flocked to the outpost, with the most radical willing to violently resist state forces. Simultaneously, right-wing Knesset ministers pushed for a dubious bill to legalize outposts built on private Palestinian land; final voting on that measure has been delayed until after Trump takes office.
This pressure helped produce a deal in which the state will relocate twenty-four of Amona's forty families to a nearby hilltop -- up from twelve in Netanyahu's original offer. The rest will get temporary housing in Ofra. The left-wing Israeli organization Peace Now calculated that the country will spend around $260,000 per Amona household on new dwellings and compensation.
The Supreme Court postponed the evacuation deadline by forty-five days to accommodate the new construction and judged the deal to be in compliance with its previous order. Yet the plan is still vulnerable to legal challenges by Palestinian landlords who claim the selected plots. The saga may therefore drag on for some time, becoming a test of the court's ability to force Amona's evacuation during a Trump presidency.
THE TITANIUM-STRENGTH SETTLER MOVEMENT
Perhaps more than anything else, the outcome highlighted the power of the settler movement and its allies. Within Netanyahu's conservative governing coalition, politicians from the Likud Party, the Jewish Home Party, and other factions often compete for settler support. During the Amona crisis, hardliner demands shaped negotiations as ministers avoided criticizing residents for fear of losing pro-settler support. The ample political backing for the outpost legalization bill likewise demonstrates the settlers' clout.
In addition, the threat of intra-Jewish violence increased the bargaining power of Amona residents. Direct clashes between settler activists and police would have upset the Israeli public and potentially turned the pro-settler constituency against Netanyahu. No ministers would risk the appearance of having Jewish blood on their hands, so the repeated threats of violence and the presence of extremists in Amona gave the government major incentive to avoid a forced evacuation. And while the outpost's residents likely preferred to stay put, the terms of their departure still represent a victory for the settler movement.
PRESERVING THE COALITION
As Netanyahu forged consensus on Amona, coalition politics seemed to outweigh all other considerations, including legal precedent and international approval. He facilitated a highly controversial relocation deal and a likely unconstitutional outpost legalization bill, both of which contradicted the spirit of the Supreme Court's 2014 ruling and elicited negative responses from abroad. The Obama administration joined numerous European, Arab, and other countries in disapproving of Netanyahu's actions, viewing them as a barrier to eventual peace with the Palestinians. This sentiment likely increased momentum behind Security Council Resolution 2334 and Kerry's speech earlier today. U.S. ambassador to the UN Samantha Power explicitly cited Israel's legalization bill in defending Washington's decision not to veto the resolution, and Kerry did the same in arguing for U.S. action to preserve the two-state solution.
Yet if Netanyahu had handled the crisis differently, his coalition may have fractured, with conservative Likud and Jewish Home ministers potentially abandoning the government if they believed he was pushing unfavorable terms on Amona. Fearing this outcome, he prioritized political cohesion by supporting more generous terms.
A TRUMP SETTLEMENT TAILWIND?
Most settler leaders expect the Trump presidency to further magnify their power. Indeed, a U.S. administration that favors rather than opposes settlement expansion would make it more difficult for Netanyahu to continue limiting settlement growth and pushing back against other types of legalization bills.
Trump's rhetoric on Israel -- along with his nomination of known pro-settlement figure David Friedman as the next U.S. ambassador -- has excited those Israelis who want Washington to drop its five-decade bipartisan opposition to settlement construction. Although Friedman will not set U.S. policy toward Israel, he could still influence Trump's thinking on the matter, perhaps blowing wind in the sails of a settler movement eager to expand construction on both sides of the West Bank security barrier.
This could put Netanyahu in a tough position. The modest settlement growth taking place under his tenure has generally been limited to areas in or near larger existing settlements. While this type of construction is hardly helpful in terms of drawing a border with a future Palestinian state, it poses far fewer complications than Amona-type construction in isolated areas near Palestinian villages. Thus far, the specter of American opposition and the importance of U.S. security and diplomatic support have enabled Netanyahu to hold proponents of expanded construction at bay, but it is unclear whether these deterrents will remain sufficient. Regardless of the next administration's eventual stance, current settler perceptions of Trump's views could remove Netanyahu's best excuse for limiting construction.
If construction does in fact expand, it could alienate Democratic U.S. lawmakers and swaths of the American Jewish community, draw the ire of European and Arab countries, and bolster the international boycott, divestment, and sanctions (BDS) movement. Settler perceptions of Trump could also prolong the Amona crisis by emboldening residents to trash the latest deal and defy the evacuation.
DETERRING FUTURE EVACUATIONS
Although a large settler presence threatens both the viability of a future Palestinian state and Israel's Jewish democratic future, the Amona situation showcases the difficulty of any future evacuations. For a right-wing government without any imminent peace prospects, the strain of relocation would greatly hinder any large-scale efforts to move settlers inside the security barrier, let alone out of the West Bank entirely. The government has had to endure political drama, threats of violence, and high financial costs just to move forty families a few hundred meters. In this sense, agreeing to leave Amona still represents a victory for the settler movement, which places a premium on deterring evacuations. Conservative politicians will continue to find it easier to allow construction and accommodate settlers rather than take the risks inherent in removing them.
Left-wing or centrist politicians less beholden to settler support might have better luck. If they win power, they could even order the army to block access roads to sites earlier in the evacuation process to limit the number of protestors requiring removal. Yet Amona shows that settlers have the leverage needed to put up a fight, even if two-state prospects are revived down the road.
CONCLUSION
The Amona story has already reverberated internationally, and it may still have a few chapters left. The government is busily constructing new housing for residents, but they may not leave in the end if they believe President Trump will increase their leverage. Angered by the deal and the related outpost legalization bill, the Obama administration still has time to further pressure Israel's leadership if it so desires, perhaps by enshrining the guidelines from Kerry's speech in another Security Council Resolution. Even if Amona does not trigger further short-term drama, longer-term issues will persist, particularly if the settler movement continues to muscle Israel into decisions that threaten its international relationships, peacemaking capacity, and Jewish democratic future.
Mitchel Hochberg is a research associate at The Washington Institute and holds a master's degree from Georgetown University's Security Studies Program.