The Israeli Election: Implications for U.S. Policy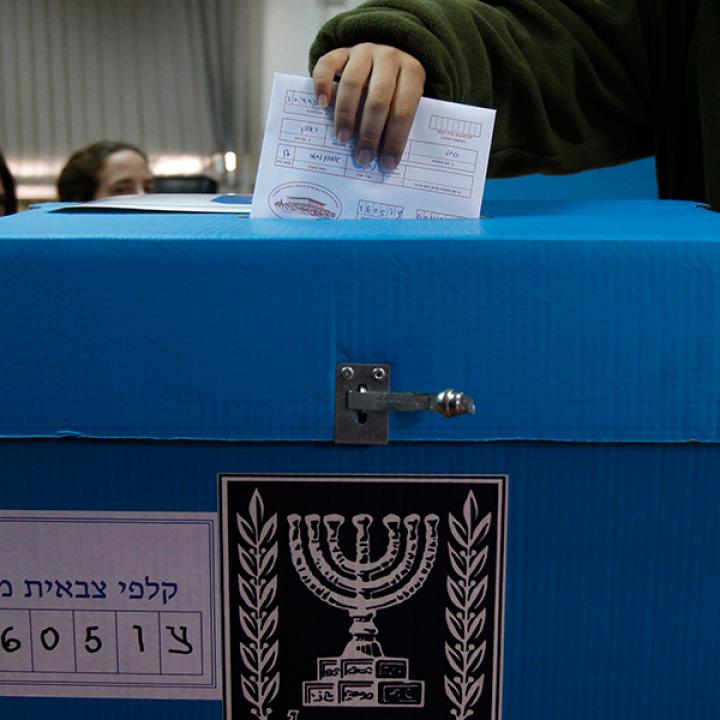 The Israeli public is moving to the right on the Palestinian issue, but economic and social concerns, more than security debates, are likely to determine the left/right composition of the next Knesset.
On January 22, Israelis will go to the polls to determine the makeup of their next legislature. The election season has been somewhat unusual thus far, with the campaigns eschewing a clear policy agenda and the overall outcome seemingly inevitable from the start. Yet both the race and its likely aftermath offer important insight into how Israel will approach two issues crucial to U.S. interests in 2013: the ongoing impasse with the Palestinians and the nuclear dispute with Iran.
Watch video of a Policy Forum on this topic, featuring David Makovsky, David Schenker, and Robert Satloff.
NETANYAHU TO WIN A MUTED RACE
Since the campaign began in October, two main trends have persisted. First, polls show that Prime Minister Binyamin Netanyahu's lead has never been in doubt. A plethora of sources have offered remarkably similar projections, estimating that right-wing parties will win 63 to 68 of the Knesset's 120 seats, with the center-left claiming the remainder. (The gap between the right and center-left blocs is wider when one considers that Israeli Arab candidates -- who are projected to win at least 11 seats -- have historically either refused or not been asked to join center-left coalitions.) Although these two blocs have experienced some internal fluidity, their overall seat projections have hardly budged. This trend practically guarantees that Netanyahu will remain prime minister, even as his Likud-Beitenu list loses 7 to 9 seats to the more right-leaning Habayit Hayehudi (Jewish Home) list.
Second, the campaign lacked an agreed policy focus, with parties sticking to their own issues (e.g., income inequality, a military draft for ultraorthodox Jews, education) instead of debating a common agenda. This is unusual for Israeli elections. Strikingly, Netanyahu has avoided discussing major issues of the day in any detail, effectively choosing not to seek a public mandate on them. This includes the looming Iran nuclear quandary, long a signature issue for him. Specifically, he and most of the other candidates have largely sidestepped the following questions: what Israel will do if U.S.-led diplomacy with Tehran fails and Washington does not act; what might happen to Israel if it does not resume peace talks with the Palestinians; what the November Gaza conflict means for Israel's security; and what the future holds for relations with Egypt in light of the Muslim Brotherhood's rise to power.
Netanyahu has seemed determined to stay away from these issues for fear of alienating constituencies at home and governments abroad before the election. He likely also hopes to maintain tactical flexibility for the all-important postelection negotiations that will determine the composition of the next government. Perhaps most striking, however, is that the public has not forced him or other candidates to take a stand on these issues.
MOVING TO THE RIGHT ON PALESTINIAN ISSUES
Despite the campaign's muted policy debate, the projected results reflect a trend that has grown in recent years: Israelis moving to the right when assessing the prospects of peace with the Palestinians. On one hand, studies indicate that 59% of Israelis still desire a two-state solution, including 52% of Likud voters. Moreover, 70% believe that Israel remaining a Jewish state is the most important factor, even if land has to be shared. On the other hand, the public also believes that peace negotiations are destined to fail in the current environment, and for reasons unconnected to Israel.
Although this split between desirability and feasibility gives some hope that attitudes can change, the political consequences are unmistakable. In a December poll conducted under the auspices of Tel Aviv University's Peace Index -- which has been measuring Israeli attitudes on negotiations since the early 1990s -- 61% of all respondents (and 67% of Jews) said that the lack of peace progress has "nothing to do with Israel," and that "there is no chance of progress in the foreseeable future." When asked about their political orientation, 55% of Jewish respondents said they are on the right, compared to 21% on the center and 17% on the left. In addition, 50% said that Israel should follow Netanyahu's course even if it means confrontation with the United States.
Shifts within the center-left bloc only reinforce this trend. For example, the bloc's largest component -- the Labor Party, projected to win eighteen seats -- has sharply recast its image away from that of a peace faction. Instead, it has focused on income inequality in an effort to harness the domestic protest movement begun in summer 2011. This is perhaps the only way the bloc as a whole could maintain its seat tally in the Knesset, particularly since polls show that socioeconomic problems are the leading issue on voters' minds. Labor's leader is former talk show host Shelly Yachimovich, who has gone to extraordinary lengths to avoid being associated with any foreign policy issues, a striking departure for a party formerly led by David Ben-Gurion, Yitzhak Rabin, Shimon Peres, and Ehud Barak. Similarly, Yair Lapid, who heads a rising new party focused on bolstering the middle class and drafting ultraorthodox Jews, did not want to be too associated with the peace issue. Like Yachimovich, he refused to join forces with Tzipi Livni, who heads a pro-peace process party.
In another sign of rightward drift, Netanyahu is one of the only Likud-Beitenu candidates to express support for a Palestinian state. The Likud primaries already resulted in the ouster of relative moderates such as Dan Meridor, Michael Eitan, and Benny Begin, all of whom are more judicious on issues such as the use of force. Moreover, it is unclear whether the voters who ousted them will choose Likud in the general election or a party to its right.
One such far-right party -- the religious nationalist Jewish Home -- is set to complete a meteoric rise, from three seats in 2009 to as many as fifteen next week. The party is Israel's first major faction to openly call for annexation of 60 percent of the West Bank, and its leader, entrepreneur Naftali Bennett, was the only major political figure to criticize Netanyahu for not waging a ground campaign in Gaza last November. According to Bennett, Israel needs to root Hamas out of the territory, and his numbers have almost doubled since his critique.
The party's rise can also be traced to a longstanding desire among religious Zionists to live a middle-class life, whether in Israeli suburbs or West Bank settlements. Bennett's profile -- he is a high-tech millionaire living in the tony town of Ranana and a former elite commando officer -- has made him a source of emulation among religious Zionists who value professional success and service to country rooted in a historic Jewish consciousness. This profile appeals to secular Israelis too, and Bennett is the first religious party leader to put a secular candidate on his list.
RATIONALE FOR CHANGING ATTITUDES
The Israeli shift on the Palestinian issue reflects several factors. First, the longstanding "land for peace" equation is now broken, since Israel has too often been hit by rockets fired out of territories from which it has previously withdrawn (e.g., Hizballah's 2006 barrage from Lebanon; last November's barrage from Gaza). Although some critics might argue about the degree of Israel's withdrawals, the consequences are clear: rocket fire has hardened public attitudes about the feasibility of peace and bolstered the right.
Second, given the ascendance of political Islam in the wake of the Arab Spring, many Israelis believe that moderate Palestinians will be unable to stop the militant wave and will eventually be swept away by Hamas, as happened in Gaza in years past. Many also believe that Palestinian Authority president Mahmoud Abbas does not want to negotiate with them, but instead seeks to use the UN against Israel. Abbas has long stated that he will negotiate if Netanyahu halts settlement construction, but this sentiment does not come across in Israel.
Third, in the eyes of Israelis, the UN has lost further moral authority by condemning them for building apartments in east Jerusalem while refusing to formally censure Syria for slaughtering thousands of its own citizens. While many outside observers believe Israel is becoming increasingly isolated because of Netanyahu's settlement policies, the prime minister has found resonance among his countrymen in charging the world with hypocrisy.
None of the above should be viewed as an excuse for Washington, Israel, or the Palestinians to be inactive on the peace process in the coming years. Yet in seeking to move the process forward, the parties will have to address the deep-seated problem of profound public skepticism among Israelis and Palestinians alike. In particular, the Obama administration must keep in mind that risk-averse leaders on both sides will have no real inclination to make concessions without adequate public support.
IMPLICATIONS FOR WASHINGTON
Throughout the campaign, Netanyahu has ignored U.S. criticism of new measures related to settlement construction in a bid to win back voters leaning toward Bennett. Amid unconfirmed reports that Obama views his actions as self-destructive, the prime minister has sounded a stern, calculated public note about Israel defending its own national interests.
Yet once the election is over, Netanyahu's calculus could shift. As he and rival factions enter the postelection bargaining process in the weeks ahead, will he configure his government narrowly to include only right-wing and religious parties, or will he try to extend his coalition to the center-left? And will he follow his past preference for a defense minister who is highly regarded in Washington? If so, he may once again choose Ehud Barak, despite the fact that Israel has never had a defense minister who is no longer affiliated with a political party. Alternatively, he could ask rival Livni to play the "close to Washington" role, appointing her as foreign minister while retaining control over the Palestinian issue himself. Yet Livni would likely want assurances of his seriousness on that issue before accepting the post, and Netanyahu may fear that such pledges would anger his right-wing coalition partners.
Of course, the biggest issue in play between Washington and Israel this year is Iran. Accordingly, Netanyahu will need to prioritize relations with the Obama administration while forming a broad-based government that can provide the necessary consensus for whatever position he takes if international diplomacy with Tehran fails. For its part, Washington could try to get Israel to view negotiations with the Palestinians as insurance against those who may wish to stir trouble at a sensitive juncture in the Iranian nuclear impasse. For example, U.S. Secretary of State-designate John Kerry may privately tell Israel that it can help keep the international community focused on Iran in part by doing everything in its power to get relations with the Palestinians back on track. More broadly, given all that is at stake for Israel regarding Iran, Washington could quietly urge Netanyahu to create a coalition that fits the mission, not a mission that fits the coalition.
David Makovsky is the Ziegler distinguished fellow and director of the Project on the Middle East Peace Process at The Washington Institute.