Israeli Defense Minister Surprises by Announcing West Bank Projects in Key Area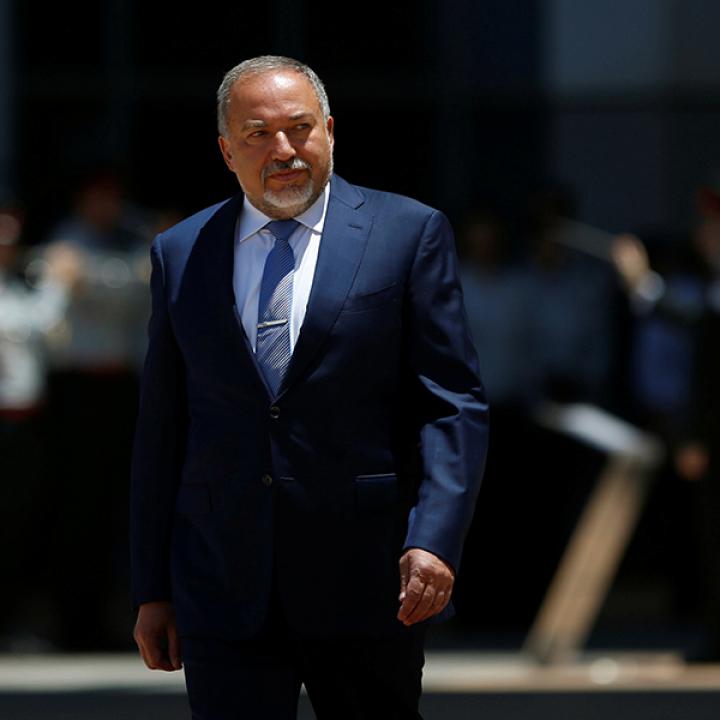 The initiative could boost the Palestinian economic sector in Area C during a period of diplomatic inactivity, but continued cooperation between Foreign Minister Liberman and the IDF could be tested if a rather quiet West Bank returns to violence.
This week, Avigdor Liberman made his first substantive foray into the Palestinian issue since becoming Israel's minister of defense three months ago. While Liberman's inflammatory rhetoric tends to overshadow his constructive actions, he indeed took a significant step by enabling the Palestinians to engage in economic activity, previously off-limits, in some parts of the West Bank's Area C. The eleven projects, ranging from a medical facility to residences, will be carried out in locations adjacent to Areas A and B. While the projects may only occur in a limited geographic space in Area C, they certainly create an interesting precedent. 
In recent years, greater Palestinian economic access to Area C, which constitutes 60 percent of the West Bank -- although only a small proportion of West Bank residents -- and is controlled entirely by Israel, has been one of the most contentious issues between Israel and the Palestinians. (As for the other West Bank sectors, Area A covers 18 percent of the territory and is made up of urban areas under Palestinian security and civil control, and Area B, accounting for the remaining 22 percent, consists of towns and villages adjacent to urban areas where Palestinians are responsible for civil affairs and maintaining public order.)
Among the projects announced by Liberman are an industrial area west of Nablus, an economic corridor between Jericho and Jordan backed by Japanese funding, a hospital in Beit Sahour (near Bethlehem), and expanded residential construction in approved Palestinian master plans for Qalqilya and other existing towns and villages. Liberman appears to favor further Area C projects as well.
Economic Steps in the Absence of Diplomacy
This week's move suggests that Liberman, obviously with Prime Minister Binyamin Netanyahu's support, will back an emphasis by the Israel Defense Forces (IDF) on taking stabilizing economic steps during a period of diplomatic stasis. In particular, the IDF has resisted pressure from the most right-wing forces within the Israeli government to sharply reduce work permits granted to Palestinians in response to the wave of stabbings that began last October. IDF officials generally believe that any such overreaction will only worsen the situation, and they feel vindicated by the dissipation of the stabbings. Yet while the IDF's pragmatic streak would seemingly point to a more active diplomatic track, with even Netanyahu now publicly noting the insufficiency of "economic peace" -- a term with which he was linked years ago -- the reality of diplomatic stasis means key Israeli officials favor taking economic steps on the ground.
But violence has not vanished entirely. Over the past few months, the perpetrators of three fatal attacks have all come from Hebron's adjacent villages of Dura, Yatta, and Bani Naim, as Liberman demonstrated on a map in this week's press conference. Therefore, no projects in those villages were approved. Liberman also said the IDF will be more active around Hebron, explaining that he would advocate a "carrot and stick" approach. He declared, "Our purpose is to continue to benefit those who wish to coexist with us and to impede those who want to hurt Jews," adding that "anyone who is ready for coexistence will profit and anyone who takes the route of terrorism will lose."
Potential Consequences of Area C Demolitions
Despite Liberman's pragmatic steps, any international praise for the Israelis over their actions may be clouded by the demolition of almost two hundred Area C homes this year based on their lack of a proper permit. Related criticism of Israel has extended to the U.S. State Department, whose officials have publicly complained that legal permits have not been available in Area C and that therefore the demolitions raise questions about Israel's commitment to a two-state solution. Netanyahu could be confronted on this matter when he heads to the United Nations next month for the General Assembly session, as he will likely do.
For its part, Israel contends that only a small number of West Bank Palestinians live in Area C, despite its large size, and sees the area as a bargaining chip in any negotiations over the West Bank's final disposition. However, no such negotiations appear to be in the offing, and Israel's claims have raised alarms that it wants to hold Area C indefinitely -- claims bolstered by leading right-wing elements in the government, such as Education Minister Naftali Bennett, who heads the Jewish Home Party. Bennett has publicly called for Israel to annex Area C, fueling U.S. concerns about Israel's intentions for the area and leading to much American scrutiny. Indeed, the potency of the Bennett statements could explain Liberman's desire to balance the recent Area C moves with tough rhetoric.
While Liberman's announcement suggests that Israel is indeed open to selective Palestinian projects in Area C villages adjacent to Areas A and B, his rhetoric eviscerating Palestinian Authority leader Mahmoud Abbas got the headlines. Likewise, Liberman has long insisted that he distinguishes between his criticism of Abbas and support for the PA -- and a corresponding desire to avert its collapse. The defense minister further argued this week that he saw the projects as a sign that Israel will find ways to reach the Palestinian people directly. And he announced that the Ministry of Defense will be publishing a new Arabic website, designed to inform Palestinians of steps Israel is taking to improve their lives.
As for Liberman's opposition to Abbas, it is unclear what this means in practice. Until he became defense minister, a plethora of media reports suggested that Liberman favored Abbas's rival Mohammad Dahlan, who currently lives in exile in Abu Dhabi, to lead the PA. However, since Liberman assumed his current post, key Israelis have evidently told him that Dahlan does not enjoy serious public backing from the Palestinian people. As a result, these sources say Liberman has cooled to Dahlan. The defense minister told reporters this week that Israel will not "meddle in [Palestinian] internal affairs."
Conclusion
Liberman prides himself on using hawkish rhetoric, but his words can be harsher than his actions. As foreign minister during U.S. secretary of state John Kerry's diplomatic initiative in 2013-14, Liberman surprised observers with his public support for the U.S. effort. Now, as defense minister, Liberman has once again shown his ability to surprise by favoring more projects in Area C. Such a pragmatic approach would be consistent with his indicated desire to show he can work with the IDF, an attribute the electorate would need to see in order to potentially consider him down the road. Liberman has not hid his ambitions to be a future prime minister.
So long as the West Bank is quiet, one can expect Liberman and the IDF to see eye to eye. However, Liberman's pragmatism will be tested by potential developments such as a spate of terrorist attacks, in which case he will be challenged to find common ground with the IDF. In such circumstances, the military will likely favor isolating perpetrators and creating political distance between them and the overall West Bank population, whereas Liberman could be inclined to enact a wider crackdown -- at least in a specific zone of the West Bank. This divergence could position him for a showdown with the country's military leaders.
David Makovsky is the Ziegler Distinguished Fellow and director of the Project on the Middle East Peace Process at The Washington Institute.