Iran's Tensions with Azerbaijan Point to Broader Shifts in the South Caucasus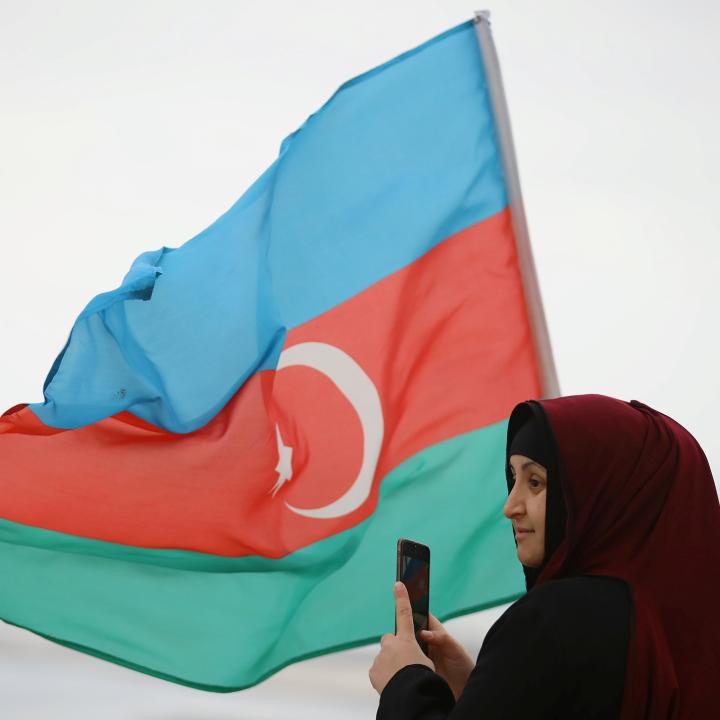 Amid flare-ups in the Nagorno-Karabakh conflict, Iran and Russia are keeping a watchful eye on developments in the South Caucasus, from Israel's warming relations with Baku to potentially shifting control over regional transport corridors.
On March 26, Azerbaijan's first-ever ambassador to Israel presented his credentials to President Isaac Herzog. Two weeks earlier, officials in Baku noted that an Iranian military aircraft had flown without warning along the countries' shared border, the latest in a series of escalations.
On the surface, these developments may seem unrelated. The rising Azerbaijani-Iranian tensions appear driven by the fallout from the 2020 war over the enclave of Nagorno-Karabakh (internationally recognized as part of Azerbaijan but predominantly ethnic Armenian); this includes Baku's recent efforts to secure access to corridors outlined in the Russian-brokered ceasefire agreement that ended the fighting between Armenia and Azerbaijan. Deeper down, however, Iran is also worried about Azerbaijan's close and increasingly public relations with Israel. This relationship is one of several recent geostrategic shifts affecting Tehran's calculus, including Russia's invasion of Ukraine, the resultant deepening of Iran's relationship with Moscow, and a prospective peace deal that could permanently end three decades of conflict between Armenia and Azerbaijan. In Tehran's view, the latter scenario threatens to shift the regional balance away from Iran and Russia, especially regarding control of regional transportation infrastructure.
Territorial Shifts After the 2020 War
Following Armenia and Azerbaijan's territorial and ethnic clash over Nagorno-Karabakh in 1988-94, the conflict was frozen for decades. Yet simmering tensions turned into a second full-scale war in September 2020, after the Armenian authorities ruling Nagorno-Karabakh moved the enclave's parliament to Shusha, a city that both countries consider culturally and historically important. In response, Azerbaijan launched a multipronged military offensive that retook seven Azeri-majority districts in the area. The campaign's swiftness suggested careful pre-planning, as well as considerable assistance from Turkey and Israel, including the use of drones acquired from both countries.
After six weeks of fighting, Armenian forces—panicked by their collapse—fired Russian-made Iskander missiles at Baku in an effort to halt the offensive. According to multiple analysts and officials, however, Azerbaijan downed the salvo using an Israeli Barak 8 missile defense system. And when Moscow subsequently brokered a ceasefire, Baku was able to impose terms that pushed Armenian forces out of every area except the northern part of Nagorno-Karabakh, which is connected to Armenia via the "Lachin corridor." As outlined in that agreement, Armenia's remaining forces have since been bolstered by Russian "peacekeepers" (who patrol the Lachin corridor) and the Russian Border Service (which patrols Armenia's frontiers, including its still-undelineated border with Azerbaijan).
Azerbaijan's reclaimed territory includes areas along its border with Iran, as well as a portion of the main highway linking Iran to Armenia—a crucial trade route to Russia and the Black Sea. Tehran was reportedly angered when Baku subsequently began imposing taxes on Iranian trucks carrying goods along that route. Perhaps more important, senior regional analysts and officials say this route was—and potentially remains—a major corridor for drug trafficking, oil smuggling, and other sanctions-busting activities that helped alleviate economic pressure on the Islamic Republic. It was also apparently used to send Russian weapons to Armenia via Iran. Indeed, Tehran has heavily supported Armenia in the past, while Russia was Yerevan's main security guarantor for years and is allied with it in the Collective Security Treaty Organization. Notably, however, Moscow appeared to tilt more overtly toward Azerbaijan during the 2020 war.
Azerbaijani-Iranian Border Tensions: Why Now?
Tensions with Tehran spiked in recent months when Baku attempted to enforce two articles of the 2020 ceasefire agreement. Article 6 called for the construction of a new road through the Lachin corridor by 2023. When Azerbaijan opened this route ahead of schedule last August, Armenia argued that it was too steep and fell outside the corridor. Russian forces now patrol the new road.
Elsewhere, Article 9 calls for "unblocking" all economic and transport connections throughout the region, most notably between Azerbaijan and its western "Nakhchivan Autonomous Republic." Under this provision, the exclave would be connected to Azerbaijan through the Zangezur corridor, a narrow passage that runs along the Armenia-Iran frontier and is patrolled by Russia's Border Service. Yet Iran is hesitant to change the status quo there because Zangezur is its only land access point to Armenia. Moreover, as long as Armenia blocks trade to Nakhchivan via the corridor, Azerbaijan must go through Iran to reach the exclave, which gives Tehran leverage over Baku.
Various military and security incidents have further stoked bilateral tensions, including the previously mentioned claim of airspace violations:
In October, Iran held two large

military exercises

near the border with Azerbaijan. Tehran claimed to give Baku appropriate notice, but the drills were nonetheless met with concern.

In November,

Azerbaijani 

authorities arrested nineteen people who claimed they had been trained by Iran to carry out operations in Azerbaijan. The suspects had allegedly been flown to Syria to conduct military training; they were also charged with illegally smuggling religious material when they returned home to Azerbaijan.

This January, a gunman

stormed

Azerbaijan's embassy in Tehran, killing its security chief and wounding two guards. President Ilham Aliyev

blamed

"Iran's establishment" for the attack.

In March, Iranian operatives

reportedly

attempted to assassinate

Azerbaijani parliamentarian Fazil Mustafa, who is known for his opposition to the Iranian regime.
According to regional analysts and officials, Tehran also seeks to keep Azerbaijan in check because of its own protest troubles back home. Up to a third of Iran's population is estimated to consist of ethnic Azeris, most of whom see Azerbaijan as the center of their history and culture. In recent years, Azeri self-assertion has become more prominent in Iran, forcing the regime to tread carefully when deciding what stance to take during the 2020 Armenia-Azerbaijan war. Iran's current protest movement has brought Azeri issues even more to the fore—in November, President Aliyev took the unprecedented step of publicly expressing support for this community, pledging, "We'll do our best to protect the secular lifestyle of Azerbaijan and Azerbaijanis around the world, including Azerbaijanis in Iran."
Tehran is also concerned about Azerbaijan's growing ties with Israel, one of Baku's largest weapons suppliers. When Israel's then-defense minister Benny Gantz visited Azerbaijan in October, the two countries signed several military and security agreements. Baku is likewise deepening its long-term alliance with Turkey, an Iranian competitor that now has more opportunities to assert its influence in the region amid the Ukraine war.
Post-Ukraine Shifts
Moscow has appeared to move even closer to Azerbaijan since invading Ukraine. The Kremlin did not respond to Armenia's calls for military support last September, during the deadliest outbreak of fighting with Azerbaijan since 2020. It has also been unable (or unwilling) to stop recent blockages of the Lachin corridor.
According to the Russian-brokered 2020 ceasefire agreement, this corridor is supposed to "remain under the control of the Russian Federation peacemaking forces." Yet Azerbaijanis started challenging this power late last year. In December, "eco-activists" reportedly began preventing Russian military convoys from entering the corridor; they have also joined members of various Azerbaijani NGOs in erecting protest camps near Shusha on a road leading to the corridor. Among their demands is a call for Russian forces to allow inspections in order to prevent Armenians from transporting mined gold and copper out of Nagorno-Karabakh, which Baku regards as illegal exploitation of Azerbaijan's natural resources. Electricity and gas supplies from Azerbaijan have also been periodically cut. And in February, local shortages of food and medicine led the International Criminal Court to issue a provisional ruling ordering Baku to ensure free movement through the corridor.
Such problems raise doubts in Yerevan about Russia's ability to protect its treaty ally. Tensions have been further exacerbated by Armenia's plans to ratify the ICC's founding Rome Statute, which Moscow deems "unacceptable" now that the ICC issued an arrest warrant for President Vladimir Putin on March 17. In January, Moscow publicly blamed Armenia for the breakdown of peace talks with Azerbaijan. For his part, Armenian prime minister Nikol Pashinyan has repeatedly spoken with Putin about the "problems" of Russian forces, even suggesting that Moscow seek a mandate to send UN peacekeepers to Nagorno-Karabakh if Russia "can't live up to its commitments." All of these issues are no doubt boosting Baku's confidence even higher.
Meanwhile, Russia is for the first time finding itself reliant on Iran due to Tehran's military support for the Ukraine war—which could explain why Moscow has turned a blind eye to Iran's activities in Azerbaijan. On the economic front, Moscow and Tehran both support expansion of the International North-South Transport Corridor through the South Caucasus, which could allow them to circumvent Western sanctions and potentially alter the balance of power in that region.
Policy Recommendations
Years of insufficient U.S. attention to the South Caucasus have benefitted Russian and Iranian interests there, and the region has now reached an inflection point. Yet the tense situation also provides opportunities for establishing a sustainable peace.
Although Russia and Iran would likely prefer to maintain low-level conflict between Azerbaijan and Armenia while increasingly using them as alternative transportation routes, Moscow's current focus on Ukraine gives Washington an opening. Additional senior-level U.S. engagement in the South Caucasus would not only support peace efforts between Baku and Yerevan, but also counter Russian and Iranian activities in the region, ensure greater American access there, and help address human rights concerns. Secretary of State Antony Blinken's recent conversation with Prime Minister Pashinyan is a step in the right direction, but Washington has yet to articulate an overall strategy toward the South Caucasus.
Other steps could include:
Supporting the eventual deployment of UN peacekeepers rather than Russian forces in

areas of Nagorno-Karabakh

Supporting the European Union's recent limited monitoring mission on the Armenian side of the border

Supporting Armenia's normalization with Turkey

,

especially since Yerevan might otherwise forge closer ties with Iran in order to partially make up for Russia's relative distancing

Exploring regional opportunities with

Turkey and Israel, whose interests in the

South Caucasus have lately been

aligning against Iran

Seeking ways to tie the South Caucasus closer to the West, from increased trade and foreign assistance to the potential creation of new diplomatic forums that exclude Russia.
The situation is ripe for U.S. engagement. Prime Minister Pashinyan is Armenia's most pro-Western leader in decades, while Azerbaijan is already partnered with the United States on issues such as military overflights. As former assistant secretary of state for European and Eurasian affairs Karen Donfried told Congress in November, U.S.-provided nonlethal border security assistance to Baku has helped counter transnational threats from Iran and disrupt smuggling routes to Russia and Europe.
More broadly, the South Caucasus remains a key logistical link between the West, the broader Middle East, and Central Asia. Russia has had an entrenched military presence there for over two centuries, and the Nagorno-Karabakh situation has become the longest-running conflict in the post-Soviet space. Achieving peace there would be a powerful geopolitical breakthrough that advances U.S. interests on multiple fronts.
Anna Borshchevskaya is a senior fellow in The Washington Institute's Diane and Guilford Glazer Foundation Program on Great Power Competition and the Middle East. Andrew Tabler is the Martin J. Gross Senior Fellow in the Institute's Program on Arab Politics.