Iran's New Assembly Chair Shows Who Really Won the Elections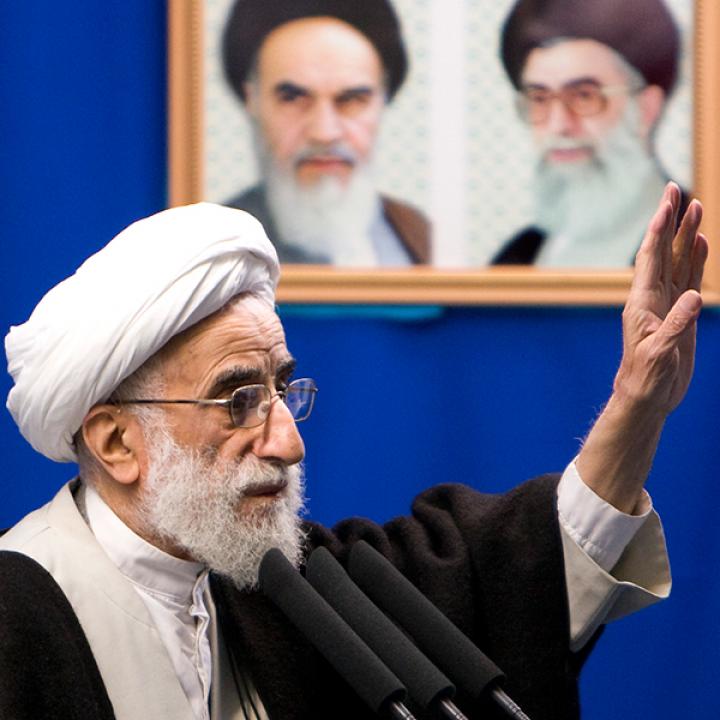 Despite weeks of reformist spin about the spring election results, the decision to name a notorious hardliner as head of the Experts Assembly shows that Khamenei is intent on making life even more difficult for President Rouhani's camp.
When members of Iran's fifth Assembly of Experts gathered on May 24 to choose a new chairman, they confirmed what many already knew: that the recent election did not change the body's hardline fabric or the Supreme Leader's ability to exert his will over supposedly democratic processes. Since February, reformists and other supporters of President Hassan Rouhani have been claiming victory in both the assembly and parliamentary elections. The regime had taken pains to disqualify their favorite candidates before the race, so they produced an unorthodox list of "reformist" contenders that included many hardliners and conservatives. Yet today's inaugural assembly meeting indicates that this strategy will fail to influence decisionmaking in a body that could eventually be tasked with naming the next Supreme Leader.
Veteran hardliner Ahmad Jannati won fifty-one of eighty-six votes at the meeting to become chair for the next two years. Rouhani's camp had hoped that former president Akbar Hashemi Rafsanjani, one of their most popular allies, would compete for the position, but he declared a few days ago that he would not be running. Some analysts believe he withdrew because of a political scandal caused by his daughter Faezeh, an activist who recently challenged religious and political taboos by visiting with imprisoned Bahai leader Fariba Kamalabadi. The Islamic Republic treats those who practice the Bahai faith not as members of a minority religious community, but rather as a dangerous pro-Israel "espionage network" fabricated by anti-Islamic colonialist powers, so any contact with them has become a potentially punishable offense. After photos of Faezeh's visit went public, numerous religious leaders and government officials attacked her, then blamed her father for not reacting in a satisfying manner.
Yet other political factors may have played a greater role in keeping Rafsanjani out of the running. He is well aware that the elections did not change the assembly's predominantly radical-conservative makeup, and he remains bitter about his loss to hardliner Mohammad Yazdi in the previous chair vote.
Among the three candidates who did run -- Hashemi Shahroudi, Ebrahim Amini, and Jannati -- the most hardline figure gained the overwhelming majority of votes. Amini, a respected and generally soft-spoken conservative, received twenty-one votes, while former judiciary chief Shahroudi, who typically disassociates himself from any specific faction, won thirteen. Amini represents Tehran province in the assembly and ran on the "Hope List" initiated by pro-Rouhani groups. Shahroudi represents Razavi Khorasan, the most important province after Tehran.
For his part, Jannati has served as secretary of the powerful Guardian Council since 1992, holding a seat on that body since its inception in 1980. Accordingly, he played an essential role in consolidating Khamenei's authority from the start, controlling all of the country's elections, containing or blocking any parliamentary decisions that could undermine the authoritarian apparatus, and generally implementing Khamenei's goal of insulating the system from democratic reform as much as possible -- all while shifting responsibility for these policies away from the Supreme Leader.
The selection of such a notorious hardliner to head the new assembly does not bode well for Rouhani. First, Khamenei almost certainly played a role in Jannati's victory, in part by having his associates communicate his preferences and concerns to the new assembly members in advance of the vote. The outcome highlights the false hopes generated by Rouhani's post-election narrative -- far from meeting the reformists halfway, the Supreme Leader seems to be emphasizing that there will be no trace of compromise going forward. To be sure, the Experts Assembly is a largely passive and ceremonial institution, but the latest developments show how well the hardliners can coordinate within and outside that body to maintain their supremacy -- a discouraging revelation given that the current assembly will probably have the opportunity to appoint Khamenei's successor in light of his advanced age (76) and possible health conditions. Whether the Supreme Leader passes away suddenly or decides to manage the transition while he is still alive, it is the Experts Assembly that will officially name his replacement and legitimize the heir apparent's authority -- guided of course by outside power circles. Given the new assembly's makeup and today's election of such an anti-democratic figure, the hardliners will no doubt be confident about pushing for an uncompromising candidate to become Supreme Leader if the succession question does in fact arise. In the meantime, they will use the assembly and every other institution under their control to make more problems for Rouhani and weaken any newly elected members of parliament who assist him.
In addition to electing a chair, assembly members voted on two other positions today: Mohammad Ali Movahedi Kermani was chosen as Jannati's first deputy and Shahroudi as his second. Movahedi Kermani is Khamenei's former representative in the Islamic Revolutionary Guard Corps and shares Jannati's politico-religious mindset. Shahroudi served as first deputy in the previous assembly and acting head after the death of Muhammad Reza Mahdavi Kani, playing a substantial role in the institution's management. Given the advanced age of Jannati (89) and Movahedi Kermani (85), the younger Shahroudi (67) could play an even more pivotal role going forward. He has often been mentioned as one of the most probable candidates to succeed Khamenei, and his chances will only be bolstered by his influence in the assembly, which is much greater than his title may suggest. His efforts to cast himself as a meta-factional political figure and a Shiite religious authority will help his prospects as well.
Finally, as the May 28 inauguration of the new parliament approaches, pro-Rouhani circles are struggling to find enough support to elect their favored candidate, Mohammad Reza Aref, as speaker of the Majlis. Incumbent speaker Ali Larijani enjoys the support of most conservative and hardliner factions, including the Paydari Front, so defeating him will be difficult. Depending on the results, the next speaker election will either stop the bleeding in Rouhani's camp or deepen today's wound.
Mehdi Khalaji is the Libitzky Family Fellow at The Washington Institute.