Iran's Latest Missile Test: Scenarios and Implications for the New Administration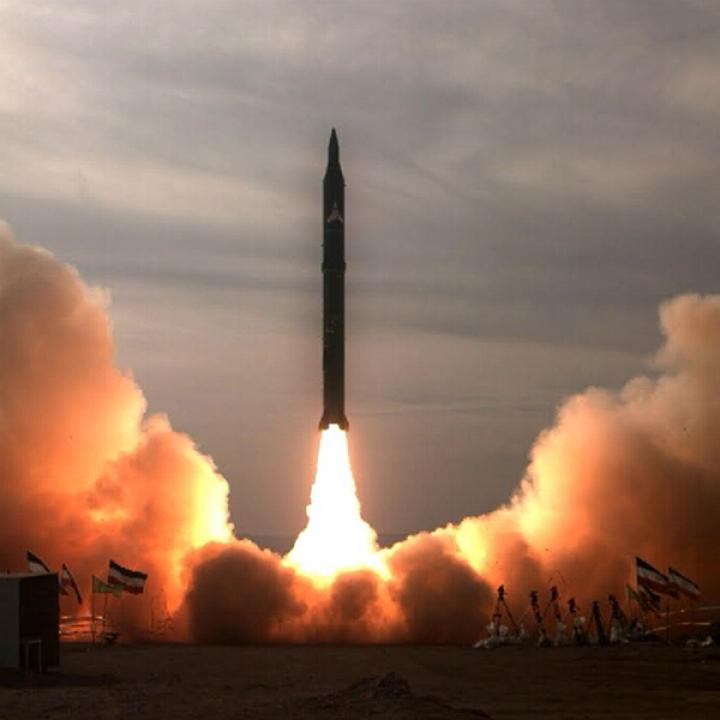 Regardless of how the details surrounding Sunday's launch shake out, it was an unhelpful move at a time when the Trump administration is determining its policy toward Iran's missile program and broader regional behavior.
According to recent media reports, Iran conducted a weapons test on January 29 that involved either a nuclear-capable ballistic missile, a land-attack cruise missile, or perhaps even both. Alternatively, in light of prior Iranian statements and preparations, it might have been an attempted satellite launch gone awry. Whatever the case, the Trump administration has described the incident as a destabilizing move, put Tehran "on notice" for the launch, and announced new sanctions targeting "multiple entities and individuals involved in procuring technology and/or materials to support Iran's ballistic missile program."
Analyzing the systems that may have been tested is important because it could give valuable insights into Iran's capabilities and intentions, both present and future. In particular, it could help the international community assess Tehran's claim that its ballistic missile program is purely defensive in nature.
BALLISTIC AND CRUISE SCENARIOS
Quoting unnamed U.S. officials, Reuters noted on January 30 that Iran had quietly tested a ballistic missile out of its Semnan test range the previous day. Satellite tracking purportedly showed the missile traveling 1,013 km (630 miles) before its journey ended, apparently in failure. While the nature of the launch is still under investigation by U.S. intelligence, some reports have suggested it was the Khoramshahr missile that Iranian officials first spoke of publicly several months ago.
In September, Defense Minister Hossein Dehghan declared that Iran would start production of Khorramshahr and Sejjil "long-range" missiles within six months. While the Sejjil was first tested more than eight years ago, in November 2008, the newly proclaimed Khoramshahr is yet to be displayed in public. It could be a completely new design, but more likely it is a slightly modified version of an existing model such as the Imad, itself a modification of the Shahab-3. All of these missiles are said to have ranges between 1,300 and 2,200 km, with explosive payloads in excess of 700 kg. On January 30, a U.S. National Security Council official indicated that the system launched Sunday was a Shahab-type ballistic missile.
Yet according to unnamed German intelligence sources quoted by Die Welt newspaper, a Soumar land-attack cruise missile was tested up to a range of 600 km (373 miles) -- whether instead of or in addition to a Shahab-type ballistic missile is unclear. Iran first announced that it was beginning production of the Soumar on March 8, 2015, for use with ground, air, and sea launch platforms. As part of that announcement, several completed missiles were shown (but only one equipped with a launch booster), along with video of a test launch from a truck-mounted platform. No Western intelligence sources had reported an Iranian cruise missile test at the time. The displayed weapons closely resembled the Russian Kh-55 cruise missile design, which Iran reportedly obtained from Ukraine in 2001 in secret; it may also have been trying to reverse-engineer the missile together with North Korea.
Whatever the case, the original Kh-55 design can achieve ranges of up to 2,500 km (1,550 miles) at a speed of Mach 0.7, carrying either a 410 kg conventional warhead or a 250 kiloton nuclear warhead. Although it is an outdated design, it could still pose an elevated threat to shipping in the Persian Gulf, Gulf of Oman, and northern Arabian Sea if launched from Iran's coastal areas. It could also threaten land targets within its range, and perhaps even be deployed on modified or future Iranian submarines. Although the latter capability seems only theoretical at this point, it could allow Iran to deter similarly capable regional nations such as Israel.
During the 1990s, Russia also fielded the Kh-65SE, a variant with a shorter range of around 600 km. Compliant with the Intermediate-Range Nuclear Forces (INF) Treaty, this system was a tactical air-launched, radar-guided, sea-skimming antiship missile that lacked a booster. To be sure, the Soumar models that Iran has displayed in the past did not seem to be based on this variant, and some reports indicated that Sunday's launch exceeded its range. Yet even if 600 km were the maximum range the Iranians had attained during cruise missile development, that is still double the reach of their other antiship missiles. Moreover, they could theoretically pair the 1,200-kg Soumar with their Sukhoi Su-24MK long-range strike aircraft, giving them the capability to hit maritime or land targets anywhere in the Middle East or Arabian Sea (the Su-24 has a low-altitude unrefueled combat radius of 615 km with a 3,000 kg payload). While any terrain-following capability the Iranian design may have would be useless over water, it could still assist with route navigation over urban or feature-rich environments along the southern Persian Gulf coast.
As for the international legal implications of Sunday's launch, they may depend on the type of missile tested. UN Security Council Resolution 2231 called on Iran to avoid any activity related to nuclear-capable ballistic missiles, albeit without expressly prohibiting such efforts. Yet the Trump administration may decide that this language applies to any missile design capable of delivering nuclear weapons -- a category that includes cruise missiles based on Russia's Kh-55 family.
A FAILED SATELLITE LAUNCH?
An outside possibility is that Sunday's incident was an attempted satellite launch to mark the Islamic Republic's so-called "Fajr" festivities. During a televised interview on January 26, Vice President for Science and Technology Sorena Sattari stated Iran's intention to conduct one or two satellite launches before the end date of the current Persian year (March 21). Iran has a history of such launches during these state festivities -- in fact, three out of its four successful orbital launches have occurred around the same dates: February 3 (in 2009 and 2012) and February 2 (in 2015).
According to Iranian media, the regime was also expected to launch its heaviest-ever satellite before the Persian New Year -- the 100 kg remote-sensing Tolou-1. The satellite was supposed to be lifted to a 500 km low earth orbit using a new Simorgh space launch vehicle, and separate reports have indicated that a Simorgh launch was imminent. In addition, Tehran claims that it has received Russian help to further develop its space program, and that it is negotiating with Moscow to buy a telecommunications satellite after several failed attempts with France.
Iran also recently expanded the Imam Khomeini Space Center near Semnan, apparently with North Korea's help, intending to launch larger rockets such as the Simorgh. Yet repeated delays have made international experts suspect that it is having technical difficulties with that two-stage design. According to various analysts, Iran may have launched its first Simorgh in April 2016, though it is not clear if the flight was a success. If this Sunday's launch was a failed test of a Simorgh carrying a satellite, it could be a significant blow to the Islamic Republic on the eve of its revolutionary anniversary, and therefore a reason for secrecy surrounding the launch.
POLICY IMPLICATIONS
Whatever the January 29 missile incident turns out to be, it is undoubtedly an unhelpful move at a time when the new U.S. administration is trying to shape its policy toward Iran's missile program and wider regional activities. Since the nuclear agreement was implemented, the Rouhani government has sought to limit international backlash against Tehran by restricting high-profile military maneuvers and missile tests. Yet the Islamic Revolutionary Guard Corps and other hardliners have harshly criticized this approach and engaged in various provocations. Following Sunday's incident, Foreign Minister Mohammad Javad Zarif reiterated Tehran's previous stance that its ballistic missile tests involve conventionally armed delivery systems that are purely defensive in nature, and therefore legitimate under its existing international obligations; he did not discuss details about the launch, however.
Going forward, Iran still has an opportunity to prove to the new administration and the rest of the world that it wants to be an integral part of a calm and deescalated Middle East. Yet this means refraining from controversial moves conducted in public or in secret -- an approach that may be impossible due to hardliner pressure. And the lack of enforcement mechanisms in the missile-related portions of Security Council Resolution 2231 may complicate Washington's efforts to respond to such actions, whether in terms of implementing the latest U.S. missile sanctions or applying other measures.
The international community is also concerned that Iran could use the know-how it gains from a space-launch program to develop longer-range and more-accurate ballistic missiles capable of reaching targets beyond the Middle East. For now, Tehran's apparent reliance on Russian, Chinese, or North Korean manufacturing and older designs suggests that such capabilities will be slow to come. Even so, its military-controlled space program is walking on a political and technological minefield at home and abroad. To alleviate these concerns, Iran would need to establish a more transparent -- not more secret -- space program under full civilian control.
Farzin Nadimi is a Washington-based analyst specializing in the security and defense affairs of Iran and the Persian Gulf region.