Iran's Ideological Exploitation of the Hajj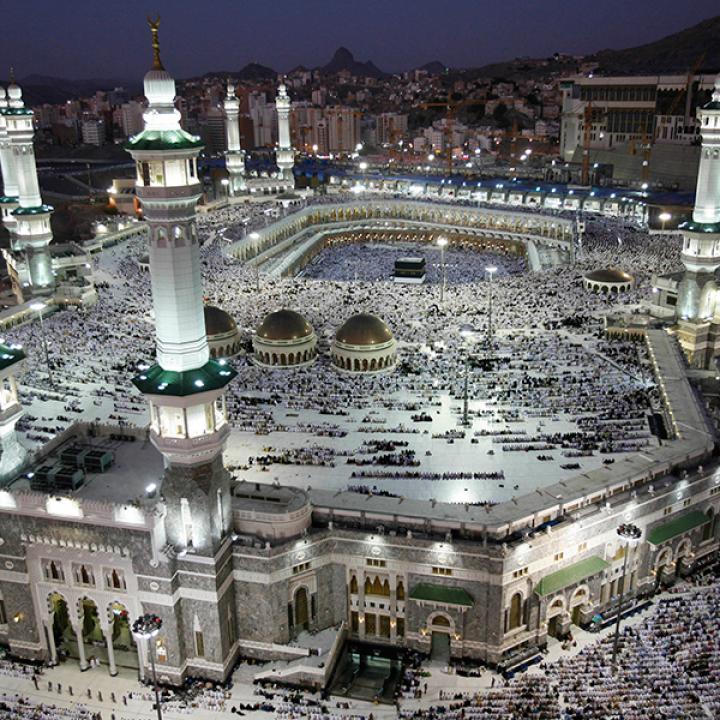 The massive, unregulated apparatus that the Supreme Leader has established to oversee Shiite activities during the Hajj is an essential tool in Tehran's efforts to export the Islamic Revolution and disseminate anti-Western sentiment.
For the second time since the 1979 revolution, Iranians will be unable to attend the Hajj, the annual pilgrimage to Mecca that all Muslims are expected to conduct at least once in their lives. Last year's Hajj ended in tragedy for hundreds of Iranian pilgrims, and since then, escalating developments on several fronts have worsened relations with Saudi Arabia to the point where Iran barred its citizens from participating.
This decision is no small matter for the Iranian regime. In addition to the considerable domestic ramifications, the Islamic Republic is the only country that openly uses the pilgrimage as a political instrument for spreading its revolutionary ideology abroad. Iran's religious leaders believe that every Hajj should be regarded as a "Repudiation Demonstration" -- that is, an opportunity to express hatred of and disassociation from "infidels" and "pagans" -- and they regularly call on all Muslims to treat it as such. Iran also uses its Hajj-associated Shiite religious networks to advance its political agenda. The various "Hajj Missions" (bethehs) operating in Iran, Mecca, and Medina provide a sophisticated and effective means of promoting Tehran's version of Islamism and strengthening its social and financial position in the Muslim world.
IRAN'S UNIQUE APPROACH TO HAJJ MANAGEMENT
In general, each Muslim-majority country has a betheh in Mecca (and in some cases Medina as well) to provide services to its citizens who attend the Hajj, including transportation, medical care, and guidance on how to perform the pilgrimage's various rituals. This year, thirty-five countries have bethehs in Saudi Arabia.
In most cases, bethehs operate as government entities, overseen by ministries or other national institutions that manage all issues related to the Hajj. This was the case for Iran as well prior to the revolution. Under the secular government of Muhammad Reza Shah Pahlavi, Hajj bureaucracy was handled by various branches, including the Interior Ministry and the prime minister's office.
Following the revolution, however, Hajj affairs increasingly came under the sway of the regime's top religious authorities, with diminishing government oversight. In 1984, the Organization for Hajj, Endowments, and Charity was created, and while it was formally part of the Ministry of Culture and Islamic Guidance, most of its activities were directly supervised by Supreme Leader Ruhollah Khomeini and shielded from legislative or presidential interference. At the time, the organization was sending around 150,000 pilgrims to Saudi Arabia each year for the Hajj.
In 1991, Supreme Leader Ali Khamenei named former intelligence minister Mohammad Mohammadi Reyshahri as his "Representative on Hajj and Pilgrimage Affairs," placing him in charge of the new Organization for Hajj and Pilgrimage. This independent entity was thereafter separate from the office responsible for endowments and charity -- technically it remains under the Ministry of Culture and Islamic Guidance, but Iranian law states that "all of the Hajj's cultural, political, and outreach issues" are under the exclusive authority of the Supreme Leader's representative (a post currently held by Ali Qazi Askar, appointed in 2009).
In a normal Hajj season, Iranian pilgrims are divided into hundreds of "caravans," each comprising around 100 people. Caravan leaders are appointed by the Organization for Hajj and Pilgrimage and are responsible for the same type of logistical services provided by other countries' betheh offices. Yet each caravan is also "religiously" led by two clerics who answer questions and manage rituals during the Hajj. These clerics are directly appointed by the Office of the Supreme Leader's Representative (OSLR) after careful ideological review, and they undergo extensive ideological training once they are chosen. In 2010, OSLR chief Mohammad Mohammadi Golpayegani wrote a letter describing the representative's various responsibilities, such as producing cultural materials for pilgrims, establishing relations with foreign officials and citizens, and "carrying on other duties assigned by the Supreme Leader."
Indeed, the OSLR is a colossal bureaucracy that aims to promote Iranian religious ideology far and wide, not simply oversee Hajj rituals. Headquartered in Tehran, it has branches in each provincial capital whose managers are directly appointed by the Supreme Leader's representative. Many of the clerics who work in the OSLR are also affiliated with the Ministry of Intelligence, the judiciary, or the Islamic Revolutionary Guard Corps.
Over the past decade, the OSLR has assigned clerics to write annual reports on betheh activities during the Hajj. Although these reports are evidently edited in various stages to keep sensitive information secret, they still reveal the ideological dimension of Iran's betheh network.
For instance, the 2014 report, authored by Reza Mokhtari, provides useful details about OSLR activities during a year in which nearly 100,000 Iranians attended the Hajj. It states that the "Repudiation Demonstration" successfully took place; that about 32,000 copies of the Supreme Leader's message, translated into nine languages, were distributed; that betheh representatives held various meetings with foreign political figures such as senior Hezbollah official Naim Qassem; and that Iranian clerics who know foreign languages were able to address numerous contingents of non-Iranian pilgrims, including from Southeast Asia. It also specifies that 4,600 individuals were assigned to work in the "Resalat Network" and hundreds more in "Velayat Network," among other groups; in all, Iranian-sponsored missionaries had about 7,700 effective meetings and conversations, some of which resulted in Sunnis converting to Shiism. According to the report, "This shows Saudi Arabia's fertile ground for increasing and enriching activities that promote Shiism." Indeed, regular meetings with Shiite community leaders, including Saudi Shiites, are among the betheh's main goals.
MARJA HAJJ MISSIONS
Given the distinct characteristics of Shiite authority, prominent marjas (i.e., senior Shiite clerics with the rank of Grand Ayatollah) have also established permanent or periodic bethehs of their own in Mecca and Medina. According to Mokhtari's 2014 report, the number of clerics in each marja's mission (excluding logistical staff) broke down as follows: Muhammad Taghi Bahjat (6), Javad Tabrizi (16), Sayyed Kazem Haeri (8), Muhammad Said Hakim (9), Ezzedin Zanjani (4), Ali al-Sistani (28), Mahmoud Hashemi Shahroudi (15), Musa Shobeiri Zanjani (10), Safi Golpayegani (12), Youssef Sanaei (7), Javad Lankarani (16), Muhammad Ishaq al-Fayadh (4), Nasser Makarem Shirazi (13), Abdul Karim Mousavi Ardebili (10), Hossein Nouri Hamedani (10), and Hossein Vahid Khorasani (9).
Supreme Leader Khamenei is a marja as well, and his religious betheh -- which is technically separate from the OSLR -- includes 11 top clerics. According to Iranian officials, the bethehs of other marjas must coordinate with Khamenei's even if they are not Iranian, and they cannot send any clerics without the approval of his representatives.
CONCLUSION
Although the numerous Shiite religious offices that operate in Saudi Arabia during the Hajj are formally independent entities, they are controlled by Iran's clerical regime in practice, and their activities seriously affect both Saudi-Iranian relations and Shiite-Sunni tensions. Moreover, millions of dollars in cash circulate through these offices to various Muslim groups and individuals, distributed in a totally nontransparent manner via obscure networks and mechanisms. This gives Iran a perfect opportunity to not only facilitate its communications with foreign groups, but also to give them financial assistance without going through international banking systems or otherwise attracting the attention of foreign governments. In short, the Supreme Leader's massive Hajj apparatus at home and in Mecca and Medina provides an irreplaceable venue in which to advance the regime's agenda of exporting the Islamic Revolution, proselytizing Iranian Shiism, and disseminating anti-Western sentiment.
Mehdi Khalaji, a Qom-trained Shiite theologian, is the Libitzky Family Fellow at The Washington Institute.