Iran's Cross-Border Strikes: A Pattern in Search of a Policy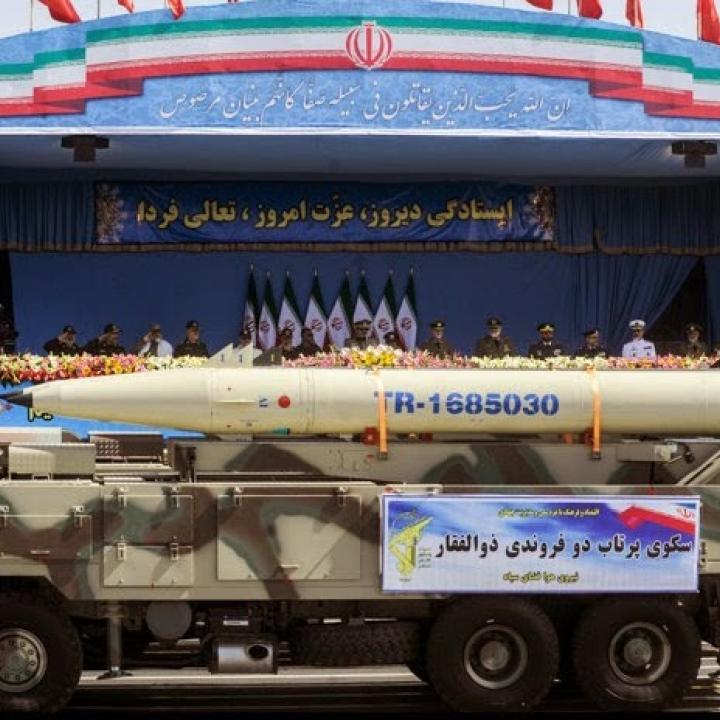 The latest strike on Iraq points to a brazen, illegal, and dangerous strategy of exercising leverage via missile and drone attacks—a practice that has gone unchecked for too long.
On March 12, Iran's Islamic Revolutionary Guard Corps (IRGC) fired as many as a dozen missiles at Erbil, the capital of Iraq's Kurdistan Region. The unprovoked state-on-state violence—in the eyes of international law, no different from Russia's attack on Ukraine—is part of a growing pattern of direct and undeniable Iranian missile and drone strikes on Middle Eastern countries. This incident and others like it are long overdue a concerted international and Iraqi policy response.
The Erbil Attack
At 01:20 hours local time on March 13, up to twelve short-range ballistic missiles, most likely Fateh-110s, were launched from the area of Tabriz, Iran, into heavily populated Erbil. The missiles traveled around 275 kilometers, and each carried more than 1,100 pounds of explosives. Most of the projectiles accurately struck a luxurious villa owned by Baz Karim, a senior businessman connected to the leaders of the Kurdistan Democratic Party (KDP), the Barzani family. At least one hit the nearby K24 television station, which is Barzani-owned. Fortunately, there were no fatalities—perhaps due to the late hour and/or careful targeting. Yet the risk of collateral damage was high, and Iran accepted this risk by firing large missiles into a city at extended range.
Later that day, an unnamed IRGC official admitted to the Iranian news agency Tasnim that his organization had undertaken the attack. A range of justifications have been presented by the IRGC and affiliated propaganda channels in Iran and Iraq. For example, Iraqi militia channels claimed that Tehran was retaliating against the supposed launch site of a February 14 drone strike into Iran's Kermanshah province, an incident that the regime has blamed on Israel. Similarly, some outlets described the site as a Mossad headquarters and training camp. The missile attack also came just days after a March 7 Israeli airstrike in Syria killed two IRGC colonels, which spurred the IRGC to threaten vengeance a day later. Connections have been made to the late IRGC-Qods Force commander Qasem Soleimani as well. The local time of the Erbil attack coincided exactly with his time of death in a January 2020 U.S. strike, and his birthday just passed on March 11.
A Pattern of Cross-Border Attacks
The Erbil attack may be the most reckless of Iran's recent missile and drone strikes across the Middle East, but it is far from the first. Even if one were inclined to exclude the hundreds of cross-border drone and rocket attacks that Iranian proxies and partners have launched against Saudi Arabia, Israel, and the United Arab Emirates—a mistaken and strategically misguided view—the number of attacks emanating directly and provably from Iran constitutes a pattern in of itself:
Ballistic missile launches through Iraqi airspace.

On June 18, 2017, and October 1, 2018, Iran fired a total of thirteen Zolfaqar or Qiam-1 medium-range ballistic missiles through Iraqi civilian airspace en route to strike Islamic State targets in Syria. In the latter incident, Saegheh drones were flown through Iraq as well. No warning was given to civil aviation authorities or other officials in Baghdad. At least three of the missiles crashed inside Iraq.

Fateh-110 missile strike on northern Iraq

. On September 8, 2018, Iran fired seven Fateh-110s from the Tabriz area at an Iranian opposition base in the Iraqi town of Koysinjaq, killing eighteen people. The Iraqi militia Kataib Hezbollah helped Iran's forces conduct drone surveillance of the operation from a base near Kirkuk.

Shootdown of a U.S. drone over international waters.

On June 20, 2019, Iran downed an RQ-4A Global Hawk BAMS-D surveillance drone in the Gulf of Oman.

Cruise missile attacks on Saudi Arabia.

On September 14, 2019, Iranian forces in the southern city of Ahwaz fired at least three cruise missiles at the Abqaiq oil processing facility. In addition, militias helped launch eighteen Iranian delta-wing drones from Iraqi territory against Abqaiq and Khurais.

Iranian missile strike on western and northern Iraq.

On January 7, 2020, shortly after the U.S. airstrike that killed Soleimani, Iran fired sixteen Zolfaqar and Qiam-1 ballistic missiles at al-Asad Air Base, where a mixture of Iraqi and U.S. forces are based. One other Qiam-1 was fired at Erbil International Airport. In all, 110 U.S. advisors under Iraqi sovereign protection were injured in the attacks.
Policy Recommendations
Although no U.S. persons were injured in the latest strike, a substantive U.S. and Iraqi response is still crucial to deterring the IRGC. This response need not take the form of potentially escalatory counterattacks against Iranian targets—in this case, a combination of defensive military steps and robust diplomatic action could be potent on their own. With each cross-border strike that Iran undertakes without consequences, the regime is learning that it can freely engage in certain levels of naked aggression against neighboring states. Similarly, U.S. partners may conclude that Washington will not react to blatant cross-border aggression as long as Americans are unharmed.
Deterring such risk-taking by the IRGC is even more in Washington's interest at a moment when the West cannot afford a parallel military crisis to the Ukraine war. Inaction or hollow words are arguably the riskiest route given that various competitors (China, Iran, North Korea) are watching to see how the United States reacts while its attention is focused on Russia. Putting forth the necessary effort to deter Iranian action would be far easier than coping with the consequences of another surprise missile or drone strike—especially given the risk that large numbers of civilians could be killed in the event of an errant strike (e.g., on an airliner or apartment complex).
Shortly after the March 13 attack, U.S. national security advisor Jake Sullivan stated that Washington would support Iraq with assistance to defend against Iranian missile strikes. U.S. counter-missile and counter-drone defenses are already present at Erbil International Airport, but they are angled toward threats from Iran-backed militia areas near Mosul to the southwest and do not cover the whole city. A 360-degree scheme of protection is needed to cope with attacks launched directly from Iran
To be sure, providing more systems from the already overburdened U.S. missile defense arsenal could prove difficult, so the answer may require outside-the-box thinking. For instance, officials could facilitate the temporary deployment of a non-NATO missile defense system to Erbil, one that is not needed for Ukraine or Taiwan contingencies (e.g., Qatari Patriot batteries, or improved Hawk missile systems currently in service in other nations).
The State Department has also noted that it will work with Baghdad to hold Iran "accountable" for the attack. Toward this end, U.S. authorities should engage the Iraqi factions investigating the incident—the central government, the KDP, and prominent political leader Muqtada al-Sadr—and provide them with intelligence proof of detected Iranian launches. Iraqis should then be permitted to use this evidence in support of a complaint at the United Nations.
Finally, the United States and its international partners should quietly encourage Iraq to expel Iranian ambassador Iraj Masjedi. Far from being a normal diplomat, Masjedi is an active IRGC officer, and his actions since the Erbil attack are beyond the pale. In the hours following the missile strike, he issued a communique threatening Iraq with three more attacks; a day later, he claimed that Iran's strike had not infringed the country's sovereignty. In addition to expelling him, the Iraqi Foreign Ministry has every right to require that any future replacement is not an IRGC officer. Likewise, Baghdad and the Kurdistan Region should consider temporarily closing the Iranian consulate in Erbil, which was probably a source of targeting intelligence for the attack.
Baghdad should be comforted by the fact that all of these steps are reversible whenever it deems fit. In the meantime, expelling Iranian diplomats for the first time would send a powerful message that Iraq is willing to take strong action and deserves international support. Defending its sovereignty against Iran might also improve Baghdad's leverage when the time comes to request international support for scaling back Turkish military incursions.
Michael Knights is the Bernstein Fellow with The Washington Institute and cofounder of its Militia Spotlight platform.