Iranian Website Seizures: Avoiding a Blanket Approach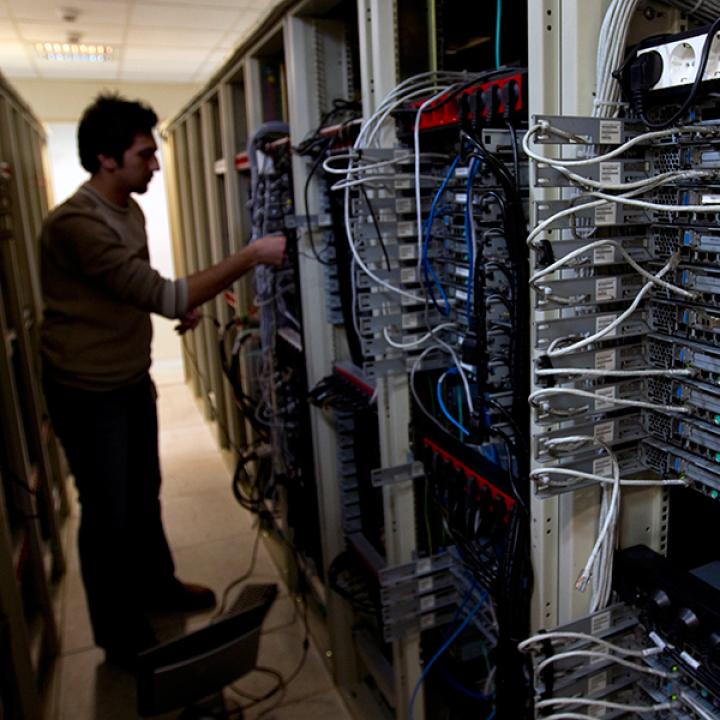 Tehran is increasingly relying on its vast regional propaganda machine to pursue its anti-American objectives, but policymakers need to be simultaneously more precise and more comprehensive in how they counter it.
On June 22, the U.S. Department of Justice seized thirty-three website domains of channels affiliated with Iran's Islamic Radio and Television Union (IRTVU). Most of the television networks that run these domains are owned and operated by organizations that are part of Tehran's anti-American "axis of resistance," and therefore well worth targeting. Yet some non-resistance sites were caught up in the dragnet as well, resulting in a blanket approach that threatens to further Iran's propaganda narrative while undermining U.S. interests in Iraq and elsewhere.
Resistance vs. Non-Resistance Sites
Among the designees are the Arabic-language Al-Alam and the English-language Press TV, both run by the Islamic Republic of Iran Broadcasting World Service. Other domains are owned and run by Iran-backed militias in the region, such as Al-Masirah (belonging to Yemen's Houthi movement), Palestine Today (controlled by Palestinian Islamic Jihad), and three sites used by the Iraqi militia Kataib Hezbollah.
The list includes unexpected names too—mainly Iraqi channels whose owners are not known to be members of the axis of resistance. The most prominent of these is Al-Forat, a television network owned by the Hikma movement. Headed by Iraqi Shia cleric Ammar al-Hakim, Hikma is considered a moderate entity that promotes the rule of law as a counterweight to the rampant illegal activities conducted by Iran-backed Shia militias.
Another designee is Karbala TV, a channel owned by the Imam Hussein Shrine Foundation and affiliated with Ayatollah Ali al-Sistani, Iraq's highest Shia authority. Its programming is largely apolitical and certainly not aligned with the axis of resistance. A few other targeted channels belong to clerics who have a difficult relationship with the Islamic Republic (e.g., Ayatollah Sadiq al-Shirazi).
The Problem with Blankets
Despite belonging to different kinds of movements, the channels whose websites were designated have one thing in common: they are all members of IRTVU, which was designated by the Treasury Department's Office of Foreign Assets Control in October 2020 "for being owned or controlled" by the Islamic Revolutionary Guard Corps-Qods Force. Yet membership in IRTVU does not mean that all of these channels are controlled by the Qods Force.
Iran deliberately set up IRTVU with a "union" framework because it wanted to affiliate itself with a large number of regional media outlets without necessarily taking responsibility for their financial or operational side. Thus, while all of IRTVU's managers and many of its member networks are linked with the Qods Force, some of the networks are either completely apolitical or espouse views far removed from the axis of resistance.
This distinction is clear in the way IRTVU treats some members differently from others. Officials from resistance outlets often sit on union committees and receive training, financial/technical support, and other services. Those without Qods Force affiliations receive minimal support if any.
Hence, Washington's blanket approach shocked the non-resistance channels and gave Iran's axis more ammunition for its longstanding narrative: that the United States is not just an enemy of the Islamic Republic and its allies, but also an enemy of Islam, particularly Shia Islam. According to this argument, targeting stations like Karbala TV is "proof" that America is set against all Shia.
This narrative went viral mere minutes after news of the domain seizures was published—first on social media, then on traditional media. The leaders of Iraqi "resistance" militias then issued statements reinforcing the notion that Shia Islam was being targeted. On June 24, Asaib Ahl al-Haq chief Qais al-Khazali wrote: "The decision to seize [web domains] of channels that are not related to the axis of resistance in any way and whose only fault is to propagate [the Shia religion] is a dangerous indicator that reveals the real enmity...of the people behind this project...[M]erely belonging to this religion and working on disseminating its values is seen as a crime by them."
This narrative is harmful to American interests in Iraq and the wider region, portraying the U.S. government as an intolerant imperialist force that will stop at nothing to change the people's identity and implement its colonialist ambitions. Countering such suspicions is precisely why it is so important for Washington to build—and then avoid undermining—positive relationships with Shia groups that do not pursue anti-American objectives.
Policy Recommendations
To reduce the damage done by seizing web domains not affiliated with the Qods Force, the United States should reach out to the affected television networks and parent organizations. The goal is to explain why they were targeted—not for their individual programming, but solely for their membership in IRTVU—and to lay out the risks they face if they continue associating with the union or other Qods Force-affiliated organizations. For its part, the Iraqi government should approach the U.S. government for advice on how these entities can reestablish web domains that will not be subject to seizure.
After conducting the necessary damage control, Washington should abandon blanket approaches to Iran-affiliated regional media outlets in the future, instead consulting with experts on a case-by-case basis to avoid unintended harm to U.S. interests. Needless to say, the Middle Eastern media scene is extremely complicated, and missing important nuances is dangerously easy.
To counter Iran's regional propaganda machine more effectively, the U.S. government should pay close attention to what happens with web domains after designations are issued, taking action where possible to prevent resistance outlets from bypassing site seizures. For example, Press TV's website quickly went live again using an Iranian .ir domain. And in Iraq, militia sites are now thinking of using their country's .iq domain to evade seizure, as the Iran-backed group Harakat al-Nujaba advised in a June 23 statement. International partners should encourage the Iraqi government to deny militia networks this service.
Authorities should watch out for other URL details as well. After Harakat al-Nujaba's web domain was seized in October 2020, the militia started using another .com domain with a slightly altered spelling. And in Yemen, the .net domain run by Houthi-controlled Al-Masirah has been seized, but the network's .com site is still live and functional.
Yet even if authorities become more vigilant about URL evasion, the fact is that seizing web domains can have only limited impact in the end, so a more comprehensive approach is needed. Following directives from Supreme Leader Ali Khamenei, the Islamic Republic and its proxies have greatly expanded their regional media networks in recent years, ranging from satellite television channels and radio stations to websites, media production companies, media training centers, and more. Their social media network has grown exponentially as well, allowing the axis of resistance to better integrate traditional and new media in pursuit of Tehran's destabilizing objectives.
In response, Washington and its partners need to establish a dedicated team of experts and analysts capable of monitoring the activities of each resistance media network, assessing their internal developments, identifying the personalities who run them, and detecting trends in their programming and intentions. Only with thorough knowledge at this scale can Washington implement an effective counter to Iran's foreign propaganda machine.
Hamdi Malik is an associate fellow with The Washington Institute, a contributor to its new Militia Spotlight series, and coauthor of its 2020 study Honored, Not Contained: The Future of Iraq's Popular Mobilization Forces.