Iran-Backed Militias Test the Credibility of Iraq's Prime Minister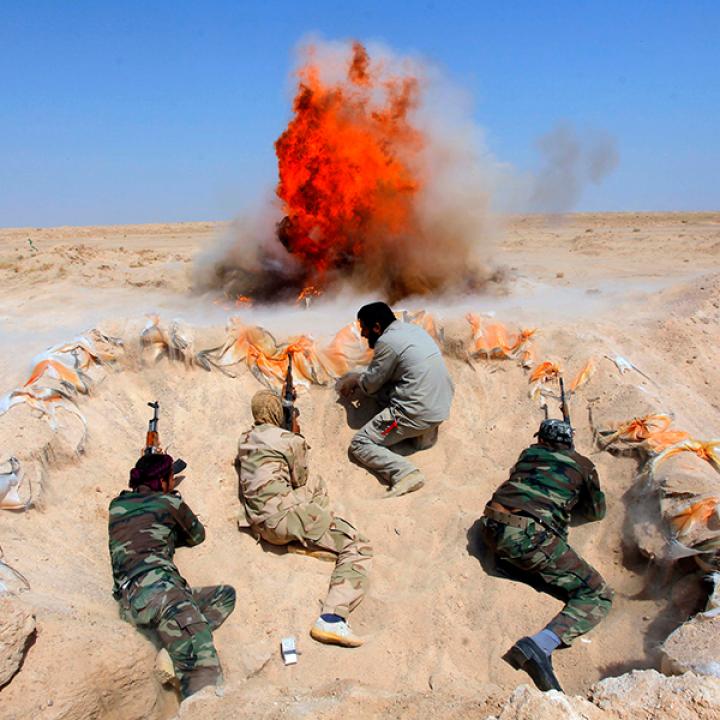 Rockets continue to fall on American facilities, part of a deliberate effort to keep Baghdad from making Iraq a neutral crossroads in the region.
On June 19, an unidentified militia fired a rocket toward the heart of Iraq's oil sector in Basra province, with the munition landing just one hundred yards away from accommodation facilities used by U.S. and international engineers working on the country's largest oil fields. It was the eighth rocket attack on U.S.-linked facilities in Iraq this year, directly following strikes on coalition training facilities in Taji and Mosul on June 17-18.
Although no foreign nationals were killed in this week's strikes, two Iraqis were injured, and the incidents have disrupted Washington's local diplomatic presence. The U.S. embassy in Baghdad and consulate in Erbil are on half-manning after all nonessential staff were withdrawn in early May due to security fears. Previously, the Basra consulate was shuttered last September after receiving rocket fire.
The Mosul and Basra strikes are particularly troubling because they follow a stern warning from Prime Minister Adil Abdulmahdi that all Iraqi militias should cease independent military operations, not just at home but across the Middle East. A day after the June 17 strike on the Taji facility—which was also attacked on May 1—he issued an unusually specific set of restrictions on non-state armed forces in Iraq:
1. Any foreign force shall be prohibited from acting or moving on Iraqi soil without the permission, agreement, and control of the Iraqi government.
2. Any state from the region or outside shall be prevented from being present on Iraqi soil and exercising its activities against any other party, whether another neighboring state or any foreign presence inside or outside Iraq, without an agreement with the Iraqi government.
3. The actions of any Iraqi or non-Iraqi armed forces outside the framework of the Iraqi armed forces or outside the command and supervision of the commander-in-chief...shall be prohibited.
4. Any armed force operating within the framework of the Iraqi armed forces and under the command of the commander-in-chief...shall be prohibited from having movement, operations, stores, or industries outside the knowledge, administration, and control of the Iraqi armed forces and under the supervision of the commander-in-chief.
Within twenty-four hours of this pronouncement, new rockets fell in Mosul and Basra.
The attacks also coincide with U.S. efforts to advise Iraq's Nineveh Operations Command, which is negotiating the removal of non-local militias from Mosul and the Nineveh Plains. Abdulmahdi had already ordered their removal last August and again a month ago, but the militias have refused to comply with the mandate or even recognize his authority.
Meanwhile, Exxon Mobil and China are expected to sign a megadeal that would bring an estimated $50 billion in much-needed foreign investment and project management expertise to Basra and the rest of Iraq's oil sector. At least one of the latest rocket salvos hit near Exxon facilities; if the company decides to recall staff from Basra, that would be its second precautionary withdrawal since U.S.-Iran tensions escalated in early May. Indeed, Tehran and its proxies have surreptitiously interceded to hamper local U.S. energy initiatives over the past year, and the latest Basra attack might be an extreme example of this trend. Iran's leaders may ultimately aim to disrupt rollout of the Exxon deal, which could be formally announced later this year when Prime Minister Abdulmahdi makes his expected White House visit.
Despite these provocations, Washington's response should be measured in accordance with Abdulmahdi's political vulnerability. U.S. leaders should privately—not publicly—welcome his firm June 18 statement. At the same time, they should recognize that isolated rocket strikes require only a small number of militants (less than twenty) to carry out. Realistically, then, Iraq will continue struggling to prevent strikes of this kind, as would any post-conflict society awash with armed groups and tens of thousands of wartime munitions. The United States should not let such incidents undermine the bilateral relationship or trigger further diplomatic drawdowns—as long as the Iraqi government can demonstrate that it is taking concrete steps to assert its sovereignty and strengthen control over militias.
The most proximate issue to watch is Abdulmahdi's cleanup effort in Mosul and the Nineveh Plains, where smaller militias (many backed by Iran) are blatantly refusing to follow his legal orders. To enable the removal and disciplining of noncompliant militia leaders in these areas, he will need to mobilize the state's security sector and rally support from key political actors such as Grand Ayatollah Ali al-Sistani or Badr Organization commander Hadi al-Ameri. If he can do so before he visits Washington, U.S. leaders should treat his efforts as a clear indication of good faith and future intentions—a small step, to be sure, but a difficult one that should be quietly applauded and reinforced.
Michael Knights, a senior fellow at The Washington Institute, has spent long periods working in Iraq since 2003, including considerable time embedded with the country's security forces.