How Iran Is Building Its Syrian Hezbollah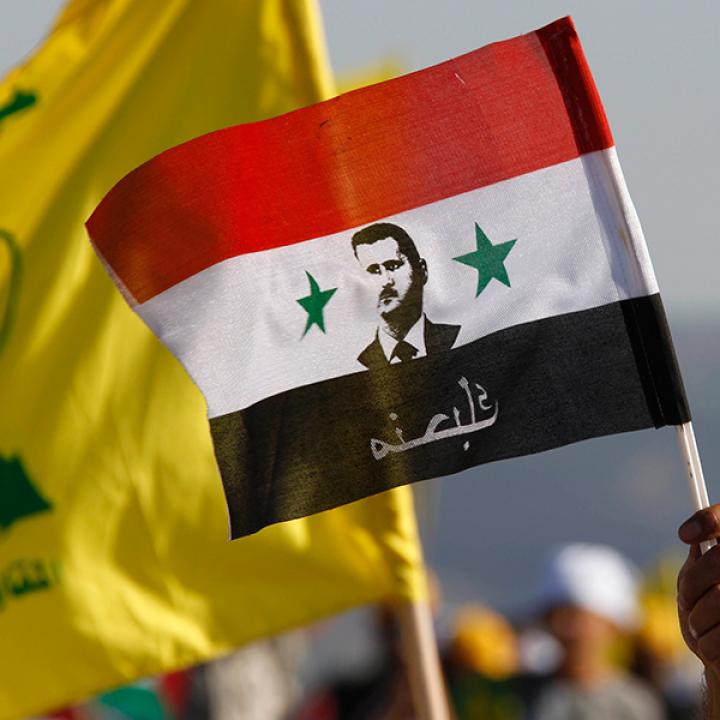 Syrian Shiite fighters increasingly show loyalty to Tehran, over even the Assad regime, marking an important shift in the wartime dynamic.
In May 2014, Gen. Hossein Hamedani of the Islamic Revolutionary Guard Corps (IRGC) claimed that Iran had formed "a second Hezbollah in Syria." Although Hamedani, who was later killed in October 2015 as part of the ongoing Aleppo offensive, may have been referring to the many militias that compose Bashar al-Assad's multiethnic and cross-sectarian National Defense Forces (NDF), he was likely hinting at a far more specific Shiite-focused effort.
STAGES OF DEVELOPMENT
From mid-2012 to mid-2013, Iran helped the Assad regime create and shape numerous local and regional militias, including the Damascus-based factions within the Liwa Abu Fadl al-Abbas (LAFA) network. Initially, these groups had limited bases for recruitment and operated in specific areas, often as ad hoc offshoots of the NDF.
Beginning in late 2012, however, Iran's Iraqi and Lebanese Shiite proxies helped transform various Syrian Twelver Shiite militias into copies of Lebanese Hezbollah, all espousing Iran's ideology of absolute velayat-e faqih (the doctrine granting the Supreme Leader his authority). In many cases, preexisting NDF groups accepted assistance and guidance from the IRGC, Hezbollah, and Iranian-controlled Iraqi Shiite militias.
Then, in mid-2013, Iran began to transform Syrian Shiite militias into mobile rapid-response groups, with fighters recruited from a broader cross-section of networks and locales. In the case of LAFA groups, commanders were typically either Iraqi Shiites living in Syria or Syrian Shiites who reported to Assad's forces. These groups also began to take on foreign fighters, particularly Iraqi Shiites. From late 2013 to 2014, LAFA factions such as Liwa Dhulfiqar and Liwa al-Imam al-Hussein (LIH) were deployed to the southern city of Deraa and north of Damascus in Qalamoun. By late 2014, Syrian Shiite groups such as the Homs-based Quwat al-Imam al-Ridha (aka Quwat al-Ridha) had sent forces to fight in East Ghouta -- outside Damascus -- and Qalamoun. And in early 2015, as rebel forces advanced in the coastal highlands dominated by Alawites (the branch of Shia Islam espoused by the Assad regime), LIH and its fellow LAFA group Liwa Assad Allah al-Ghalib (LAAG) deployed forces to Latakia.
THE GEOGRAPHY OF HEZBOLLAHZATION
Beginning in 2014, various Syrian Shiite militias began to call themselves "Hezbollah fi Suriya" (Hezbollah in Syria), and the geographical and numerical presence of the country's Twelver Shiite community greatly affected this umbrella network's development. Twelver Shiism is the branch of Islam practiced by the Iranian regime and its Lebanese and Iraqi adherents. In Syria, Twelvers constitute only 1-2 percent of the population, but they are concentrated in strategically important zones that have been used to interdict rebel lines of communication and supply near Aleppo, the Lebanon-Syria border, and along the Jordan-Syria border.
Nubl and Zahra, two key pro-Assad Shiite villages in Rif Halab, near Aleppo, became a centerpiece of Shiite militia efforts in Syria because of their partial encirclement by Sunni jihadist and rebel forces since 2013. Over the past three years, experienced Iraqi and Lebanese Shiite militiamen were sent to the towns, where they helped create local Shiite militias. With aid from Iraq's Badr Organization and Kataib Hezbollah, and from Lebanese Hezbollah, those foreign fighters helped craft the local Fawj al-Imam al-Hijjah (Imam al-Hijjah Regiment). Denoting its more local focus, the militia's flag included "Nubl and Zahra" written in bold letters. The group has generally handled combat operations near Aleppo city and in other areas of Rif Halab. According to social media claims by Iraqi Shiite militiamen, the group was involved in the late January 2016 breakout of pro-Assad forces from Nubl and Zahra, culminating in their linking up with other Shiite militia forces fighting around Aleppo.
Since 2014, more Syrian Shiite fighters were tasked with operating in the zones around Aleppo. Localized Shiite militia units, such as Jaish al-Imam al-Mahdi al-Muqawama al-Watani al-Aqaidiya fi Suriya (Army of Imam al-Mahdi, the National Ideological Resistance in Syria), which culled fighters from Tartus and the Alawite-dominated coastal highlands, fought a number of battles in the area. In 2015 and 2016, other local combatants included a Syrian Shiite militia modeled on Hezbollah known as al-Ghaliboun: Saraya al-Muqawama al-Islamiyah fi Suriya (The Victors: The Companies of the Islamic Resistance in Syria).
On the Jordan-Syria border, in the town of Busra al-Sham, Lebanese Hezbollah units commanded and controlled a local force composed of the town's minority Shiite population. Such militias were overrun in March 2015 during a combined Syrian rebel and Sunni jihadist offensive, but they provided enough manpower to hold off opposition advances before other Iranian-backed Shiite foreign fighters attempted, unsuccessfully, to relieve them.
By the Lebanon-Syria border, the city of Homs has provided especially fertile ground for new Shiite Islamist organizations. Quwat al-Ridha, one of the most operationally active Syrian Hezbollah clones, recruits most of its fighters from the area. The Homs district is home to a large proportion of Syria's Shiites, who inhabit Homs city and a number of border villages with close links to Lebanese Shiite communities tied to Hezbollah. The area, where the town of al-Qusayr is located, also hosted the first major battle involving forces from Lebanese Hezbollah in spring 2013. Just months thereafter, Syrian Shiite militia elements formed in Homs were taking part in joint operations with other NDF and Lebanese Hezbollah units, particularly in northern sections of Homs city.
Replicating the Lebanese Hezbollah Model
The success of Lebanese Hezbollah has provided an organizational and aspirational model for Syrian Shiite armed organizations under Hezbollah fi Suriya. However, in actually building Hezbollah fi Suriya, Tehran has followed a model it used in Iraq, based on developing variously sized militias that, like their Lebanese and Iraqi cohorts, are multifaceted and carry out ideological as well as other regional power-projection goals.
Acceptance of Iran's radical absolute velayat-e faqih ideology, whereby political, social, and religious loyalties go to Iranian Supreme Leader Ali Khamenei, has been trumpeted by many of Syria's Shiite militias. Additionally, these militias have often carried out messaging efforts that dovetail in timing and narrative with Iran's other proxies. A recent example is the consonant messaging by Quwat al-Ridha and LAFA with Iran's Lebanese and Iraqi proxies on the Saudi execution of the Shiite sheikh Nimr al-Nimr.
For LAFA, Syria's first major Shiite militia, a Hezbollah flag has consistently been featured alongside the Syrian flag on "martyrdom" posters, gravestones, and other promotional material. Even the brother of LAFA secretary-general Hussein Ajeeb Jadha, killed in late 2012, has a tombstone showing Assad's Syrian flag alongside a Hezbollah flag. At times, LAFA members have worn patches belonging to the Lebanese group, and commanders' offices are adorned with images of Khamenei and his predecessor, Ayatollah Ruhollah Khomeini. In its martyrdom posters, Quwat al-Ridha often pictures the Hezbollah flag and Hezbollah secretary-general Hassan Nasrallah. Caskets for the group's fallen men are also draped with the Syrian flag and a Lebanese Hezbollah or Hezbollah fi Suriya flag.
Unlike Alawite, Christian, or even Sunni supporters of Assad, nearly all Shiite militiamen who die are remembered less for preserving the Assad regime than for defending the sacred Sayyeda Zainab shrine, south of Damascus. This narrative legitimizes their status as holy warriors and helps Iran lure other Shiite foreign fighters to the Syrian conflict.
In many cases, death notices for Syrian Shiite militiamen do not even detail whether they were killed fighting with established groups or subgroups. Instead, only the fighter's name, the Hezbollah banner, Assad's flag, and the golden dome of Sayyeda Zainab are present.
Regional Scope
Most armed activities undertaken by Hezbollah fi Suriya and its still-developing apparatus have been focused on Syria. However, affiliated groups have indeed adopted a regional outlook, including a call to unify groups operating in Iraq and Syria. The first stage of this effort was marked by organizational name changes. Forming an organic connection between Iraq and Syria, some Syria-based Shiite militias drew recruits from Iraq's Shiite community and Iraqi Shiite exiles living in Syria. Additionally, some Iraqi Shiite fighters and commanders who had been operating in Syria redeployed to Iraq. The pioneering LAFA and its splinter groups followed a similar pattern of recruitment and changes in affiliation.
To demonstrate its transnational status, following the Islamic State's (IS's) June 2014 conquest of Mosul, Liwa Dhulfiqar added "al-Mudafaan al-Muqaddasat fi al-Iraq wa al-Sham" (Defender of Holy Sites in Iraq and the Levant) to its name. A few months later, a number of Liwa Dhulfiqar's leading members, including its press secretary, began sporting the uniforms of Qaeda Quwat Abu Fadl al-Abbas (QQAFA), an Iraq-based Shiite militia and Iranian proxy formed from splinter elements originating in Iraqi cleric Muqtada al-Sadr's Mahdi Army. Still, Liwa Dhulfiqar maintained public links to Assad's security apparatus through its Syria commander, Haidar al-Jabbouri (aka Abu Shahid). It also claimed belonging to a Syrian pro-Assad group called Quwat Dira al-Watan (Forces of the Shield of the Nation), which includes a collection of localized, often sectarian militias spread throughout Syria.
Like Liwa Dhulfiqar, the LAFA offshoot LAAG added "fi al-Iraq wa al-Sham" to its name. However, it held a far more formal alliance with an Iraqi group. When LAAG first announced its existence in late 2013, the group's fighters were often seen with advisors from Asaib Ahl al-Haq, a stalwart Iraqi Shiite proxy of Iran. By early 2014, LAAG had built a recruitment network within Iraq, and after IS took Mosul, LAAG started an Iraq branch. On January 5, 2016, LAAG announced that after "negotiations" it had joined with Harakat al-Abdal, a longstanding Iranian-linked group in southern Iraq that first publicly announced its own militia following IS's 2014 onslaught in Iraq. The group has adopted absolute velayat-e faqih and has close links to the Iraqi Kataib Sayyid al-Shuhada (KSS) and Badr Organization.
Nevertheless, the aforementioned groups have from the beginning had strong links to Iraq, and their often Iraqi commanders have paired with forces from Iran's Iraqi Shiite proxies. Still, the trend toward transnationalism has included Syria-based groups with Syrian Shiite fighters. In late 2014, Liwa al-Sayyida Ruqayya (Sayyida Ruqayya Brigade) -- a Damascus-based subgroup of al-Quwat al-Jaafariyah (the Jaafariyah Force) -- declared that it belonged to KSS. This group had been deployed to southern Syria and Damascus on independent operations as well as under KSS.
Potential Impact on Syria's Future
As the war in Syria drags on, the country's Shiite armed groups are here to stay. Through them, Iran is continuing to strengthen its foothold in the Levant and among a Shiite population.
The reorientation of Syria's pro-Assad Shiite armed groups toward Iran also marks a significant change. Historically, Syria was home to many competing ideological forms of Shiism. In a March 2013 Los Angeles Times article, a Syrian Shiite refugee and militiaman in Lebanon remarked, "My loyalty is with Hezbollah, but I am not controlled by them." Three years later, the situation is strikingly different. The Hezbollahzation of these groups, in name, structure, and allegiance, signifies a major accomplishment for Tehran, allowing Iran to preserve harder-core influence and more effectively project power within Syria.
Phillip Smyth is a researcher at the University of Maryland, editor of the blog Hizballah Cavalcade, and author of The Washington Institute report The Shiite Jihad in Syria and Its Regional Effects.