How Hamas Exploits the People of Gaza: Protests Clarify Their Cynical Tactics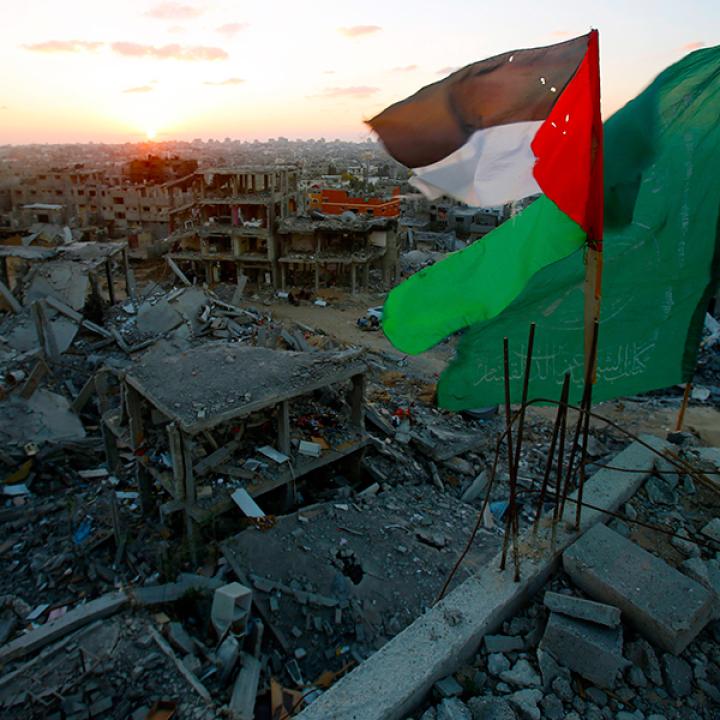 It is time to create a stark public choice for Hamas: stop escalating tensions, and important rebuilding work will begin.
Hamas has never put the people of Gaza first. Hamas rejects Israel's existence and treats all of the land as an Islamic trust. The Palestinian people are instruments in the struggle to reclaim it. For the struggle, for the cause, the people can be sacrificed.
Why else would Hamas build tunnels to protect its weapons and its fighters but not its people during conflict with Israel? Why else, when Gazans desperately needed reconstruction, would its leaders divert short supplies of cement, electric wiring, and iron away from badly needed housing construction to build the tunnels?
Why else would it store, deploy, and fire its rockets in or next to schools, mosques, and hospitals? In conflicts with Israel, Hamas seeks to maximize Palestinian civilian casualties—preferably women and children. That brings international opprobrium on Israel and makes it harder to engage in its self-defense.
Recent mass marches on the border fence with Israel are a case in point. The Hamas leadership in Gaza announced that starting March 30 and continuing every Friday until what they call Nakba (catastrophe) day, demonstrations at the Israel border fence would take place. The symbolism was lined up perfectly for mobilizing public passions.
But, of course, that was not the real story. Life in Gaza is terrible, and Israel is not to blame: There are four hours a day of electricity, insufficient to power sewage treatment plants. Roughly 96% of the water is undrinkable. Unemployment runs close to 50%, medicines in the hospitals are consistently in short supply, and people cannot leave and feel imprisoned. With little money to pay for anything, trucks from Israel carrying material goods and humanitarian supplies are down from 1,000 a day to less than 200.
True, Mahmoud Abbas, the president of the Palestinian Authority, has deepened the economic deprivation by no longer paying Israel to provide electricity to Gaza and cutting payments to former PA employees there. His purpose was to pressure Hamas, and he did—so much so that Yahya Sinwar, Hamas' leader in Gaza—sought to hand governing responsibility back to the PA. While reconciliation talks resumed, Abbas saw them as a trap because Hamas refused to disband its Qassam brigades or disarm its fighters—and with the recent assassination attempt on the PA's prime minister, Rami Hamdallah, he is threatening further economic sanctions on Hamas.
For the Hamas leadership, with popular dissatisfaction growing, the only thing to be done was divert attention to Israel and, thereby, pressure Abbas, who cannot appear indifferent to Palestinians being killed by Israelis. As one European diplomat told me, Hamas leaders acknowledge privately that Abbas is the source of their current difficulties, but shifting the focus to Israel is a proven, if cynical, tactic.
Hamas knows that the world will see Palestinian casualties and tie them to the wretched conditions in Gaza—conditions that are blamed on Israel's blockade of the Strip. Of course, it is Israel and Egypt that control what can go into and out of Gaza. Unlike Israel, Egypt keeps its border closed to the movement of people and goods into and out of Gaza except on rare occasions. Hamas leaders have little interest in breaching the Egyptian border, knowing the casualties would be high and the international response minimal.
The risk now is escalation and another conflict between Hamas and Israel, leaving Gaza even more devastated. With its leaders believing they have little to lose, just one thing could change the Hamas calculus: the prospect of real change on the ground in Gaza.
The Trump administration needs to translate its recent pledging conference for projects in Gaza into a plan of action and a public challenge. Since it lacks credibility with Palestinians, it would be smart to get Europeans and Arabs to issue a joint public statement declaring that they are ready, immediately, to implement projects on electricity generation, water and sewage treatment, and reconstruction, provided there is no risk of escalation with Israel. No one is going to fund infrastructure projects that will be destroyed in another conflict.
It is time to create a stark public choice for Hamas: stop escalating tensions, and important rebuilding work will begin. Hamas leaders may treat the Palestinian public as pawns, but they are not indifferent to public pressure. It is time to create it.
Dennis Ross is the counselor and William Davidson Distinguished Fellow at The Washington Institute.