High-Level Contacts Between North Korea and Iran Hint at Deeper Military Cooperation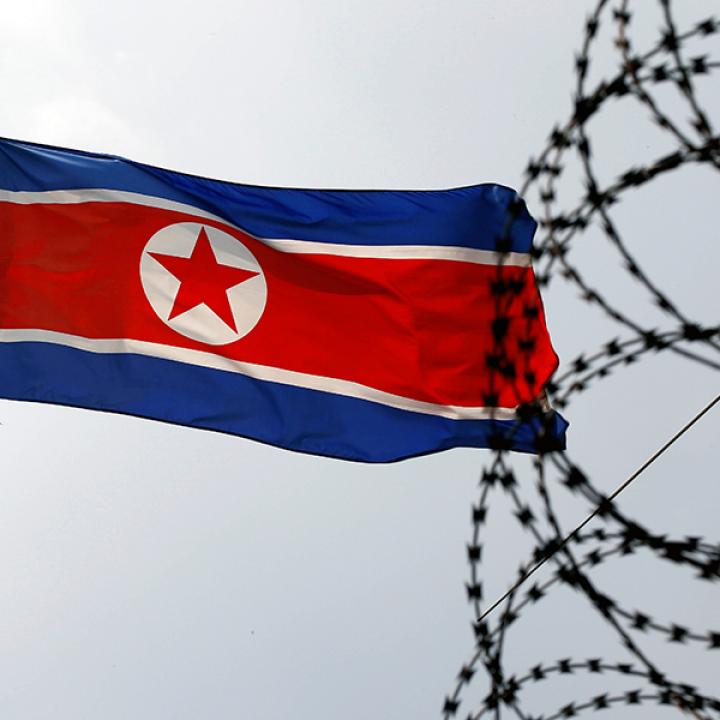 Pyongyang has emerged as a critical partner in Tehran's 'Axis of Resistance,' and officials warn that their joint efforts may extend to weapons of mass destruction.
High-level meetings between North Korean and Iranian officials in recent months are stoking concerns inside the U.S. government about the depth of military ties between the two American adversaries. In September, President Trump ordered U.S. intelligence agencies to conduct a fresh review of any potential bilateral nuclear collaboration. Yet officials in Washington, Asia, and the Middle East who track the relationship indicate that Pyongyang and Tehran have already signaled a commitment to jointly develop their ballistic missile systems and other military/scientific programs.
North Korea has vastly expanded its nuclear and long-range missile capabilities over the past year, developing intercontinental ballistic missiles that could potentially target the western United States with nuclear warheads. Over the same period, U.S. intelligence agencies have spotted Iranian defense officials in Pyongyang, raising the specter that they might share dangerous technological advances with each other. "All of these contacts need to be better understood," said one senior U.S. official working on the Middle East. "This will be one of our top priorities."
SUSPICIOUS MEETINGS
In early August, Kim Yong-nam, North Korea's number two political leader and head of its legislature, departed Pyongyang amid great fanfare for an extended visit to Iran. The official reason was to attend the inauguration of President Hassan Rouhani, but the length of the visit raised alarm bells in Washington and allied capitals. North Korean state media said the trip lasted four days, but Iranian state media said it was ten, and that Kim was accompanied by a large delegation of other top officials.
Kim had last visited Tehran in 2012 to attend a gathering of the Non-Aligned Movement, the Cold War-era body composed of developing nations that strived to be independent of Washington and the Kremlin. Yet he skipped most of the events associated with that conference, instead focusing on signing a bilateral scientific cooperation agreement with President Mahmoud Ahmadinejad. According to U.S. intelligence officials, that pact looked very similar to the one Pyongyang inked with Syria in 2002; five years later, Israeli jets destroyed a building in eastern Syria that the United States and UN believe was a nearly operational North Korean-built nuclear reactor. Notably, one of the Iranian officials who attended the 2012 gathering with Kim was Atomic Energy Organization chief Fereydoun Abbasi-Davani, who was sanctioned by Washington and the UN for his alleged role in nuclear weapons development.
Similarly, Kim's latest trip focused on more than just lending support to Rouhani, according to North Korean and Iranian state media. Kim and Vice Foreign Minister Choe Hui-chol inaugurated their country's new embassy in Tehran, a symbol of deepening ties between the two governments. They also held a string of bilateral meetings with foreign leaders, many from countries that have been significant buyers of North Korean weapons in recent decades (e.g., Zimbabwe, Cuba, Democratic Republic of the Congo, and Namibia). The Trump administration has been intensifying diplomatic pressure on all these countries to cut their economic and military ties with Pyongyang in response to the regime's barrage of nuclear and missile tests this year.
Regarding missile development, Iran and North Korea presented a united front against Washington during Kim's stay. Like Pyongyang, Tehran has moved forward with a string of ballistic missile tests in recent months, despite facing UN Security Council resolutions and condemnation by the Trump administration. After meeting with Speaker of Parliament Ali Larijani on August 4, Kim declared, "Iran and North Korea share a mutual enemy [the United States]. We firmly support Iran on its stance that missile development does not need to be authorized by any nation."
COVERT CONTACTS
The meetings that have gone unreported in state media are even more worrisome for allied governments. In recent years, U.S. and South Korean intelligence services have tracked a steady stream of Iranian and North Korean officials visiting each other in a bid to jointly develop their defense systems. Many of the North Koreans are from defense industries or secretive financial bodies that report directly to dictator Kim Jong-un, including Offices 39 and 99 of the ruling Workers' Party of Korea.
Last year, U.S. authorities reported that missile technicians from one of Iran's most important defense companies, the Shahid Hemmat Industrial Group, had traveled to North Korea to help develop an eighty-ton rocket booster for ballistic missiles. One of the company's top officials, Sayyed Javad Musavi, has allegedly worked in tandem with the Korea Mining Development Trading Corp. (KOMID), which the United States and UN have sanctioned for being a central player in procuring equipment for Pyongyang's nuclear and ballistic missile programs. For example, Shahid Hemmat has illegally shipped valves, electronics, and measuring equipment to KOMID for use in ground testing of space-launch vehicles and liquid-propellant ballistic missiles.
POLICY IMPLICATIONS
North Korea has emerged as a critical partner in the alliance of states, militias, and political movements known as the "Axis of Resistance," which Tehran developed to challenge U.S. power in the Middle East. Pyongyang has served as an important supplier of arms and equipment to Iran's most important Arab ally, Syria's Assad regime, during the country's ongoing war. And Iranian-backed Houthi rebels have procured weapons from North Korea in their efforts to topple the internationally recognized government in Yemen, according to current and former U.S. officials.
Moreover, Kim Yong-nam's August trip appeared to have official support from Russia and China. On his way to Iran, he first flew to Vladivostok on Air Koryo, the North Korean airline that the U.S. Treasury Department sanctioned in December 2016 for financially aiding the Kim regime and its ballistic missile program. He then flew on to Tehran via Russia's state carrier, Aeroflot, passing through Chinese airspace.
Going forward, the most pressing question is whether a smoking gun will emerge proving direct nuclear cooperation between Iran and North Korea. The U.S. government and the International Atomic Energy Agency say they have yet to see such conclusive evidence. But Iranian opposition groups allege that senior regime officials have visited North Korea to observe some of its six nuclear weapons tests. Chief among these officials, they add, is Mohsen Fakhrizadeh, an Iranian general whom the UN has accused of working closely with Fereydoun Abbasi-Davani on secret nuclear weapons research. Current and former U.S. intelligence officials say these accusations cannot be ruled out, so all known contacts between the two regimes need to be scrutinized closely.
Jay Solomon is the Segal Distinguished Visiting Fellow at The Washington Institute and author of The Iran Wars: Spy Games, Bank Battles, and the Secret Deals That Reshaped the Middle East.