Hezbollah Has a New Strategy to Survive Lebanon's Financial Crisis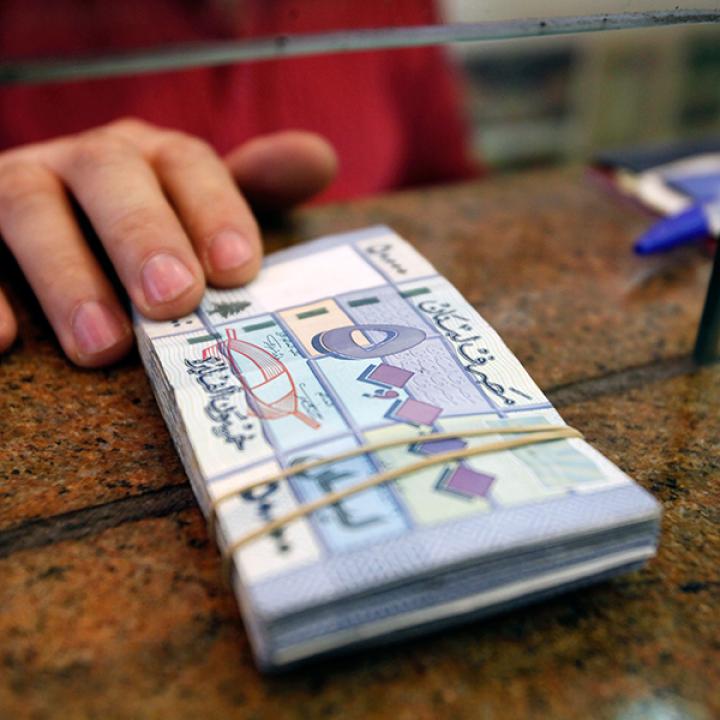 Unless Washington and its allies respond to the protestors' legitimate demands for reform, the group will survive through measures such as expanding its smuggling activity, promoting its financial institutions, and selectively scapegoating corrupt politicians.
When IMF officials visited Lebanon late last month amid its accelerating economic freefall, many wondered whether these developments might alter the behavior of Hezbollah, the designated terrorist group that has a deep financial stake in the country's public and private sectors. During a previous funding crisis—the increase in U.S. sanctions against the group's chief underwriter, Iran—the "Party of God" and its foreign sponsors formulated a new strategy to evade these measures and create alternative sources of funding. Such sources allowed Hezbollah to make further inroads into government agencies following the 2018 parliamentary elections. For example, the group's leaders insisted on controlling the Health Ministry, which commands Lebanon's fourth-largest budget at $338 million per year; they also gained more access to the Ministry of Public Works and Transport, the Agriculture Ministry, and the Ministry of Energy and Water, whose assistance was used to fund their affiliated projects and businesses.
That worked until Lebanon's own economy began its current nosedive. Unemployment has hit a record high of 40 percent, and the lira has slumped by about 60 percent on the parallel market, hiking inflation. Officially pegged to the dollar, the currency has plummeted 40 percent on the black market as local banks ration dollars necessary for imports of food, medicine, and other essential goods. Meanwhile, Lebanon has one of the highest debt-to-GDP ratios in the world (over 150 percent) and may not be able to pay $1.2 billion in Eurobonds this month. As with the Iran sanctions, however, Hezbollah has a strategy to survive this domestic pressure, at least in the near term.
IMF TALKS JUST A DISTRACTION
To buy more time for establishing and cultivating alternative funding sources, Hezbollah gave its blessing for the newly formed government it controls to receive a small delegation from the IMF last month. Hezbollah officials made very clear that this was nonbinding technical assistance and would never materialize into a full IMF program for Lebanon. "We do not accept submitting to the International Monetary Fund to manage the crisis," said deputy leader Naim Qassem during a February 25 press conference, disparaging the organization as an imperialist tool.
The group's resistance to deeper IMF involvement is rooted in the fact that a full assistance program would allow the Fund to access major state institutions and impose serious reforms, thereby shaking Hezbollah's clientelist system and exposing its financial operations to the international community. For example, one proposed reform would close all illegal points of entry between Lebanon and Syria while exerting more control over the country's air and sea ports—an outcome that would seriously impede the group's smuggling of goods and weapons. Another top IMF issue is the electricity sector, which the group would prefer to leave unreformed because it benefits from the alternative energy sector (e.g., Hezbollah entities set up large generator networks that can provide power to whole neighborhoods, then charge residents a premium for a service that is supposed to be provided by the state).  
At the same time, Hezbollah likely welcomes initial, noncommittal IMF discussions as a distraction from its real goals: implementing a strategy to maintain power in Lebanon during and after its economic collapse, repairing its tarnished image within the Shia community, and, most important, securing sources of funding that can withstand the crash. Its methods of achieving these goals are numerous.
PROMOTING AND SMUGGLING IRANIAN PRODUCTS
Hezbollah has been taking advantage of the economic crisis to promote Iranian products in Lebanon, which are brought in tax free and are therefore very cheap. After the group launched its campaign to boycott American products last month, many of its social media outlets started promoting Iranian goods as replacements. It is no secret that Tehran has been flooding the Lebanese market with various products for years and will likely continue accelerating these efforts amid ongoing pressure. Between 2017 and 2019, for example, Iranian steel imports to Lebanon reportedly jumped from $13,000 to $1.4 million. Medications are another major Iranian import that Hezbollah promotes. On February 26, the U.S. Treasury Department highlighted this link by slapping terrorist designations on several Lebanese pharmaceutical companies affiliated with Hezbollah's Martyrs Foundation.
To sidestep such pressure and maintain the flow of Iranian goods, Hezbollah recently increased its smuggling operations—not only along the Lebanon-Syria border, but also to the rest of the region. Most of the merchants and customers involved in this unregulated, often illegal trade are close to Hezbollah's business and support networks, potentially allowing the group to emerge from the economic crash less damaged than the rest of Lebanon's businesses.
ELEVATING AL-QARD AL-HASSAN
When Lebanese banks began limiting the withdrawal of U.S. dollars in late October, many depositors decided to take out as many dollars as they could in cash. An estimated $5 billion has been withdrawn in the past four months alone.
Hezbollah is trying to benefit from this unofficial public cash reserve in two ways. First, it is intensifying its rhetoric against the banking system in order to divert public ire from the group's own role in rampant corruption. Second, it is encouraging people to use Hezbollah financial institutions to exchange and deposit their money—especially al-Qard al-Hassan, a U.S.-designated foundation that has recently become the group's main money exchanger and the default bank replacement for its Shia constituency. As the economy deteriorates further, more citizens may feel compelled to resort to such institutions, which will likely have U.S. dollars available at cheaper rates than the black markets.
LEGALIZING MARIJUANA
Hezbollah recently abandoned its history of nuanced objection to marijuana legalization, raising questions about its motives. On February 26, parliament was finally permitted to approve a long-delayed bill legalizing the crop's cultivation for medical and industrial purposes.
Many locals believe that this step could benefit Lebanon economically, since the UN ranks the country as the world's fourth-largest producer of marijuana. Yet others worry that Hezbollah will be the prime beneficiary given its control over the state institutions that will determine how this sector is managed and utilized.
GETTING RID OF BERRI
When Lebanese Shia protestors took to the streets in the cities of Nabatiyah, Tyre, and Baalbek, Hezbollah seemingly concluded that its constituency was getting out of control. Although these demonstrations were against corruption in general, they indirectly targeted Hezbollah as the main protector of corrupt politicians. In the eyes of local Shia, the most prominent of these politicians is Nabih Berri, the speaker of parliament and head of Hezbollah rival-cum-political partner the Amal Movement.
To resolve this issue and reconstruct its image among the Shia, Hezbollah is planning to throw Berri under the bus. Doing so would allow the group to kill two birds with one stone: proving to the Shia community that it will no longer protect corruption, and taking over Berri's share within state institutions and Shia business networks. Replacing Berri as speaker has already been in the works for a while, with two candidates leading the pack: Jamil Assayed, the former head of General Security and a close ally to Syria's Assad regime, and Abbas Ibrahim, the current head of General Security.
RECOMMENDATIONS
Hezbollah's new strategy can help it survive, but not for too long. When the group stated its objection to an IMF program for Lebanon, it did not offer an alternative to save the state from eventual bankruptcy. Without at least the shell of a state, Hezbollah's plan cannot be sustained. The group's officials are aware of this time limit and, much like their patrons in Iran, appear to hope that the U.S. presidential election in November brings in a new administration willing to ease the maximum pressure policy.
To counter Hezbollah's plan and help the Lebanese people survive this crisis, the United States and its allies should expand the sanctions against corrupt individuals. The group relies on allies from all sects and on the countrywide system of corruption that protects its interests in the seaport, airport, and illegal smuggling routes. The U.S. Global Magnitsky Act is a good tool for tackling this issue and responding to the demands of demonstrators.
Moreover, while bailing out the current government would only make the problem worse, providing humanitarian aid could help counter Hezbollah's attempts to promote Iranian medications and other essential goods. This effort should be conducted via international organizations already working in Lebanon, not through government organizations or local municipalities that could benefit Hezbollah and the corrupt system.
Finally, Washington should keep pushing the Lebanese Armed Forces to protect protestors and punish all units and officers who commit violations against them. Hezbollah's strategy can only work if the current system and political elite remain intact—that is, only a Hezbollah-controlled parliament can ensure that the group's preferred candidates for speaker, president, and security posts are appointed and its alternative funding sources are preserved. Protestors keep demanding early elections and a truly representative electoral law that could change the legislature's makeup drastically. Washington and its allies should catch that momentum while it is still alive, and interrupt Hezbollah's survival plan in the process.
Hanin Ghaddar is the Friedmann Visiting Fellow in The Washington Institute's Geduld Program on Arab Politics.