The Hamas Announcement: Reconciliation or Reorientation?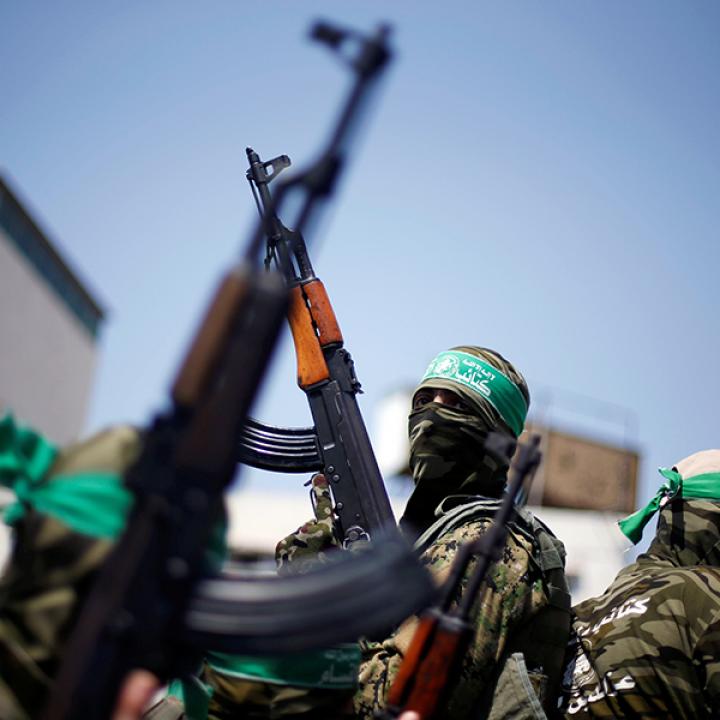 The group's latest move consolidates Egypt's leading role on Palestinian issues, impacts Fatah-Hamas politics, and could alleviate some of the strip's humanitarian problems, but it falls short of a reconciliation that Washington can accept.
In response to an Egyptian initiative, Hamas announced on September 17 that it will dissolve the "Administrative Committee" it created in March as a shadow government to administer the Gaza Strip. The formation of that committee had spurred Palestinian Authority president Mahmoud Abbas to undertake a series of punitive measures against Hamas and Gaza, such as ceasing payments for Israeli electricity supplies to the strip, retiring and reducing the salaries of PA officials there, and limiting medical referrals for those seeking treatment outside Gaza. At the time, he announced that the restrictions would not be reversed unless Hamas dissolved the committee, enabled the PA government to operate in Gaza, and acquiesced to holding elections. Now that Hamas has announced the committee's breakup, invited the PA cabinet to Gaza, and expressed a willingness to discuss elections, Abbas is under pressure to reverse the punitive measures, most likely once he returns from the UN General Assembly meetings.
IS THIS RECONCILIATION?
The Hamas decision will likely return Gaza to its pre-March situation, but a true reconciliation with the PA would entail relinquishing security control over the strip and genuinely sharing power. Since the group's violent takeover of Gaza in 2007, a slew of Palestinian "unity," "national consensus," and "national reconciliation" arrangements have failed to achieve these objectives. These efforts, brokered in Cairo, Mecca, Doha, Gaza, and elsewhere, have all foundered on two issues, neither of which is any closer to resolution.
The first -- dealing with the public sector employees Hamas has added to the PA payroll since 2007 -- raises the problem of how to incorporate tens of thousands of new civil servants into the already bloated and cash-strapped PA bureaucracy. Palestinian leaders must also decide what to do with PA officials still on the payroll who have been instructed to stay home since 2007, and how to manage the likely cutoff of international aid if the PA incorporates Hamas members.
The second obstacle -- reestablishing PA security control over Gaza -- is even more formidable, since it would effectively end Hamas rule there and make the group vulnerable to its Fatah rivals. Hamas has shown no inclination to relinquish such control, and even if its political leaders moved in that direction, its strong, independent military wing probably would not comply.
STILL POLITICALLY SIGNIFICANT
Although this weekend's announcement is unlikely to bring reconciliation, it will nevertheless affect Hamas and Fatah's internal dynamics. It will also consolidate Egypt's role in Gaza and Palestinian politics.
After Hamas held internal elections in May, the new leadership, particularly Gaza chief Yahya al-Sinwar, began mending fences with Cairo. This resulted in a July deal whereby Egypt agreed to provide fuel to Gaza and gradually reopen the Rafah crossing. In exchange, Hamas would allow Mohammad Dahlan, the Abu Dhabi-based former Fatah leader responsible for implementing the PA's anti-Hamas security measures in the 1990s and early 2000s, to operate in Gaza. Some Hamas leaders in the diaspora and the West Bank opposed this arrangement, largely because it would weaken Qatar and Turkey's influence in favor of Egypt and the United Arab Emirates. Yet they were unable to block it because Gazans widely welcomed the relief brought by the measure. If the latest Egyptian-brokered deal spurs a reversal of Abbas's punitive measures and the improvement of living conditions in Gaza, it would strongly bolster those Hamas members who have advocated reorienting the movement toward Cairo, at least in the short term.
Egypt's role is shaping politics within Fatah as well. Abbas was especially concerned that the July deal would strengthen his longstanding rival Dahlan, whose marginalization has been a central goal of the president's since 2007. Accordingly, Abbas visited Turkey on August 27 in the hope of convincing Ankara to broker a reconciliation agreement that would bypass the Egypt-Hamas deal. That trip amounted to nothing. Now that Hamas has decided to disband the committee and meet his other conditions, Abbas has found himself compelled to respond positively and reengage in a reconciliation process led by Cairo, which will inevitably include a role for Dahlan in any future Gaza arrangements.
In playing a central part in these developments, Egypt has reportedly abandoned its hitherto cautious approach of merely convening Palestinian reconciliation meetings in favor of proactively proposing ideas and pressuring the parties to accept them. This shift will likely consolidate Egypt's standing as the indispensable regional actor on Gaza and Palestinian politics in general, particularly compared to Hamas's traditional backers Qatar and Turkey.
The latest developments also signal Abbas's implicit recognition that Dahlan has a role to play in future Palestinian politics. Likewise, Egypt and the other members of the "Arab Quartet" -- the UAE, Saudi Arabia, and Jordan -- see the Dahlan deal as a part of a wider effort to put the Palestinian house in order ahead of the potentially destabilizing contest to succeed the eighty-two-year-old Abbas.
IMPLICATIONS FOR U.S. POLICY
U.S. policymakers have been grappling with ways to avoid a new conflict between Israel and Gaza while addressing the increasingly dire humanitarian situation in the strip. This weekend's Hamas announcement, if implemented, will help return Gaza to a status quo ante that was reasonably stable despite its obvious flaws. Coupled with the previous Egyptian understandings on fuel supplies, border crossings, and Dahlan, it might alleviate (though not resolve) some of Gaza's immediate humanitarian challenges.
An increased Egyptian role in Gaza could be positive in broader terms as well, since Cairo has the interest and ability to pressure Hamas away from terrorism while gradually creating the space for other Palestinian actors to operate in the strip. Hamas will not acquiesce willingly, however. Even as the group's new leadership reorients toward Egypt, it is simultaneously mending and deepening its ties with Iran. And while circumstances forced Hamas to accept the return of Dahlan and other rivals to Gaza, the group will inevitably seek to ensure that the PA's role remains limited to serving as a pipeline for external funding. Nevertheless, Egypt has proven capable of leveraging its influence to effectively pressure Hamas, so the United States should continue engaging Cairo on the long-term goal of weakening the group's hold on Gaza.
To be sure, the latest developments fall far short of meeting the U.S. and international criteria for true Palestinian reconciliation, which center on Hamas accepting a genuine two-state solution and renouncing terror. For now, these goals remain farfetched. Yet Washington can still advance U.S. interests by encouraging Egyptian and wider Arab efforts to stabilize Gaza, address its humanitarian needs, and loosen Hamas's grip. At the same time, the United States should make clear that it will continue to oppose any Hamas attempts to break the group's international isolation without first meeting its obligations, or to re-create the "Hezbollah model" of maintaining power on the ground without the responsibilities that come with day-to-day governance and service provision.
Ghaith al-Omari, a senior fellow at The Washington Institute, previously served in various advisory positions with the Palestinian Authority.