Golf Detente: Saudi Arabia's LIV to Merge with the PGA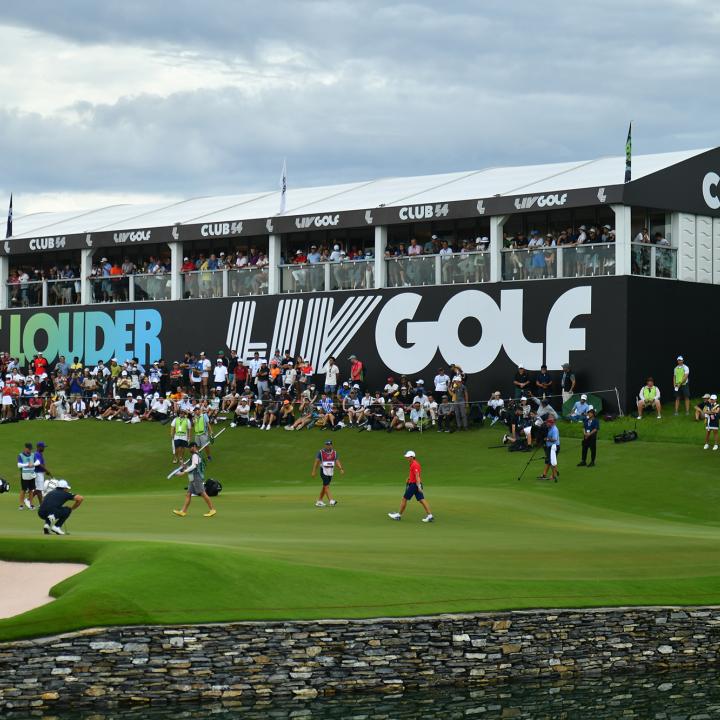 The deal raises questions about Riyadh's human rights record and media double standards, but its most important outcome may be further diversification of the Saudi economy away from oil dependence.
On June 6, Saudi Arabia's renegade LIV Golf League announced that it would merge with the U.S.-based PGA Tour and Europe's DP World Tour, ending months of litigation surrounding the two-year-old Saudi venture. The deal is a remarkable turn of events, and a vindication—at least in commercial terms—of Riyadh's controversial foray into the business of professional golf.
Financed by the Saudi Public Investment Fund (PIF), LIV Golf was established as part of the kingdom's ambitious Vision 2030 project to diversify its economy. By launching the league and announcing plans to double its number of domestic golf courses, Riyadh sought to position itself as a golf and tourist destination and a more appealing locale for regional corporate headquarters compared to commercial rival Dubai. To make the league competitive, PIF invested heavily in talent, hiring former PGA star Greg Norman as its CEO and purchasing the defection of top PGA players such as Phil Mickelson, Dustin Johnson, Brooks Koepka, Bryson DeChambeau, and Cameron Smith.
From the start, LIV has been widely criticized as "sports washing"—that is, Riyadh's purported attempt to cleanse some of its human rights abuses, particularly the brutal 2018 assassination of Saudi journalist Jamal Khashoggi inside the kingdom's consulate in Istanbul. For example, Golf Channel analyst Brandel Chamblee accused players who join the tour of taking "blood money" and being complicit in rehabilitating a "murderous dictator," referring to Crown Prince Muhammad bin Salman, who is widely believed to have ordered Khashoggi's murder.
For Riyadh, however, LIV has always been more about boosting its finances and diversifying its economy than improving its image. Moreover, the intense media focus on the Saudi league has shown hints of a double standard given the less prevalent criticism aimed at similarly controversial DP and PGA Tour partnerships and locales. For instance, the DP World Tour is currently named after a major sponsor based in Dubai, where superstar Rory McIlroy won a tournament this January amid little if any mention of the emirate's human rights record. Among other incidents, Dubai ruler Sheikh Muhammad bin Rashid al-Maktoum reportedly ordered the capture of his daughter Latifa in international waters in 2018, the same year Khashoggi was killed; she was subsequently repatriated and imprisoned. And the PGA has long held a tour in China, a country that the State Department has said is perpetrating genocide against its Muslim Uyghur population. Various media outlets have noted this problematic relationship, but critical coverage of LIV has been more constant and high-profile.
To be sure, Saudi Arabia remains an authoritarian state where freedom of expression is highly restricted. But its human rights record is not demonstrably worse than that of other Middle Eastern locales such as Egypt—a country that receives more than $1 billion per year in assistance from the United States. Moreover, LIV's critics tend to overlook recent Saudi improvements on certain issues, such as granting new rights to women, easing enforcement of laws criminalizing homosexuality, and tamping down the promotion of intolerant forms of Islam at home and abroad.
Human rights issues aside, the improbable LIV-PGA agreement is good for golf fans, who may get to see top defecting players compete in PGA events again. It is also a big win for Saudi Arabia's PIF, which took a big risk on LIV as a loss leader in its expanding portfolio. The Saudi tour is now likely to get better U.S. network television coverage and generate some profits. Most important for Riyadh (and for U.S. interests), the LIV-PGA detente represents another success in the kingdom's plan to diversify its economy away from dependence on fossil fuels—the same goal that drove its recent efforts to seek rapprochement with Iran and de-escalate Gulf tensions.
David Schenker is the Taube Senior Fellow at The Washington Institute and director of its Program on Arab Politics.