The Future of U.S.-Egypt Relations: Engagement without Illusions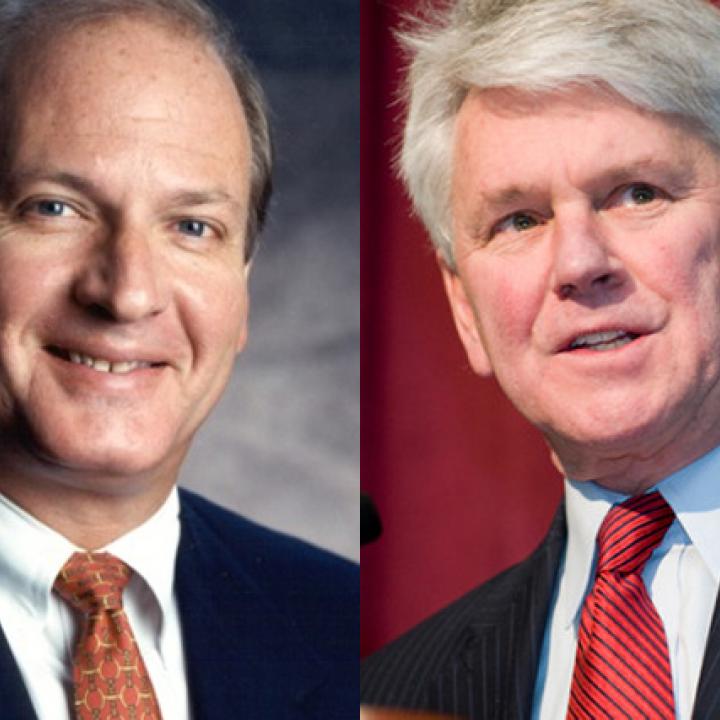 On November 28, 2012, Vin Weber and Gregory B. Craig addressed a Policy Forum at The Washington Institute. Mr. Weber is a former Republican congressman from Minnesota and former chairman of the National Endowment for Democracy. Mr. Craig served as White House counsel in the Obama administration and director of State Department policy planning in the Clinton administration. The following is a rapporteur's summary of their remarks. Read their recently published report on the future of U.S.-Egypt relations.
GREGORY B. CRAIG
We find ourselves in a moment equal in importance to historical events in U.S.-Egyptian relations, made more complicated due to the many changes and transitions over the past two years. What happens to Egypt in the foreseeable future is of huge consequence not only to the Middle East, but also to the world and to us as Americans. If the treaty with Israel is not respected, we're at risk of war. If the new leaders indulge or protect terrorists, we and our friends will be at risk of another attack. If the economy of the largest Arab state falls, the entire region could be thrown into depression. If democracy is knocked out in Egypt, it could have negative repercussions in the other states affected by the Arab uprisings.
Based on the trip taken by our bipartisan Task Force on the Future of U.S.-Egypt Relations established by The Washington Institute, Mr. Weber and I came away with four major observations. First, the process of dramatic change is not over. There are no rules governing Egypt's transition, and the possibility of a counterrevolution still remains. The military, despite its apparent truce with the Muslim Brotherhood (MB), could potentially step in should the group too ambitiously assert its power.
Second, President Muhammad Morsi faces a real tension between the demands of governing and the reality of the economic crisis on one hand, and his loyalty to the tenets of the MB on the other. This tension is very much in evidence every day, and especially in his recent power grab. Indeed, whether or not Morsi is a national figure or merely a representative of the Brotherhood, implementing its policies, remains an unanswered question in today's Egypt.
Third, the non-Islamists in Egypt are unfortunately disorganized, depressed, and disheartened. While recent events may galvanize them, we observed during our time there that they had no plan and no basic experience in dealing with local constituent politics so as to challenge their Islamist counterparts effectively. Moreover, due to the U.S. failure to engage with non-Islamists, some secular liberals in Egypt even believe that the United States was responsible for putting the MB in power. It remains to be seen if the various liberal parties will be able to organize and work together successfully in the next elections, or if the Islamists will again win.
Fourth, the economy is in dire straits, leading to gridlock in the cities, power shortages, unsustainable subsidies on food and fuel, and massive structural deficits. Although Morsi's presidential team assured us that the economy was their number one priority, they pointed only to increased foreign investment as a solution and offered no suggestions for how to make Egypt more attractive to investors. Their complete lack of strategy on this subject should be of great concern.
VIN WEBER
In the United States, there are three general approaches that are suggested in dealing with aid to Egypt. There are those who argue we should continue to provide aid unconditionally so as to ensure our influence in the country and avoid the risk of a failed Egypt. Others claim that we have no interests in supporting a government led by those so at odds with our own values and should end all aid.  
We believe both of these approaches are far too risky. While our concerns about the Morsi government's trajectory are great and we do not want our aid to allow them to do whatever they want, letting Egypt become a failed state would be disastrous for U.S. interests and the security of our allies in the region. This leads to a third alternative: putting conditions on aid to Egypt.
For conditionality to form a viable policy, we must be absolutely clear about the conditions, look seriously at our priorities, and be willing to withdraw our aid should these conditions be unmet. The three most important U.S. interests in Egypt are regional peace, strategic cooperation, and constitutional democracy and pluralism, and these should form the backbone of conditionality.
Naturally, the peace treaty with Israel constitutes a clear red line. Fortunately, in most of our meetings with MB and government officials, they expressed a commitment to international agreements. Nevertheless, they have not yet learned how to speak about Israel, and most refuse to even say its name. It remains to be seen if Morsi will adapt to the reality of relations with Israel or will continue to resist, but conditioning our aid on his continued cooperation would be a major incentive for committing to peace.
Despite any political disagreements with Egypt's civilian government, our close cooperation with the Egyptian army remains essential to our relations. Regional stability is a major concern, and we suggest earmarking $100 million worth of our foreign military funding to go toward establishing security in the Sinai. We also need to emphasize economic development in Sinai, as poverty there underlies many of the area's problems.
While the above two conditions constitute more formal and practical needs -- and Egyptian cooperation with them should be openly and annually certified to Congress -- the third will need to be more informally conveyed so as to reassure Congress of Egypt's commitment to democratic ideals. While the United States does not want to seem to be interfering in Egypt's daily internal affairs, the American people and their representatives care deeply about issues such as the treatment of minorities and women, and would not support continuing economic assistance to countries that don't conform to these values. Indeed, conditionality represents a simultaneously foreign and domestic policy; at the same time as it emphasizes to Egypt the necessity of complying with our conditions, it also communicates to Congress the benefits of continuing U.S. engagement with a government of which many are suspicious.
Along with conditionality, the U.S. government should pursue open engagement with members of the secular, liberal opposition. After all, the outcome of the next elections is uncertain, and the ideals of Egyptian liberals clearly align more closely with our own. To this end, the United States should support the return of the NGOs, which know how to empower secular oppositions and would inevitably contribute to the growth of a robust civil society. The U.S. embassy in Cairo should likewise pursue a closer relationship with this disheartened opposition, instead of its current focus on the new government and its leadership.
This rapporteur's summary was prepared by Katie Kiraly.