First Islamist Party to Voluntarily Give Up Power: A New Tunisian Model?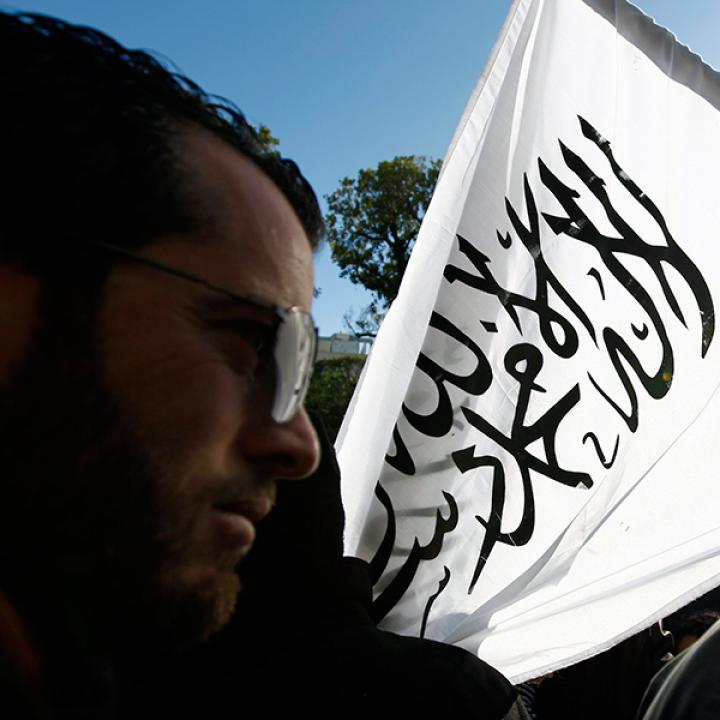 Ennahda's agreement to step aside under peaceful popular pressure, at long last, sets an encouraging but all-too-rare example -- yet one that may not last.
The announcement this weekend of a new prime minister to lead a caretaker government in Tunisia has symbolic significance far beyond that country. The selection of little-known Mehdi Jomaa, officially an independent, marks an exceedingly rare occasion -- probably the first time ever, anywhere -- in which an Islamist party has voluntarily ceded political power, without civil war, mass violence, or military intervention of any kind. In this case the party is Ennahda, which led Tunisia's ruling coalition after winning nearly 40 percent of the vote in the post-revolutionary election of October 2011, but has since come under increasing (yet nonviolent) popular pressure to step down and allow a long-overdue new election under a nonpartisan "technocratic" government.
The agreement on this first step was brokered by a unique "National Dialogue" spanning all of Tunisia's fractious political parties, plus four leading national NGOs: the General Labor Union (UGTT), the Union of Industry, Commerce, and Crafts (UTICA, an employers association), the main human rights organization, and the lawyers syndicate. After many delays, and facing a "final" deadline before mass protests, a bare majority (eleven out of twenty-one) of the dialogue's participating political parties chose Jomaa. He now has fifteen days to assemble a new cabinet of other independents to oversee several major steps over the next six months: namely, adopting a new constitution and electoral law and holding parliamentary elections.
Despite his apparent neutrality, the choice of Jomaa is controversial. The leading opposition party, Nidaa Tounes, has stated that even a "nonpolitical" minister from the existing government -- in which Jomaa assumed the trade and industry portfolio in August -- should not lead the new one. As a result, "he is not a consensus choice," according to senior opposition spokesman Issam Chebbi. Others claim that Jomaa's paucity of political experience renders him unfit to lead the country through these troubled times. And many secularists and liberals see him as too close to his Islamist coalition colleagues, notwithstanding his lack of formal partisan affiliation and his exclusively private-sector technical and engineering management career. As one prominent Tunisian academic privately put it, "Ennahda did everything to support only a man who would in some way represent continuity with its government, even if Ennahda itself will now be leaving the government." Opposition forces will be meeting this week to determine their position toward the fledgling prime minister and his government going forward.
More ominously, the UGTT is threatening to hold mass street protests again this weekend -- the third anniversary of the revolution -- to demand better economic conditions. Flagship protests are planned for Sidi Bouzid, the impoverished interior town where a street vendor's 2010 self-immolation set off the entire "Arab Spring." In his previous post, Jomaa supported the highly unpopular yet economically orthodox step of lifting subsidies, and thereby raising prices, for fuel and other everyday necessities.
As a result, even if Jomaa's surprise selection resolves Tunisia's most urgent political crisis, it hardly guarantees his success in the upcoming essential steps, whether electoral or economic. Filling empty cabinet posts will be problematic from the start; urgent popular demands will not wait for a new constitution; and the next election is bound to be highly polarized and controversial. Polls suggest that Ennahda has lost significant support, yet it probably remains the best-organized single party. More broadly, neither the revolution against Zine al-Abidine Ben Ali's dictatorship nor the democratically elected Islamist-led government that followed has produced a lasting blueprint for social peace and progress. As leading daily La Presse de Tunisie commented yesterday, "So here we are in the third transitional phase, in between two worlds: one already dead, and the other incapable of being born."
Nevertheless, the birthplace of the Arab Spring is now teaching the region another valuable lesson: that it is possible, at least in principle, for a popularly elected Islamist government to relinquish power peacefully. It may well be that Tunisia's exceptionally secular society, by regional standards, makes it an unlikely model for its neighbors. That trait is what deprived the Islamists of an absolute majority in the country's first free elections two years ago, and also what ultimately pressured Ennahda into resigning last week. Despite all their differences, however, other Arab societies -- especially those that followed Tunisia's example of revolution -- can begin moving toward a more promising future if they learn the lessons of this new Tunisian model as well.
David Pollock is the Kaufman Fellow at The Washington Institute and director of Fikra Forum.