A Fake KSS Recruitment Drive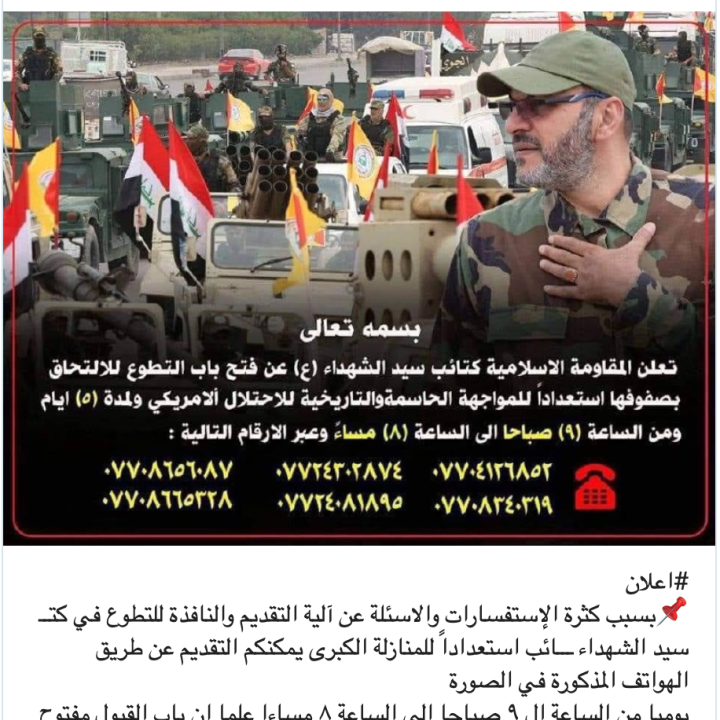 Kataib Sayyid al-Shuhada may have exaggerated its recruiting numbers, but the episode points to militias' desperation to look potent and regain leverage by threatening to destabilize Iraq in early 2022.
Between November 19 and November 25, Kataib Sayyid al-Shuhada (KSS) claimed that 49,000 volunteers were enrolled in its new recruitment campaign to prepare for a major battle with U.S. troops in Iraq (Figure 1).
The campaign was announced by KSS secretary-general Abu Ala al-Walai in a November 19 tweet: "As the hour of determination and the big battle approaches...Kataib Sayyid al-Shuhada announces a recruitment plan for volunteers to join our ranks."  He then called on "the Iraqi people and the muqawama [resistance] factions to raise the level of readiness in preparation for the decisive and historic confrontation with the American occupation on 12/31/2021 after 12:00 [midnight]" (Figure 2). This is when all U.S. combat troops are scheduled to leave the country based on the agreement between the Iraqi and U.S. governments, which was achieved in July after a few rounds of bilateral strategic dialogue.
Hours before Walai's tweet, the Iraqi Resistance Coordination Committee (al-Haya al-Tansiqiya lil-Muqawama al-Iraqiya, or Tansiqiya for short) issued a statement emphasizing the need to attack any U.S. troops that remain after December 31, 2021. The statement makes clear that this threat is in response to Muqtada al-Sadr's previous request to dissolve the fasail (armed factions): "We affirm that the muqawama's arms—which have been talked about a lot in recent days, and some [Muqtada al-Sadr] insisted on bringing [the issue] into recent political rivalries—will be ready to dislodge the occupation as soon as the moment comes, and the deadline ends after twelve o'clock in the evening of 12/31/2021" (Figure 3).
Sadr had addressed the muqawama militias in a televised speech the day before, stating, "If you want to participate in the formation of the government you must do the following:...disband all the fasail...and hand in their arms to al-Hashd al-Shabi [i.e., the Popular Mobilization Forces, or PMF]."
The Tansiqiya's statement is an indication that the decision to signal a major escalation is not limited to KSS and members of the committee, which include Kataib Hezbollah (KH) and Harakat Hezbollah al-Nujaba. The recent activities of militia media outlets confirm that this has been a collective decision—Asaib Ahl al-Haq (AAH), which sits in on Tansiqiya deliberations from time to time, is also party to the decision. On November 17, Saad al-Saadi, a member of AAH's political office, told KH's al-Hadaf media that if "the conclusions of the [U.S.-Iraq strategic] dialogue are not respected, the factions on the Tansiqiya will treat U.S. interests as [interests] of an occupation force" (Figure 4).
What is clear is that the KSS recruitment drive involved a significant amount of fakery. For instance, the militia published six mobile numbers so that men who want to volunteer can contact it and join up (Figure 5). KSS then published a video allegedly showing members of "the volunteers department" receiving calls from such individuals (Figure 6).
On November 21, KSS spokesman Kadhim al-Fartusi told the Iraqi network UTV that the militia managed to recruit 23,000 men. Yet this was only two days after the recruitment campaign was announced. Past research and data regarding call center activities indicates that even with a 100% success rate, there is no way that six phone lines operating around the clock could have processed more than 3,500 new registrants between November 19 and November 25. The claimed final figure of 49,000 new registrations would have required at least twenty-eight days of continuous operation.
Nor was KSS making a real offer of employment, with the resources to match. Observing the muqawama social media space indicates that many young men who tried to enroll in the group's recruitment plan failed to reach the published numbers. Many asked whether this was truly an employment opportunity, and the reply from KSS-affiliated individuals made clear that those admitted would be considered volunteers and would receive no salary.