Extraordinary Popular Mobilization Force Expansion, by the Numbers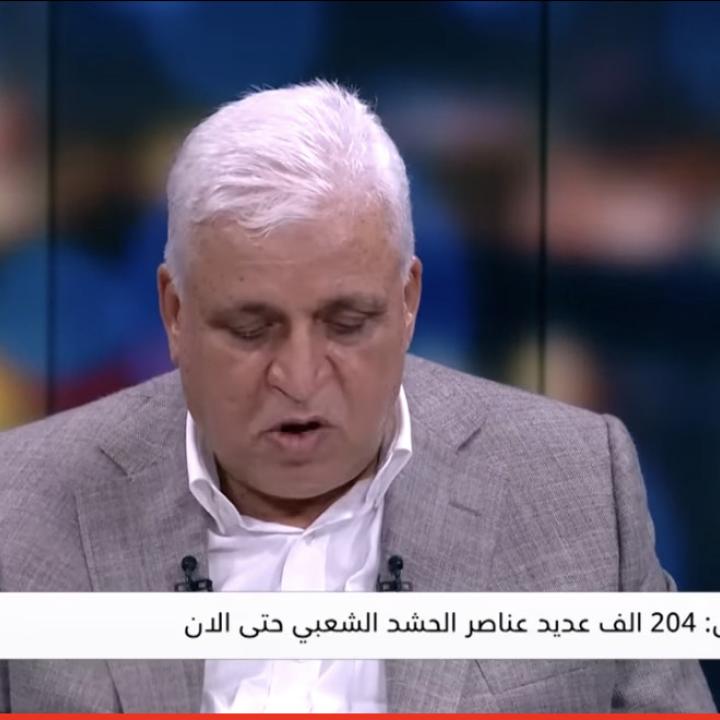 The PMF is growing fast by every metric, from budget to authorized manpower to training and economic programs, though militia leaders seem wary of highlighting this expansion.
Iraq's 2023-2025 draft budget is yet to be ratified by parliament in its final form, but it is almost certain to include a major expansion of the Popular Mobilization Forces (PMF), the post-2014 security force led by chairman/president and U.S.-designated human rights abuser Faleh al-Fayyad, and operational chief and U.S.-designated terrorist Abdul-Aziz al-Mohammadawi (aka Abu Fadak, head of the Iran-backed militia Kataib Hezbollah).
Some disagreement has been aired in public over exactly how rapidly the PMF's authorized manpower is growing. A report issued April 17 by the Iraqi parliament's Finance Committee stated that the number of PMF personnel increased by 95% in the 2023 budget, from 122,000 to 238,000. Yet Fayyad disputed this number in an April 18 interview with UTV (Figure 1), claiming that the force's manpower had increased from 170,000 in 2021 (the last authorized budget before this one) to 204,000—which is still a sizeable 20% year-on-year increase (in comparison, the Defense Ministry's manpower is set to be increased by 6% and the Interior Ministry's by 3%).
Such disparities over the PMF's true size are longstanding. As discussed in detail in Chapter 3 (pages 55-64) of The Washington Institute study Honored Not Contained: The Future of Iraq's Popular Mobilization Forces, its registered manpower has been left deliberately opaque for years, and its actual manpower has always exceeded the registered numbers. Interestingly, until the current budget—the first under the "muqawama (resistance) government" of Prime Minister Mohammed Shia al-Sudani—the PMF had been content to aim for a registered membership of 160-170,000, and its primary aim was to get about 25-35,000 unregistered fighters on the official payroll. Whether expanded to 204,000 as Fayyad claims, or more likely to 238,000 as the draft budget shows, the PMF is growing well beyond these earlier ambitions.
The force's budget is also growing, albeit not as fast as its membership. From $2.16 billion in the 2021 budget, it will rise to $2.6 billion in the 2023-2025 budget, a 23% increase. This is lower than the 40-95% increase in manpower, probably because some of the additional registered personnel members were previously carried within the budget as unregistered part-timers.
Although the wage bill may not rise dramatically today, the PMF's expansion will have a long "tail" in terms of new pension obligations to fighters. On May 25, Fayyad reminded television viewers that a special PMF Service and Retirement Law was nearing finalization, stating that it will "secure the fighters' rights, positions, and salaries, which will make them permanent employees'' (Figure 2).
It remains unclear why the PMF, as a part of Iraq's security forces, is not covered by the extant Military Service and Retirement Law (No. 3 of 2010). One explanation was implied in Fayyad's May 25 remarks: ''PMF fighters will be called Jihadist under the new law...PMF will be one of the state's institutions that doesn't lose its Jihadist description or its religious background.'' Another interpretation is that the PMF wants a separate and more privileged status than other security forces in its service and retirement regulations, similar to how it has developed a separate military justice system to screen its members from external accountability.
Two other interesting aspects of the PMF's expansion are the inclusion of capital investment and secret funds. Abbas al-Zamili, the head of the Badr Organization's parliamentary bloc, revealed on May 22 that 400 billion Iraqi dinar ($305 million) had been "added to the investment budget of the PMF'' for use by its new Muhandis General Company (Figure 3). A day later, government spokesperson Basim al-Awadi announced that the Council of Ministers had voted to authorize a 1.5 billion dinar ($1.2 million) "Secret Expenses for PMF" fund—a privilege previously extended to just one organization, the Iraqi National Intelligence Service (Figure 4).
Taken together, these developments suggest a near doubling of registered PMF fighters, the provision of long-term government benefits to these personnel, expansion of the PMF civil works and industrial base, and unprecedented intelligence-gathering arrangements without oversight. As Fayyad's muddying of hiring numbers suggests, the PMF and the self-styled "resistance" are wary of being seen to expand too quickly, even against the backdrop of an unprecedented mega-budget. However, the breakneck speed of PMF expansion is impossible to hide.