The Evolution of U.S.-Israel Relations in the Sam Lewis Era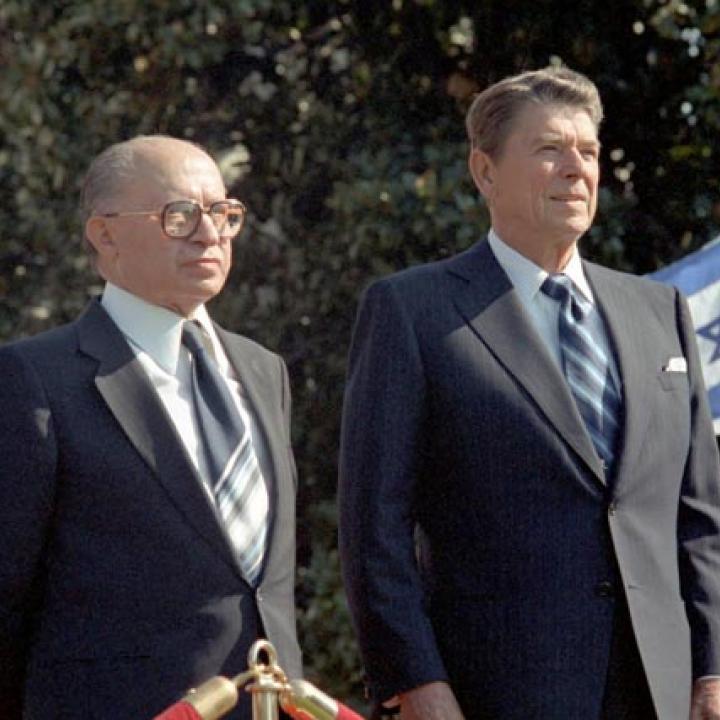 An Israeli chief justice and a former U.S. diplomat describe the lessons they learned during Sam Lewis's historic tenure as ambassador to Israel, and how the bilateral relationship grew.
On September 29, 2014, Elyakim Rubinstein and William Brown addressed a special Washington Institute symposium honoring the life and legacy of the late Ambassador Samuel W. Lewis. Rubinstein is a former Israeli attorney general and currently serves as a justice on the Israeli Supreme Court. Brown is a former U.S. ambassador to Israel. The following is a rapporteur's summary of their remarks; download the PDF to read a written tribute by the current U.S. ambassador to Israel, Dan Shapiro, as read to symposium participants by Deputy Secretary of State William Burns, the keynote speaker.
ELYAKIM RUBINSTEIN
Samuel Lewis embodies the ideal model of an ambassador and played a crucial role in the development of U.S.-Israel relations. He possessed a keen understanding of the diversity and complexity of Israeli society and harnessed a unique ability to communicate with it. Many Israeli newspapers referred to him as "the high commissioner," an expression of respect for an established and connected American diplomat. Lewis excelled in his role as ambassador, especially in an age where ambassadors play an important role in explaining and shaping their governments' positions. He served as ambassador for two administrations, Carter and Reagan, and four secretaries of state, Cyrus Vance, Edmund Muskie, Alexander Haig, and George Schultz.
Lewis and his wife, Sally, arrived in Israel amid a major turning point in Israeli politics: the ascendance of Menachem Begin and the Herut Party to power after approximately thirty years of Labor Party governance. This transformation was followed by multiple major developments in the Israeli political arena, including initial negotiations with Egypt, Anwar Sadat's visit to Jerusalem, the Camp David Accords, and the First Lebanon War. Lewis was present for and played an integral role as ambassador during all of these events.
After Begin assumed his new role, newly appointed Foreign Minister Moshe Dayan approached the prime minister with a plan to make peace with Egypt during the new government's first week in power. Dayan had determined that the rebuilding of and investment in Suez Canal cities likely signaled an Egyptian desire for peace. The United States supported this effort and helped organize a peace conference in Geneva, which did not result in a treaty but marked the first steps in pursuit of its achievement.
Shortly after the Geneva Peace Conference in 1977, Sadat emphatically declared that he would visit Israel and speak at the Knesset. Begin swiftly sent an invitation to Sadat, and the Egyptian president made a historic trip to Israel. Sadat thereafter reciprocated and asked Begin to visit Ismailia to continue the peace talks. Initially the United States had continued to endorse the comprehensive Geneva Peace Conference formula, but it later reformed its position to support talks primarily held between the Egyptians and Israelis. This reorientation of U.S. policy affirmed the importance of the U.S. role in the negotiations and opened the door for a peace summit at Camp David.
As talks yielded few results in 1978, Camp David realized the first major breakthroughs and eventually a full-fledged peace agreement with Egypt. In hosting the talks, the United States carefully encouraged the sides to find common ground and played an essential role in reaching the agreement that has held for more than thirty-six years. Yet some disagreements surfaced, such as the issue of Palestinian autonomy, which Israel and Washington interpreted differently. Begin primarily understood this issue based on the teachings of Zeev Jabotinsky, while the Carter administration seemingly envisioned autonomy leading to a future state. Nonetheless, the final agreement did not deal with the issue of Palestinian autonomy in depth, but rather made a few references to a "self-governing authority."
A few years after the Camp David Accords, the Lebanon War happened, shaking Israel and the Levant. After the war, the United States helped establish a multinational force in Lebanon to facilitate the Palestine Liberation Organization's exit and preserve the peace, but after many U.S. Marines were taken hostage and killed, Washington withdrew its team. Israel also tried to pursue a peace agreement with Lebanese president-elect Bachir Gemayel at this time, but it ultimately unraveled after he was assassinated.
All of these major events -- from the first talks initiated between Israel and Egypt to the Lebanon War -- constitute important developments in the history of U.S.-Israel relations. And all of them unfolded during Sam Lewis's tenure as ambassador.
WILLIAM BROWN
Sam Lewis was an exemplary ambassador who went beyond merely fulfilling his basic obligations. He constantly welcomed congressional visitors and the numerous American special envoys, including Robert Strauss, Sol Linowitz, Phil Habib, Richard Fairbanks, and Robert McFarlane. He undertook great efforts to support all of these officials and brief them thoroughly, but also dedicated considerable time to building and strengthening the peace treaty between Israel and Egypt.
Sam possessed incredible stamina and made near-daily trips to Jerusalem from Tel Aviv to meet with Prime Minister Begin and others before returning to Tel Aviv in the evening. Not only was it an adventure for Sam to travel to Jerusalem, but the meetings with Begin often took unexpected and challenging turns.
For example, Yehuda Avner's book The Prime Ministers demonstrates this dynamic quite clearly in recounting a December 1981 meeting after Israel passed the Golan Law, which basically extended Israeli law to the Golan Heights in defiance of Syria. Reagan instructed Lewis to inform Begin that if the Golan Law were enacted, the United States would suspend its strategic memorandum of understanding pending review. When Lewis revealed the news, Begin launched into a tirade against the Reagan administration and emphasized that Israel is not the "vassal" of the United States. The meeting ended and Lewis told Begin that he understood there were serious bilateral differences on this issue, but that neither side should surprise the other. Lewis departed for Tel Aviv and turned on the radio only to hear the cabinet secretary reading out Begin's hour-long tirade. In response, Sam said to Begin, "The fact that you authorized the release of that message almost immediately after I had left was, to put it mildly, a violation of every diplomatic norm and practice, and the way you did it made me feel like I was being treated like an idiot." Begin replied that he wanted to inform Israelis of the real differences between the United States and Israel, but also sincerely apologized for having insulted Lewis. This exchange shows not only the candid relationship they shared, but also the great respect and deference Lewis developed throughout his many years as ambassador.
This summary was prepared by Adam Rasgon. The Samuel W. Lewis Memorial Symposium was supported by the Irwin Levy Family Program on the U.S.-Israel Strategic Relationship.