EU: Designate Hezbollah a Terrorist Organisation Now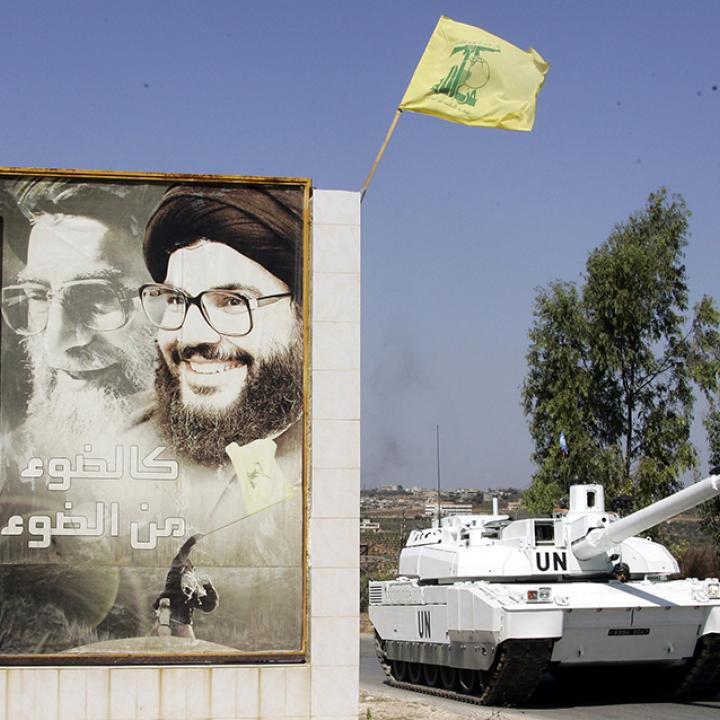 Hezbollah remains confident that Germany and France will steer the EU away from designation, and this sense of complacency could lead to more terrorist attacks.
So it's official: following seven months of investigation, the Bulgarian government has announced that Hezbollah was responsible for the bus bombing in the coastal town of Burgas in July 2012, which left five Israeli tourists and the Bulgarian bus driver dead. The attack demonstrates yet again Hezbollah's willingness to conduct its terror operations to Europe. It has shown once again, graphically, that it has no hesitation about endangering EU citizens in pursuit of its goals.
What's more, the investigation has revealed the extent of Hezbollah's activities on European territory in planning further attacks. Last July, a Lebanese-born Swedish citizen was arrested in Cyprus for allegedly conducting surveillance work for Hezbollah. He has since admitted to being a member of the organisation and his trial is currently ongoing in Limassol. Previously, Hezbollah and its Iranian sponsors were linked to attacks in the early 90s against the Jewish community in Argentina and more recently, there was the attempted killing of Saudi Arabia's ambassador to the US in Washington DC in 2011, as well as a botched attack in Thailand.
A couple of weeks ago, I was called as an expert-witness to the trial in Limassol, and -- judging by the evidence -- it is beyond any doubt that the operation in Cyprus was another example of Hezbollah preparing another terror-attack on European soil.
Nonetheless, following the Burgas bombing and the trial in Cyprus, the EU still refuses to designate Hezbollah as a terrorist organisation, though Europe's own police force, EUROPOL, stores Hezbollah on its database as a "terrorist entity" and the group uses EU territory for its financial and fundraising activities. In 2004, The Netherlands placed both Hezbollah's military and political wings on its terror list, while the UK has designated as terrorist its military branch, the Islamic Jihad Organisation. Bulgaria seems likely to follow suit. EU heavyweights, Germany and France in particular, oppose the move on the grounds that it will create instability inside Lebanon in what is a volatile region. Of more concern however is that they believe the organisation has "softened" its approach through political engagement.
The argument that Hezbollah's social and political activities negate the justification to designate it as a terrorist organisation is, quite simply, specious. It goes without saying that no political party or social movement should need an armed wing, so why do they? In the case of Hezbollah, these "philanthropic" activities primarily bolster its role as a front-line organisation fighting its enemies, at home and abroad. In Lebanon, four Hezbollah members were indicted by a UN backed court in the killing of former Lebanese premier Rafik Hariri in 2005. Contrary to some arguments, which suggest that designating Hezbollah would endanger Lebanon's political stability, doing so would, I would argue, make it easier for true democratic forces in the country to come to grips with this movement and go some way towards introducing a more "normalised" political system there.
Hezbollah emerged in the wake of Israel's1982 invasion of Lebanon, which aimed to halt attacks orchestrated by the PLO and their Lebanese allies. In their 1985 manifesto, Hezbollah declared that one of their main goals was the destruction of the state of Israel. This goal has never changed and various Hezbollah leaders have reiterated it over the years, (including in conversations this author had with Hezbollah representatives). Since Israel's withdrawal in May 2000 from southern Lebanon, Hezbollah has pursued a military build-up on an unprecedented scale. After its war with Israel in July 2006, it restocked its arsenal with missiles and military hardware that would equip any medium-sized European country. This includes stockpiles of rockets and portable anti-aircraft missiles. These weapons caches have the potential to destabilise the entire region. Despite a number of UN Security Council resolutions, including UNSCR 1559 and 1701, which have called for the groups to be disarmed, Hezbollah continues to stockpile Iranian-sourced arms. According to Ray Takeyh, Senior Fellow for Middle Eastern Studies at the Council on Foreign Relations, Iran provides roughly $100 million annually in financial assistance to Hezbollah.
In recent weeks and months we have seen evidence of the close cooperation between Hezbollah and the Assad regime in Damascus, with numerous reports showing Hezbollah fighters are taking part in the regime's massacre of its own people. Last October, The Times of London reported that at least 1,500 Hezbollah fighters were allegedly supporting the Assad regime by forming a militia. For Hezbollah, the fall of Assad would be a severe blow to maintaining its stranglehold presence within Lebanon and its government and severely curtail its freedom of movement in ferrying weapons and material from Iran, the real puppet master in this conflict.
From the beginning, Hezbollah has been involved in terrorist activities. What has changed in the last decades is that the organisation has stepped up its criminal and terrorist activities abroad. According to a newly released report by Dr. Matthew Levitt -- head of the Stein Program on Counterterrorism and Intelligence at the Washington Institute for Near East Policy -- between May and July 2012, Hezbollah operatives, in close co-operation with the Qods Force, the Iranian Revolutionary Guard's international arm, attempted more than 20 foreign terror operations.
Hezbollah remains confident that with the backing of Germany and France, the EU will not designate the group. Critically, it is this sense of complacency which would allow it to plan future attacks. Now is the time for action and the political leadership of the EU needs to take the lead and designate Hezbollah as a terrorist organisation.
Magnus Norell is an adjunct scholar with the Institute and a senior policy advisor at the European Foundation for Democracy in Brussels.