The Emir of Qatar's Oval Office Meeting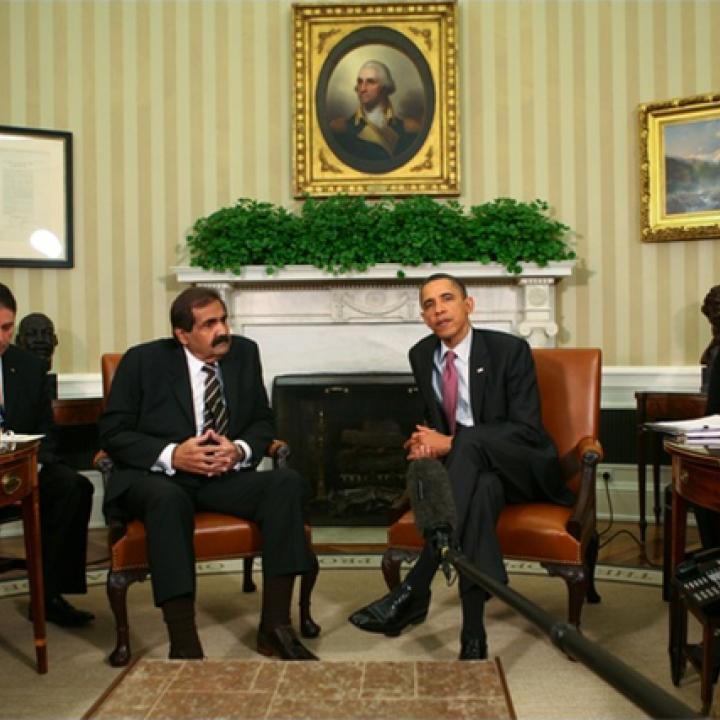 Qatar, an often-difficult ally, has been actively aiding the Syrian opposition and the Egyptian government, and Washington will likely press Doha to coordinate better on both issues.
On April 23, President Obama is scheduled to meet with Qatari leader Sheikh Hamad bin Khalifa al-Thani at the White House. It may be one of his most important summits with a visiting regional leader in the next two months -- he has already met with the crown prince of Abu Dhabi and is due to host King Abdullah of Jordan and Prime Minister Recep Tayyip Erdogan of Turkey. The main common theme for all of these meetings appears to be Syria, with Iran a likely topic as well.
BACKGROUND
Qatar is a crucial U.S. ally, providing its giant al-Udeid Air Base for use in American missions over Afghanistan. At Washington's request, Doha also allowed the Taliban to set up an office in the capital so that U.S. negotiators could try to engage them on the issue of American withdrawal from Afghanistan. But Qatar can also be a challenging partner, perhaps the most so of all U.S. allies. In Syria, for example, it continues to provide diplomatic and military support to some of the hardline jihadist fighters that Washington is trying to isolate.
Doha seems to thrive on controversy, and its diplomatic standing has soared since the current emir deposed his father in 1995. Much of this success is due to the country's huge natural gas reserves -- the third-largest in the world after Russia and Iran -- and the high revenue flow since these resources were developed. Qatar is now the world's largest exporter of liquefied natural gas and a crucial energy supplier to China, Japan, South Korea, and Britain. Its prominence is also a reflection of the ambition shown by Sheikh Hamad, closely assisted by his distant cousin Prime Minister Hamad bin Jassim al-Thani (widely referred to as HBJ), who is accompanying him to Washington. HBJ, who also serves as foreign minister, constantly flies around the globe seeking to make Qatar an indispensable partner in a range of energy, financial, and political fields.
Yet the country often appears to be in danger of over-reaching. For years, its sponsorship of the Aljazeera satellite television network, based in Doha, has led to diplomatic rows with other Arab states over the sometimes-critical content of its broadcasts (Aljazeera's coverage of Qatari domestic issues tends to be more circumspect). Doha has also bid to make itself a major center for international sporting events. In 2010, it was selected to host the 2022 soccer World Cup—a major organizational challenge for a small country of around 200,000 citizens, though an estimated ten times that number of foreign temporary residents actually do most of the work. The tournament will also be a diplomatic and public-relations challenge because it will be played in open-air stadiums, leaving spectators and the world's most high-profile professional players exposed to Persian Gulf temperatures.
THE OPPORTUNITY OF THE "ARAB SPRING"
Doha has apparently viewed the region-wide Arab uprisings that began in 2011 as a major chance to enhance Qatar's international position. Hosni Mubarak's quick demise in Egypt and the increasing frailty of King Abdullah of Saudi Arabia meant that the Arab world's two most influential states were handicapped. Qatar moved in nimbly to exploit the vacuum, sending a small air wing to join the international coalition supporting the rebels fighting Muammar Qadhafi in Libya, as well as handing out weapons and military equipment on the ground.
Although that assistance was appreciated in Washington and other capitals, Qatar's help has not always been welcome. Last October, Sheikh Hamad visited Hamas-controlled Gaza and pledged $400 million in assistance, undermining U.S. backing for Palestinian Authority president Mahmoud Abbas. Although the emir also announced plans to visit Abbas in Ramallah, he has yet to do so. In Syria, Qatar appears to be in a diplomatic competition with its frequent rival, neighboring Saudi Arabia, which once colluded with the United Arab Emirates in a plot to reestablish Sheikh Hamad's father as emir.
Meanwhile, Qatar's huge generosity in Egypt -- with $8 billion promised so far -- has irritated other Gulf Arab leaders, who want to isolate rather than boost the government of President Muhammad Morsi because they regard the Muslim Brotherhood as inimical to their own form of rule (which they view as enlightened monarchy). Although the U.S. government can see the value of Doha's aid, it makes Washington's additional pledges of a few hundred million dollars appear embarrassingly small. Moreover, the Qatari money appears to come without conditions such as Egyptian subsidy reform, undermining demands by the International Monetary Fund, which is still attempting to negotiate several billion dollars' worth of possible assistance.
Despite this friction, Qatar appears to be on a diplomatic roll. Last month, it hosted the annual Arab Summit, which was notable for opening Syria's chair to opponents of Bashar al-Assad. The summit's final communique declared that every member of the Arab League had the right to supply aid, military or otherwise, in support of the Syrian people's resistance. (Damascus responded by calling Qatar "the biggest bank for supporting terrorism in the region.")
WASHINGTON'S OPPORTUNITY
President Obama's strongest card in tomorrow's talks is that, despite Doha's fickleness, Qatar knows it needs the United States as its best friend. Its natural gas wealth lies in a giant offshore field that stretches into the Iranian side of the Gulf. So far, both countries maintain the fiction that their offshore fields are geologically separate. Iran has been unable to fully exploit its field (which it calls South Pars) because of international sanctions, while Doha has limited exploitation of its "North Field" so as not to antagonize Tehran. In addition, with the drawdown of U.S. forces in Afghanistan over the coming months, Washington's need for the al-Udeid base will change. Qatar will likely be anxious to continue hosting a large U.S. presence as deterrence against Iranian adventurism.
Although the White House and State Department are careful not to criticize Qatar publicly, lawmakers in Congress are less reticent. Their concern is that Doha's policy in Syria will produce hundreds of well-armed, battle-trained jihadists who will turn their attention to attacking the United States and its interests once the Assad regime falls. Some lawmakers share the president's view that U.S. arms should not be sent to the rebels because they cannot be fully vetted.
More broadly, both Obama (as a second-term president) and Sheikh Hamad (as an aging Gulf monarch) are likely mindful of their legacies. The Qatari leader is over sixty years old and has been plagued by kidney problems, and he has been grooming his son Tamim as successor in recent years. Tamim is Hamad's fourth son -- the first two were considered unqualified to be heir apparent, while the third held the position for eight years before having the status removed. Hamad's own seizure of power while his father was vacationing in Switzerland continued a historical tradition -- the al-Thani dynasty has never had a peaceful transition. Therefore, while Syria might be the main agenda item at tomorrow's meeting, Sheikh Hamad will likely have more on his mind, which should provide the Obama administration with fruitful opportunities for wider talks.
Simon Henderson is the Baker fellow and director of the Gulf and Energy Policy Program at The Washington Institute.