Egyptian Visit to Israel Could Preempt International Peace Initiatives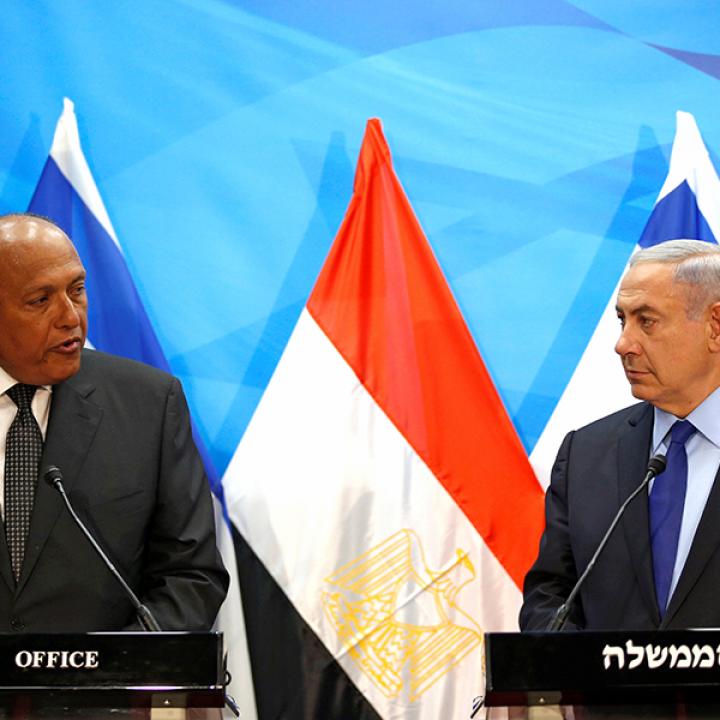 Egypt and Israel are exploring more overt consultation beyond the quiet security sphere, where ties are closer than ever amid shared threats.
On July 10, Egypt's foreign minister visited Israel, marking the first such trip in nine years. Sameh Shoukry's meeting with Prime Minister Binyamin Netanyahu comes during a period of warming security ties and strategic convergence between the two countries, including shared opposition to the Islamic State affiliate in the Sinai, to Hamas in Gaza, and to the prospects of growing Iranian influence in the Middle East. Yet security ties have been running ahead of diplomatic relations; it was only six months ago that Egypt sent its ambassador back to Israel after a long hiatus.
Shoukry stated that the trip was made in the context of President Abdul Fattah al-Sisi's "vision for establishing peace between the Israeli and Palestinian peoples -- bringing this long conflict to an end...This will have a far-reaching and dramatic positive impact on conditions in the entire Middle East." Indeed, reports have begun to surface that Cairo may host confidence-building talks between Israel and the Palestinian Authority, with Egyptian and Jordanian officials in attendance.
As for why Israel would focus on peace talks now, Netanyahu has expressed concern that the Obama administration will consider supporting a UN Security Council resolution on the conflict at year's end. He views any such move as the equivalent of an imposed solution of the core final-status issues (borders, security arrangements, Jerusalem, refugees, and mutual recognition), and he believes that neither Israel nor the Palestinians could accept that outcome. Netanyahu is also concerned that a French peace initiative could gather steam and feed into a Security Council resolution. He therefore seems intent on preempting such efforts by putting forward other options. For example, he reportedly discussed proposals for an alternative peace conference when he visited Russia's Vladimir Putin recently.  
Regarding the Shoukry meeting, Netanyahu is likely counting on the pressure it creates for Mahmoud Abbas. While the PA president has had no problem rejecting Netanyahu's call to resume talks amid disbelief that anything concrete will emerge from them, bringing Egypt into the picture raises the cost of any such rejection. Cairo has been the PA's traditional patron, so it would be no simple thing for Abbas to rebuff calls for a summit hosted by Sisi, especially after Shoukry visited Ramallah on June 29. Some reports have even speculated that Sisi may meet in public with Netanyahu himself, though no concrete evidence of such plans has emerged as of yet.
At the same time, taking confidence-building steps would be difficult for Netanyahu as well. The last time Sisi publicly offered to broker movement between Israel and the Palestinians was in mid-May, when Netanyahu was talking with Labor/Zionist Union head Isaac Herzog about broadening the government. Those discussions collapsed in the end, mainly because Netanyahu did not want to commit in writing to a formula that would prohibit settlement construction activity beyond the West Bank security barrier and allow Palestinian economic access to largely unpopulated swaths of "Area C." It is therefore uncertain how he could muster the political will to make such commitments today under his current coalition, which veered further to the right after the Herzog talks failed.
If Netanyahu is in fact willing to pursue such a path, he would likely need to engineer the departure of the Jewish Home party led by Education Minister Naftali Bennett. He could then either bring in Herzog or wait until the Knesset goes on summer recess in a couple weeks. While no-confidence votes are theoretically possible during these extended summer breaks, a recess is usually the time that an Israeli premier can take more controversial policy steps without worrying too much that a vote will be held and actually topple him.
Beyond the Palestinian issue, Shoukry no doubt had other matters that he wanted to discuss with Netanyahu firsthand. For one, Israel recently reached an accord with Turkey to fully restore diplomatic ties, yet the bitter rivalry between Ankara and Cairo continues. Shoukry likely wanted to make sure that Netanyahu understands Egypt's redlines on Gaza, where Ankara is seeking greater influence. Israel's agreement with the Turks will not allow them to run a port in Gaza or anchor electricity-generating vessels off its coast, in part because Netanyahu believes Turkish leader Recep Tayyip Erdogan would exploit such concessions as a major political victory.
Shoukry was probably also curious about Netanyahu's trip to Central Africa last week. Among other states, he visited Ethiopia, which is planning a Nile dam that could hurt Egypt's access to Nile River water. Cairo seems to believe that Netanyahu's visit could impact whether Ethiopia agrees to a water-sharing formula with Egypt.
David Makovsky is the Ziegler Distinguished Fellow and director of the Project on the Middle East Peace Process at The Washington Institute.