Egypt Takes Another Step Toward Autocracy -- and Instability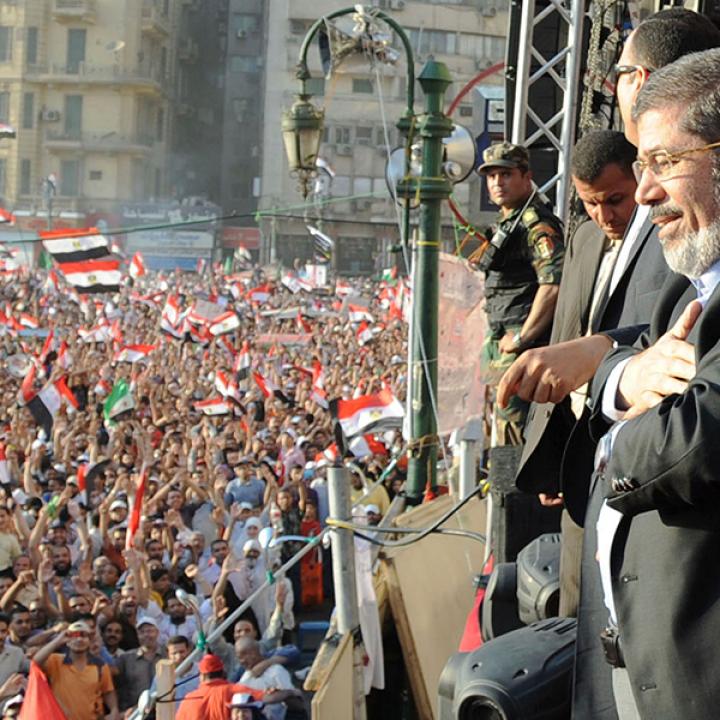 Washington should tell Morsi that politicized prosecutions and other autocratic moves are increasing the risk of wider violence.
Egypt's prosecution of comedian Bassem Youssef for allegedly insulting President Muhammad Morsi and denigrating Islam is the latest indication of the Muslim Brotherhood-dominated government's undemocratic disposition. The move will likely deepen the non-Islamist opposition's mistrust of the country's political and judicial institutions, encouraging groups to continue seeking change through increasingly violent demonstrations rather than official political channels. Given Washington's interest in promoting democratic governance and stability in Egypt, the Obama administration should urge Morsi to pardon Youssef and end the crackdown on critics of the Brotherhood.
Youssef's case is not unique. According to the Egypt-based Arabic Network for Human Rights Information, four times as many lawsuits for "insulting the president" were filed during Morsi's first 100 days in office than during Hosni Mubarak's thirty-year reign. Although private citizens filed many of these suits, the Brotherhood has encouraged them by frequently depicting its media critics as remnants of the old regime. The group has also made politicized prosecutions even more likely in the future by pushing a new draft electoral law through parliament allowing the use of religious slogans in campaigns. Article 44 of the new constitution, ratified in December, prohibits "the insult or abuse of all religious messengers and prophets," and this can be broadly interpreted to insulate Islamist religious political slogans from non-Islamist attacks.
Morsi and the parliament have also worked to stifle media criticism by appointing a Muslim Brother as minister of information, using their control over state-run media to fire writers and editors who question the new government's policies, and hiring new editors sympathetic to the group's ideology. Meanwhile, the government has begun prosecuting wealthy anti-Brotherhood businessmen, potentially denying opposition media outlets and political parties vital sources of funding.
This pattern of prosecutions has validated opposition concerns that Morsi is undermining judicial independence. The irregular appointment of Prosecutor-General Talaat Abdullah is especially worrisome: Morsi used his November 22 constitutional declaration, through which he temporarily asserted virtually unchecked executive authority, as a pretext for selecting Abdullah rather than leaving the decision to the Supreme Judicial Council, as required by Egyptian law at the time. And last week, in another assault on judicial oversight, Morsi's office declared that it would not abide by a court decision ruling the appointment illegal.
Youssef's prosecution will only further inflame the situation. Opposition parties have already declared their refusal to participate in the next parliamentary elections, which Morsi recently indicated might be pushed to October given the current lack of sufficient guarantees for electoral transparency. Some oppositionists have resorted to violence against Brotherhood targets as a means of spurring the military to topple Morsi, whom they increasingly view as illegitimate due to his dictatorial behavior. The government's blatant assault on free speech will likely harden this position and fuel further violence, thereby adding to Egypt's mounting economic woes.
To reverse this dangerous trend and encourage stability, the Obama administration has rightly urged the non-Islamist opposition to re-engage in the political process by participating in the next elections. But so long as the Morsi government uses the political process to undermine judicial independence and enhance its crackdown, the opposition's skepticism will be warranted. Washington should therefore warn Morsi -- publicly, so as to counter the widely held impression of U.S. backing for the Brotherhood's actions -- that his autocratic policies are exacerbating Egypt's volatile political atmosphere. It should also advise him privately to act decisively and reverse course, in part by pardoning Youssef.
Eric Trager is the Next Generation fellow at The Washington Institute.