Dual Crises May Intensify Obama-Netanyahu Tensions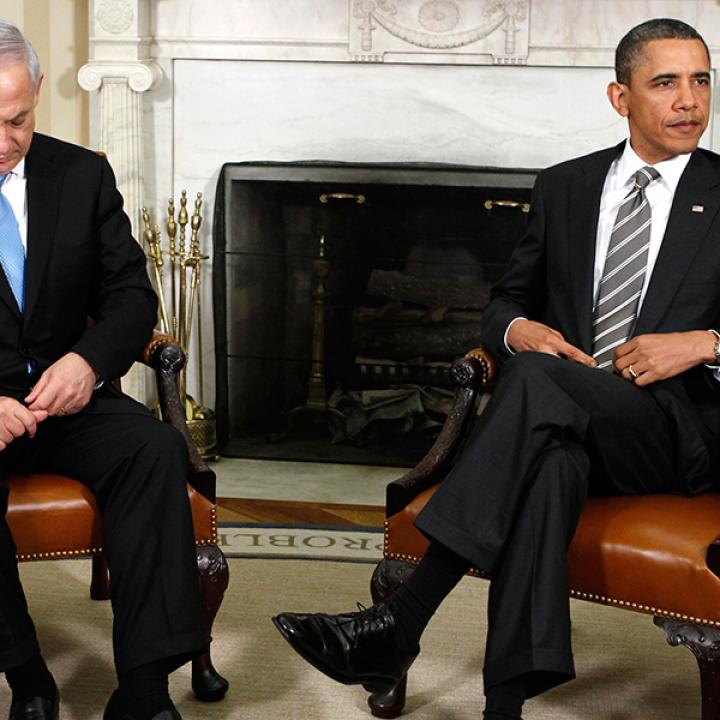 To avoid a full-blown diplomatic collision, Obama will have to urgently address concerns about the Iranian nuclear deal, while Netanyahu will need to publicly declare a two-state-minded policy on Israeli settlements.
Binyamin Netanyahu's electoral victory last week was greeted by an immediate crisis with the Obama administration, when some of his comments aimed at wooing right-wing voters in the campaign's final days angered the White House. The administration perceived Netanyahu's statement that there would not be a Palestinian state on his watch as a repudiation of his commitment to a two-state outcome. Immediately after the election, the prime minister insisted that he remained committed to two states, but President Obama chose to believe that his election remarks were more authentic than his clarification, in keeping with his well-known doubts about Netanyahu's support for that goal. While pledging not to touch U.S.-Israeli military or intelligence cooperation, Obama told the Huffington Post on Friday that he took Netanyahu "at his word" that a Palestinian state will not happen during his tenure, and that Washington needed to evaluate all other options to avoid chaos.
Beyond this latest grievance, bilateral relations are almost certain to hit greater turbulence in the coming months, over both the Palestinian issue and the more urgent matter of whether the United States and its negotiating partners strike a nuclear deal with Iran. In principle, the two issues are completely separate, but both are trending toward crises that will only exacerbate the iciness between Obama and Netanyahu.
DIFFERENCES OVER IRAN
Netanyahu's speech to Congress earlier this month highlighted Israel's disagreements with the White House over how to proceed on Iran, even though he implied for the first time that he was not insisting on zero uranium enrichment. The tension surrounding the speech stemmed from a variety of incidents -- most recently, an Obama administration spokesman confirmed media reports that Washington has not been sharing information with Israel lately due to sensitivity in the Iran talks, but the problems date back to when Washington first opened a secret channel with Tehran without telling Israel.
Apart from the specifics of an Iran agreement, the United States and Israel need to reach a set of understandings about the wider context of any deal. This means that in addition to defining quantifiable methods for enforcing Iranian compliance and outlining precise mechanisms for penalizing consequential violations, Washington will need to provide assurances that the accord is not political shorthand for a change in the balance of regional power toward Iran at the expense of Sunni Arab countries and Israel. If Tehran emerges from the negotiations believing it has a free hand to act regionally -- and with additional cash due to the easing of sanctions -- Israel will feel nervous even if it is not directly threatened. The question remains whether Iran is entitled to an industrial-size nuclear capability after an agreement expires, irrespective of whether the regime acts in a destabilizing manner. Given all of these issues, Washington and Israel will find it difficult to adequately address their differences before the July 1 deadline for reaching a final agreement with Iran.
If that timetable was not enough of a constraint, two other factors have entered the mix. First, Netanyahu will be quite busy building his coalition of right-of-center parties, which he has made clear he wants to complete within three weeks. Second, Speaker of the House John Boehner announced that he will visit Israel at the end of this month, a move that is bound to revive speculation about Netanyahu seeking further coordination with him on Iran, since Boehner was the one who invited him to address Congress.
Presumably, Netanyahu would prefer to coordinate first with the Obama administration on key Iran issues, and he should make that preference abundantly clear even amid the current tensions. If spurned, however, he will most likely intensify consultations with Boehner. Although going that route and focusing on congressional oversight of an Iran deal would open Netanyahu up to U.S. accusations of partisanship, he would likely claim that he had no choice since he is disregarded by the White House, and since the stakes for Israel are existential. The upshot is greater Israeli tension with the Obama administration in the months ahead as the congressional debate over Iran is likely to intensify.
PREVENTING A CRISIS OVER THE PALESTINIAN ISSUE
During recent media backgrounders, Obama administration officials have signaled their apparent belief that going to the UN Security Council is the only hope for resolving issues that have kept the peace process from advancing. The question is whether the Security Council will be asked to pass a resolution outlining a core solution to the Israeli-Palestinian conflict and, if so, whether the United States will veto it. This would be a departure from the premise that has held since 1967: that it is up to the parties themselves to negotiate the contours of any solution.
Netanyahu would view any such resolution as shooting past redlines, and Palestinian Authority president Mahmoud Abbas might feel the same depending on its terms. Based on media reports surrounding the European and Jordanian initiatives at the Security Council in December, a resolution would likely call for two capitals in Jerusalem, a territorial solution based on the 1967 lines and territorial exchanges, and language defining Israel as a nation-state of the Jewish people. Whatever the case, Netanyahu would likely declare his opposition to any imposed solution, especially on emotive issues such as Jerusalem. In his view, it would open the door to future sanctions against Israel in the event of noncompliance.
Other issues could emerge beyond talk of a UN resolution. For example, will the next Israeli government resume the transfer of $127 million per month in tax revenues to the PA? Currently, the PA is not paying full salaries to government employees -- Israel suspended the payments shortly after the Palestinians took steps toward joining the International Criminal Court, and the PA will become a full ICC member on April 1.
Additionally, what will the next government's settlement policy be? One possibility is for Israel to explicitly align its policy with a two-state outcome, as per Netanyahu's postelection clarifications -- this would mean refraining from settlement expansion in West Bank areas that will not be part of Israel in any negotiated agreement currently being contemplated. On a related note, will the next governing coalition attempt to woo ultraorthodox factions or the far-right Jewish Home Party by reviving calls for a "Nationality Law" -- legislation that was interpreted by Israeli experts as prioritizing Israel's Jewish character at the expense of its equally robust democracy? In Netanyahu's previous government, such antidemocratic moves were stymied by some of his coalition allies, but these allies will not be in the new coalition.
If Netanyahu wants to avert further crises, he should have enough political clout to do so. His best chance of avoiding a collision with Washington over a Security Council resolution would be to announce a new policy on settlements -- namely, that Israel will not build further settlements on the Palestinian side of the West Bank security barrier, where approximately 92 percent of the land is located. A third of the Likud's votes in last week's election came as a result of his late campaign surge, so many party members owe their seats to him personally. That surge also contributed to the drop in votes for the prosettler Jewish Home Party, which went from twelve to eight seats. Furthermore, ultraorthodox parties are still angry at settler groups for excluding them from the previous government. In short, when it comes to settlements, Netanyahu will have sufficient political breathing room to show the White House that he was serious about his postelection clarification.
CONCLUSION
If Obama does not demonstrate a willingness to urgently address concerns about the Iranian nuclear deal, and if Netanyahu does not publicly declare a settlement policy that backs up his commitment to a two-state solution, a full-blown diplomatic collision will likely result. The question remains whether the requisite political will exists to prevent such an outcome.
David Makovsky is the Ziegler Distinguished Fellow and director of the Project on the Middle East Peace Process at The Washington Institute.